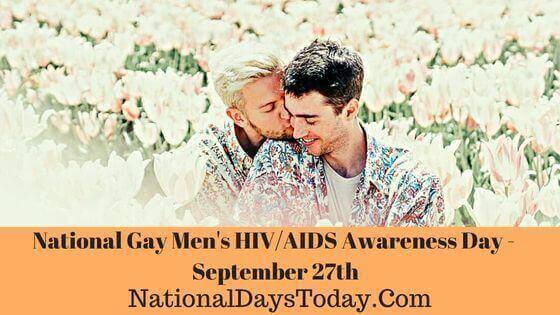 National Gay Men's HIV/AIDS Awareness Day:
National Gay Men's HIV/AIDS Awareness Day (NGMHAAD) is celebrated every September 27 to increase awareness of the adverse effects of H.I.V. on bisexual and gay men living in the United States.
| | | | |
| --- | --- | --- | --- |
| Year | Date | Day | Where |
| 2023 | 27th September | Wednesday | United States |
| 2024 | 27th September | Friday | United States |
| 2025 | 27th September | Saturday | United States |
Twitter Hashtags:
#NationalGayMen'sHIV/AIDSAwarenessDay
#GayMen'sHIV/AIDSAwarenessDay
Related: Other National Days Celebrated on September 27th:
Why National Gay Men's HIV/AIDS Awareness Day?
Every year on the final Friday in September, the Day (NGMHAAD) creates awareness and raises awareness about the disease. The day is also focused on ways to end the disease.
The Centers for Disease Control recommends everyone between 13 and 64 undergo an H.I.V. test as part of their routine physical. If you are active sexually are advised to test once per year, and C.D.C. suggests trying once a year and occasionally more often, dependent on the risk factors.
The event encourages more open dialogue between partners. Understanding the disease better and having access to testing can help lower the risk.
How to observe National Gay Men's HIV/AIDS Awareness Day?
Opportunities to provide services and increase awareness of HIV/AIDS are available in various ways. For this holiday and other similar ones, there are multiple options to be involved.
Learn more about prevention as well as the risk factors.
Help eliminate the stigma surrounding HIV/AIDS by educating people about the disease.
Find a clinic close to you to have a test.
Help support research programs.
Visit aids.gov to find out more about the event.
The cdc.gov provides information and links to the services.
Visit aidsinfo.nih.gov for a comprehensive review of the condition, its research and more.
Use #GayMensHIVAIDSAwarenessDay to post on social media.
Interesting Facts National Gay Men's HIV/AIDS Awareness Day :
Let's see some of the crucial facts related to Gay Men's HIV/AIDS:
Though saying that AIDS affects only Gay Men is totally ridiculous, the report says that Gay Men are considered as "key population" in HIV Cases.
MSM is consistently being affected by HIV and is the largest proportions in case of death when compared with other communities.
The Center for Disease Control estimates that men who have sex with men represent about 2% of the total American population.
History about National Gay Men's HIV/AIDS Awareness Day:
The National Gay Men's HIV/AIDS Awareness Day will be celebrated on September 27 to increase gay men's awareness of H.I.V. disease and the critical role they can play in helping bring H.I.V. through the end. To mark this year's sixth National Gay Men's HIV/AIDS Awareness Day, The State Department of Health (DOH) encourages gay men to be tested and speak with their partners about testing, connect to medical treatment if they are H.I.V. negative, as well as stay connected to medical treatment and adhering to their H.I.V. treatment.
Recent H.I.V. diagnoses have dropped 39% across New York State between 2002 to 2011, ranging between 6,072 and 3,732 per year. However, new diagnoses of those who have had sex with males (M.S.M.) increased by three per cent in the same period. In reality, M.S.M. comprised approximately one-half of all new H.I.V. diagnoses and nearly two-thirds of males receiving new diagnoses in 2011. The growing number of H.I.V. diagnoses in M.S.M. is particularly evident in those in the youngest age group as a new diagnosis among M.S.M. between 13 and 25 age range nearly doubling 2002 between 2002 and the year 2011 (from two91 to five76).
A timely linkage to medical attention and strict adherence to H.I.V. treatment is crucial to ensure optimal patient health and reduce the chance of spreading the virus to other people. In 2010, 78 per cent of M.S.M. recently diagnosed with H.I.V. were connected to H.I.V. medical care within three months of being diagnosed, and 68 per cent continued to receive treatment throughout the year. Of the new diagnosed M.S.M. in the year 2010, it was estimated that fifty per cent had achieved suppression of their H.I.V.
These statistics suggest about one-half of the MSM diagnosed with HIV in New York State are not getting the benefits they need to manage their disease and keep the virus under control, said State Health Commissioner Nirav R. Shah, M.D., M.P.H. The key strategies for fighting HIV/AIDS are testing, prevention, and the treatment. While these have proven effective in reducing overall infection rates, we must improve the results for gay men in New York State, especially young gay men.
Dan O'Connell is an Acting Director of the New York State Department of Health's AIDS Institute, said that Our current challenge is to develop in collaboration with community partners, innovative and effective HIV treatment and prevention approaches for young MSM so they realize the profit of decreasing HIV transmission already being experienced by other segments of the population throughout New York State.