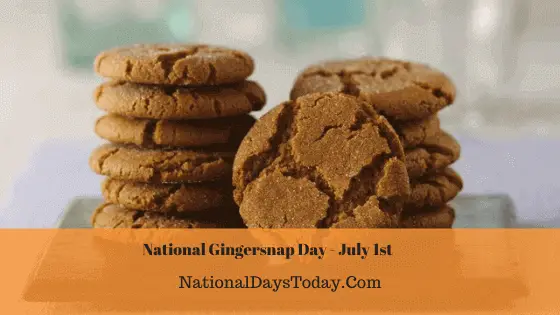 National Gingersnap Day:
Celebrated on July 1st, every year. The day is to celebrate the common dunk into the tea, Gingersnap cookies.
| | | | |
| --- | --- | --- | --- |
| Year | Date | Day | Where |
| 2023 | 1st July | Saturday | United States |
| 2024 | 1st July | Monday | United States |
| 2025 | 1st July | Tuesday | United States |
Twitter Hashtags:
#NationalGingersnapDay
#GingersnapDay
#GingerSnaps
Related: Other National Days Celebrated on July 1st:
National Creative Ice Cream Flavor Day
Why Gingersnap Day?
The day is to celebrate the common dunk into the tea, Gingersnap cookies. Gingersnap, with its taste, it conquers our heart not recently, it has conquered us right before a century. Reported to be originated in Germany or England, the combination of sweet and savory taste was never disliked probably by any of us and thus becomes a snack food in our daily routine life. The main ingredients are flour, ginger, and cinnamon. The widely used other ingredients are shortening, sugar, dark molasses, egg etc… There are varieties of flavors and recipes available. The kids and toddlers may find it distasteful since it consisted of Cinnamon and Ginger. Cinnamon can be replaced by Cardamom.
This day is credited for the enjoyment with Ginger snap cookies.
How we can Celebrate National Gingersnap Day:
Enjoy this day by tasting the yummy Gingersnap cookies. In different countries, it is being called with different names, like in Danish, it is called as "brunkage". Explore more about it and post your findings using this hashtag #GingerSnaps on twitter. Post your recipes using this hashtag #GingersnapDay on the social media.
One of the famous preparation methods of Gingersnap is stated below:
Step 1: Take 2 cups of plain flour in a large bowl. Mix with a 1 tablespoon of crushed ginger.
Step 2: Add a teaspoon of grinded Cinnamon, and half teaspoon of salt. Blend it well and set aside for 10 minutes.
Step 3: Take a cup of Shortening in a bowl and stir it well until it become creamy and thick. Take a cup of sugar and mix well. Beat it further after adding two eggs. After it becomes creamy like texture, take quarter cup of dark molasses and mix well.
Step 4: pour the shortening mixture into the flour mixture. Knead it and make dough.
Step 5: Take a little bit of dough and make it like a round ball. Press it further to make a circular shaped. You can make into any shape to attract kids. Place it in a baking sheet in oven and bake it for 10 minutes under 175 degrees Celsius. You can also roll it in a cinnamon and sugar mixture before pressing it into a circular shaped structure.
Step 6: Cool the cookies for sometimes and keep it in a tight container. The above procedure takes only few minutes. Just have a try.
Enjoy Gingersnap Day with delicious Gingersnap Cookies.
Interesting Facts About Gingersnap Day:
The alternative names of Gingersnap are ginger nuts and ginger biscuits. The name comes since it is basically flavored with Ginger. In the United States, It is popular as Ginger snap. In countries like United Kingdom, New Zealand and other countries under the British rule in the past, it is named as Ginger nuts. Generally, in our country, we use the term "cookie", but in the countries that were under British presidency, it is termed as "Biscuits".
History of Gingersnap Day:
The Origin of the National Gingersnap Day is unknown. However, gingersnap is claimed to be originated from Germany.