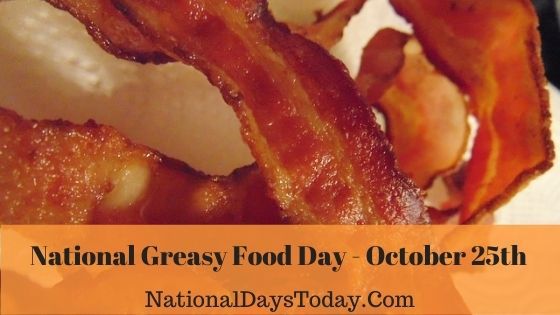 National Greasy Food Day: 
National Greasy Food Day is celebrated every year on the 25th of October. This day is all about being guilt-free about the food we eat and the number we get on the scale.
| | | | |
| --- | --- | --- | --- |
| Year | Date | Day | Where |
| 2023 | 25th October | Wednesday | United States |
| 2024 | 25th October | Friday | United States |
| 2025 | 25th October | Saturday | United States |
Twitter Hashtags:
#NationalGreasyFoodDay
#GreasyFoodDay
Related: Other National Days Celebrated on October 25th:
Chucky, The Notorious Killer Doll Day
Why National Greasy Food Day? 
Throughout the year, we either place too much importance on the number we get on the scale or try to eat healthy even if we're not a fan of it just due to health issues or genuinely wanting to lead a happy and long life. But when we do these things, we do miss the greasy, unhealthy food that we love. Whenever we hear about deep-fried snickers or fries etc., our mouth waters because they're so tasty but, at the same time, not very good for our health.
While trying to be healthy, one shouldn't forget it's ok to have a cheat day. Once a year, it's fine to let go of all the restrictions and eat to your heart's content. Nutrition and a balanced diet are as important as relaxed restrictions for a self-care day.
Whether it is home-style fried chicken or a pan of hash browns and thick-cut bacon or a bag of kettle chips sprinkled with some exotic seasoning or French fries fresh from the fryer – go for whatever cravings you've locked up deep inside your heart. The choices are endless; eating a little bit of everything would be a good option in case you can't decide between the things you want to eat.
It is not necessary that whatever you want to eat should be a heart-attack package, but rather you can use healthy oils like olive oils, etc. to cook your food in, whatever greasy go-to dish you want can have substitutions as per your wish to either make it a little healthy or unhealthy (let it go today).
Whether you're thinking about a cheese burst pizza with extra cheese or the flavorful and delicious sub sandwiches that are greasy as we unwrap them – these are the foods that make not only us happy but are considered the greatest things in life by food fanatics. Moderation is a good thing in life. Be it with work, health or food we should lead a balanced life – on this day we maintain it by being greasy and no, you don't have to be apologetic for that. Let your guilt sit in for today.
One of the perks of making and eating greasy food this day is that you can cook it with ease. Fries can be made simply by chopping potatoes, frying them, and use whatever seasonings you want. Bacon only needs to be cooked in the oven, which leads to almost no mess at all, while fried foods only require one additional step for you to consume them. So when food is delicious and easy to prepare, we should eat and embrace them this day.
This day frying up your oil pan, chopping the potatoes, and laying out napkins is the way to go.
How Can We Observe National Greasy Food Day: 
Treat yourself with whatever you want!
Go out to your favorite greasy restaurant with your friends or family and eat whatever you want. Load up on your favorite burgers, fries, chips, chicken fingers, and anything else you choose by a local restaurant and support local business in the process.
Show your love on social media.
Whatever greasy food you choose, post a picture with it so that everyone else can be guilt-free that day too. Use hashtags like #NationalGreasyFoodDay and #NoGuiltDay on social media.
Almost every food present in the world can be fried, and we dare you to find those which cannot be fried. Today either try new recipes which can be fried or fry whatever you want to eat.
Interesting Facts On National Greasy Food Day:
While you're enjoying this day, here are few fun facts related to this day and greasy food:
Americans eat approximately 29 pounds of French fries each year.
'Bacon' which is famous for its greasiness when it comes to food, the word dates back to German and comes from pigs back.
The production of doughnuts done throughout a year is approximately equal to 100 billion donuts.
Even though Funnel cakes come from medieval Persia, it was via Pennsylvania Dutch immigrants that they became today. We cannot thank them enough for the batter drizzled into hot oil and deep-fried funnel cakes.
History Of National Greasy Food Day: 
No one knows who came up with this day, but everyone is thankful for this day to date. Because of this day, every 25th October, people get an excuse to pig out of their favorite foods and enjoy the experience as a whole.