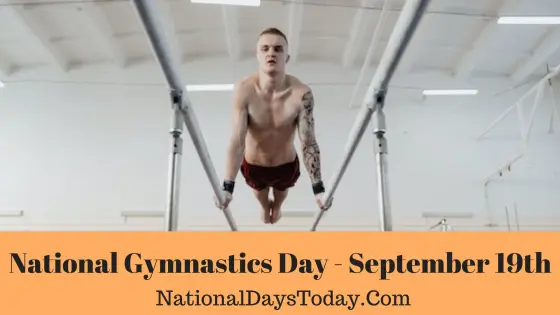 National Gymnastics Day:
National Gymnastics Day, observed on September 19, is an unofficial holiday honoring the beautiful sport that challenges agility, balance, coordination, and physical strength. This day is commemorated to show support for gymnasts and to promote increased involvement in the sport.
| | | | |
| --- | --- | --- | --- |
| Year | Date | Day | Where |
| 2023 | 19th September | Tuesday | United States |
| 2024 | 19th September | Thursday | United States |
| 2025 | 19th September | Friday | United States |
Twitter Hashtags:
#NationalGymnasticsDay
#GymnasticsDay
Related: Other National Days Celebrated on September 19th:
National Butterscotch Pudding Day
 Why National Gymnastics Day? 
It emphasizes enjoyment and physical fitness 
Exercise doesn't have to be difficult or annoying. Even though sweating is good for the body, we must remember why we are doing it during spin class in the first place. We want to be amazing both inside and out.  In a gym, you can also interact with other individuals while exercising. Kids are motivated by this day to develop a lifelong love of the sport.
You might meet new people while attending a sporting event in the stands even if you decide against joining a gym. You may also go to a festival and ask your favorite athlete for an autograph. The best form of motivation occasionally comes from supporting a group or a friend as they compete. The primary goals of this day are health and friendship.
You can flaunt your abilities.
We get to show off everything we've learnt during those early-morning training sessions on this day. To allow everybody to participate in or watch a unique gymnastics event, every gym in the country will offer distinctive competitions and exhibitions. This is your chance to audition for the sport you've been working to master. On National Gymnastics Day, your environment is encouraging your efforts.
How Can We Observe National Gymnastics Day? 
Play fun games that involve gymnastics. 
There are several exercises you may do at home to practice gymnastics, both with and without apparatus. Play various gymnastics activities, such as wheelbarrow races, in which players attempt to "run" while someone holds their ankles. Try to complete back bridges without collapsing while simultaneously high-fiving each other as an alternative. 
How frequently do you see young people competing alone? Never act in such a way. Our personalities are frequently the most valuable contribution we can offer. Get out and support the athletes if you see kids celebrating this day.
Show off your skills to the world.
If you publish footage of your handstands, flips, or other gymnastics-related moves online, use the hashtag #NGD2022. Record the competition on camera and on film as you watch your favorite gymnast compete. In your social media posts about them, use the hashtag #NationalGymnasticsDay.
A terrific time to start practicing for those early-season meets is around September. If you are unable to complete all four events in one session, hold a practice meet at the gym. One level's assistance can help another level work together. Ask a judge to evaluate your performance or enter it into an online contest!
Interesting Facts About National Gymnastics Day:
some of the facts about Gymnastics,
The term "gymnos" in Greek, which means "naked," is the origin of the word "gymnastics."
Gymnastics competitions were indeed held in the naked state in ancient Greece. The times have changed, which is fortunate.
Even though women weren't permitted to compete in the Olympics until the late 1920s, only women are currently allowed to compete on the uneven bars and the balance beam.
The vaults were replaced with bull jumps in ancient gymnastics!
Gymnastics was a part of the early schooling systems in ancient Greek culture.
Major gymnastics contests can be trained for in most gyms by kids as young as two.
The discipline of gymnastics became a recognized sport in 1862.
Olympic gymnastics competitions were first held in 1896, with only men competing until 1928 when women were allowed to compete. Gymnastics was first added to the Olympics in 1896.
History of National Gymnastics Day:
In the late 1990s, the first National Gymnastics Day was observed to promote the sport and encourage more children to take part. The events from that day have persisted since then, and they currently take place annually to highlight the many advantages of this vigorous sport. Gymnastics clubs are urged to invite children inside on the day of the event and arrange exhibitions and displays to highlight the skills that can be taught. To provide entertainment for guests, they can also host festivals and fundraising events.
Due to the sport's explosive growth in popularity and the public's rising recognition of the sport's importance in physical preparation for the body, the Spanish colonel Don Francisco Amorós y Ondeano brought instructional gymnastics to France. The "Father of Gymnastics" is regarded as Friedrich Ludwig Jahn, who founded and led the movement in 1821 and is well-known for his part in popularizing gymnastics.
The main objectives of this day are to promote gymnastics and to encourage young people to engage in this physically demanding activity. Because there are so many different physical exercises involved in gymnastics, it helps with balance, coordination, and flexibility. Because learning, thinking, creativity, and intelligence are not only cerebral functions but involve the entire body, young children who begin gymnastics instruction benefit from both physical and mental growth.