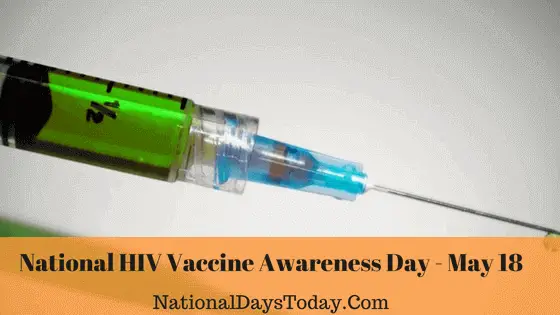 National HIV Vaccine Awareness Day:
Celebrated on May 18th every year. The day is observed to commemorate the hard works of researchers who involved in HIV vaccination-related researches.
| | | | |
| --- | --- | --- | --- |
| Year | Date | Day | Where |
| 2023 | 18th May | Thursday | United States |
| 2024 | 18th May | Saturday | United States |
| 2025 | 18th May | Sunday | United States |
Twitter Hashtags:
#NationalHIVVaccineAwarenessDay
#HIVVaccineAwarenessDay
#HIVSafetyMeasures
#HIVVaccinationAwarenessEvents
Related: Other National Days Celebrated on May 18th:
National Visit Your Relatives Day
Why HIV Vaccine Awareness Day?
The National HIV Vaccine Awareness day is observed to commemorate the hard works of researchers who involved in HIV vaccination-related researches. Human Immunodeficiency Virus, abbreviated as HIV, is a deadly virus, which drastically destroys the immune System eventually resulting in Acquired Immune Deficiency Syndrome commonly called as AIDS and several Sexually transmitted diseases.
As of now, there is no cure or medication for this disease. Vaccinations are yet to be invented and researchers are in progress. Despite Several Prevention techniques being followed, there is a high demand for Vaccination to overcome the increasing ratio of people affected by this disease. This day is observed to recognize the hardship of those researchers who strive hard in finding the vaccination and medications to prevent and overcome HIV respectively. The day is also observed to honor the extraordinary works of Volunteers who help these sorts of research.
How we can Celebrate or Observe HIV Vaccine Awareness Day:
Narrate a poem on HIV Vaccination researchers, who works hard regardless of day and night to find a cure. Use this hashtag #VaccinationHIVresearchers to post on Social Media. Post any unpopular safety measures, if you know, for the prevention of HIV/AIDS and post the same using this Hashtag #HIVSafetyMeasures. Try to bear the expenses of at least one HIV Patient if possible. Explore more about HIV, impact and post unknown facts using this hashtag #HIVUnknownFacts .Give some tips, if you know, for the HIV affected patients, using this hashtag #tipsforHIVPatients by which they might be benefitted.
Mark your presence in the events conducted by the Communities to recognize the day and post your pictures using this hashtag #HIVVaccinationAwarenessEvents on social media. Share the venue details to others using this hashtag #HIVVAEventVenues so that others could also be participating.
Interesting Facts About HIV Vaccine Awareness Day:
Human Immuno Deficiency Virus (HIV) is a deadly virus that causes HIV infection and further leads to AIDS, a condition of failure of Immune System. HIV can be spread prominently through sexual intercourse with the already affected person, deep oral Kiss, using Syringes used by the affected person. The Average estimated survival period is between 9 and 11 years.
AIDS normally leads to various kinds of cancer due to the depletion of Immune system.
A Survey had revealed that the percentage of HIV infections has been drastically dropped down during the recent years in the United States because the awareness among the civilians.
There were 36000 new HIV infections diagnosed in the year 2014, which was almost 42000 in the year 2010. This disease is mostly affecting bisexual men and Gay men.
Around 1.1 million people are surviving with HIV. The Sad part is, almost 10% of the people do not aware of the infection or yet to be diagnosed.
Vaccination researchers include both for preventive and therapeutic conditions. The Preventive Vaccination is to prevent the Virus in people who do not affect by this dangerous virus.
Therapeutic vaccination researches are in progress especially for the HIV affected persons to confine the severity, to deplete the cells from further aggravation and finally to prevent AIDS, the advanced stage of HIV infection.
History of HIV Vaccine Awareness Day:
National Institute of Health and National Institute of Allergy and Infectious Diseases founded the National HIV Vaccination awareness day in order to promote the vaccination researches as an annual event. Several Events and Campaigns are being organized across the country by the Department of Health and Human Services in the United States and by various non-profit charities around the Country and Globally as well.