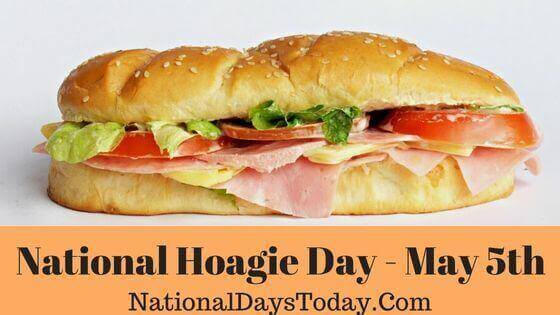 National Hoagie Day:
Known by many names, and as the hero of the sandwiches, Hoagie is celebrated on the 5th of May every year as National Hoagie Day.
| | | | |
| --- | --- | --- | --- |
| Year | Date | Day | Where |
| 2023 | 5th May | Friday | United States |
| 2024 | 5th May | Sunday | United States |
| 2025 | 5th May | Monday | United States |
Twitter Hashtags:
#NationalHoagieDay
#HoagiDay
Related: Other National Days Celebrated on May 5th:
Why National Hoagie Day?
Whether you call it the sub or the submarine sandwich, or you are familiar with the name of Hero Sandwich, the Hoagie has served as a welcoming change for anyone looking for options other than chips and salsa. It is the most satisfying sandwich you could ask for and it can be your favorite entrée, no matter the time of the day you want it. You may love it as a classic roll of bread made in classic Italian fashion or you might love it as a sub stuffed with cheese and meatballs. Yet, there is no denying the fact that it is loved by all.
Hoagies are also very easy to carry around, to your workplace or on a day out. Neatly wrapped up in the deli paper, this sandwich is loaded with elements of your choice with the best sauces to go with it. It is also one of the easiest sandwiches to make and anyone, whether or not a good cook, can make a hoagie with ease. All that you need to make sure of is that you have the right and the best ingredients to add. And you have the perfect hoagie for the day ready. With so much simplicity yet with lots of flavors, the hoagie is worthy of celebration and hence we have a day in May to enjoy this treat.
How can we celebrate National Hoagie Day?
Celebrating the day would be a delight to anyone who takes part in it and apart from enjoying a delicious hoagie, here we have some ways to make it a delightful day in totality.
It is Cinco de Mayo and you would see many around you dancing to La Cucarachas and enjoying their share of tacos and salsa. But that is not always the best way to celebrate the day. You can enjoy a hoagie paired with beer and lime on this day and have a blast with friends and family. Add some Italian music to the mix and you have the perfect night at your hand.
You can make a submarine adventure on this day by having your family and friends over for a dinner on a six-foot-long hoagie. It is too big to have on your own and you would need to order it from a restaurant or deli near you. But it would make for a huge celebration from all angles.
If you are a romantic by heart, then you can of course make the day memorable by using some candle lights to liven up the situation. Add on some soft music in the background, a wonderful hoagie, a nice bottle of Italian wine and you would have the perfect evening to a fantastic day.
Remember to share your thoughts, ideas, and even your pictures of this day on the online platform and add the #NationalHoagieDay to make it popular.
Interesting facts about National Hoagie Day:
There are a lot of ingredients involved in the making of a hoagie and it is pretty much the choice of the creator on the kind of items to be included in a hoagie. However, there are some popular and authentic ingredients used in the making of a hoagie and we have them here for you to know about on this day.
Roasted red peppers give that smoky flavor to the sandwich and are probably the only nutrition you can derive from the otherwise unhealthy combination of fats. The vegetable is known to be a rich source of beta carotene and Vitamin C.
You can add a tangy hot flavor to the sandwich with the pepperoncini to the mix. Choose the color, red or green or both to make it a colorful sandwich.
No sandwich is the best without the right cheese and for a hoagie, you would want to have the right flavor. Adding mozzarella or provolone would be a better choice in terms of cheese.
Fatty mortadella is the best option for an authentic hoagie experience. But if you are not keen on the fat, then you can substitute the same with ham.
While it does have a high content of sodium and saturated fats, it is still the most sought ingredient in any Italian hoagie, the salami.
You can make your hoagie with any other ingredients of your choice along with those mentioned above and make it the best dish for the day. The Governor of Pennsylvania and former mayor of Philadelphia, Ed Rendell had hoagie declared as the official sandwich of the state of Philadelphia.
History of National Hoagie Day:
While the word hoagie might have originated between the 19th and 20th centuries, we do not have definitive information on the origins of this day. We will continue to research and provide you with information as and when it is available.