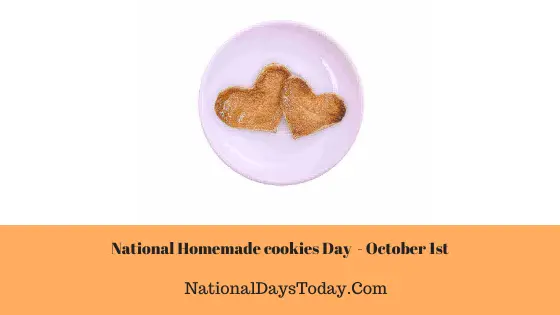 National Homemade Cookies Day:
Celebrated every October 1, in the United States. The Day is to celebrate by making delicious Cookies at Home!
| | | | |
| --- | --- | --- | --- |
| Year | Date | Day | Where |
| 2023 | 1st October | Sunday | United States |
| 2024 | 1st October | Tuesday | United States |
| 2025 | 1st October | Wednesday | United States |
Twitter Hashtags:
#NationalHomemadecookiesDay
#HomemadecookiesDay
Related: Other National Days Celebrated on October 1st:
Why Homemade Cookies Day?
This day is one of the unofficial food holidays observed prominently by all parts of the United States. Every one of us love cookies, in spite, we love different flavors. Despite many variants available in the market, we would never forget the taste of our Granma's cookies that we had during our vacations or whenever we go to her home. That is the speciality of homemade cookies.
Whenever we do something with love and care, the outcome will always be the best. This day is to also to remember those wonderful memories.
We can certainly make cookies of any shape so that our children would love since shapes attract them more than taste.
How can we celebrate National Homemade Cookies Day?
Try Homemade Cookies like Chocolate chips cookies, Ginger cookies, Oatmeal Cookies, Peanut Butter cookies, etc. and enjoy this day. Never forget to post your recipes using this hashtags #HomemadeCookiesDay and #NationalHomemadeCookiesDay on social media. In some countries, they have a tradition of making some recipes and distributing it to the neighbors and friends during the festival times and thereby spreading love and affection. Even, we shall follow this. prepare cookies, distribute to your loved ones, and make this day more splendid.
Do Try some different shape cookies and picture it, post using this hashtag #DifferentshapesofCookies. Do not forget to share the pictures. Try also some new variants with some fruit extract or vegetable extract and see the output.
Share some memories that you had with Your Grandma since they are the wonderful cookies Makers.
Try this recipe,
Chocolate chip cookies Recipe:
Ingredients:
3/4 cup brown sugar
2 eggs
3/4 cup white sugar
1 teaspoon vanilla extract
1/2 cup butter
350 grams of chocolate chips
21/4 cups plain flour
Half-teaspoon salt.
Preparation Method:
Step 1: First, heat the oven to 350°F or 180°C.
Step 2: Take a medium-sized bowl, add the flour, salt, and baking powder and mix them together.
Step 3: Take a separate bowl, add white sugar, brown sugar, and butter. Blend it well using a hand mixer or blender. Blend it until the mixture is soft, lightly creamy, and fluffy.
Step 4: Add the two eggs and vanilla extract in the sugar-butter mixture and agitate it vigorously until it ends well with the mixture.
Step 5: Add the flour-baking powder texture and stir it well. Add little amounts and mix it well every time, so that the powder mixture does not form white specks. Add the chocolate chips and mix them well.
Step 6: Take a baking sheet and drop the prepared mixture using a spoon or scoop. Leave some space so that it can spread during the baking process. To avoid sticking, use parchment paper.
Step 7: bake the cookies for 20 minutes or until it turns golden brown and crispy.
Step 8: After baking. cool it in a cooling rack until it is not too hot. Store the remaining cookies in a tight container.
Enjoy the day with homemade crispy chocolate cookies.
Interesting Facts about Homemade Cookies Day:
Normally Butter is used as a prominent ingredient since it gives a smooth texture. The use of additional ingredients like chocolate chips, peanut, Ginger, Garlic, etc. gives your different flavors.
History of Homemade Cookies Day:
The origin and Creator of National Homemade Cookies Day are unknown.