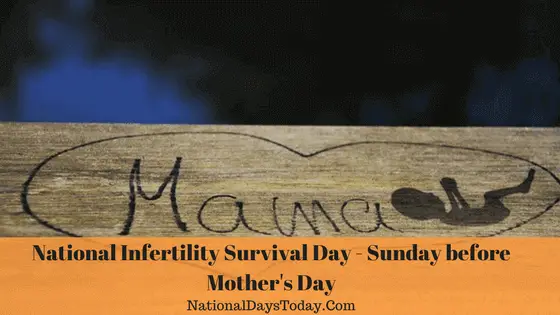 National Infertility Survival Day:
Celebrated on Sunday before Mother's Day every year. The day has been observed to cope up the depression felt by couples who do not have children but desire to.
| | | | |
| --- | --- | --- | --- |
| Year | Date | Day | Where |
| 2023 | 5th May | Sunday | United States |
| 2024 | 5th May | Sunday | United States |
| 2025 | 5th May | Sunday | United States |
Twitter Hashtags:
#NationalInfertilitySurvivalDay
#InfertilitySurvivalDay
#MyChoiceOnInfertility
Related: Other National Days Celebrated on May 2nd:
Why Infertility Survival Day?
National Infertility Survival day has been observed to cope up the depression felt by couples who do not have children but desire to. The grief continuously carried by the childless couples cannot be explained in words. Especially females suffer a lot on Mother's Day. It would be definitely worst for them during the Mother's Day Celebration. Therefore Beverly Barna founded this day to lift their sprint and to cope up with their emotions. So on every Sunday before the Mother's day Infertility Survival Day is being observed.
How we can Celebrate or Observe National Infertility Survival Day:
Share your triumphs, efforts, and choices by which you overcame infertility issues using this hashtag #MyChoiceOnInfertility on social media. Let us pray for the couples who determine for a baby. but still struggling. Share a well-established gynecologist, clinic address, Appointment timings, if you know, using this hashtag #GynaecologistDetails that could be helpful to others, even in a small way. Infertility is neither an inability nor a serious disorder. A small treatment even could change our lives. So be positive. Focus on your health. Do not be stressed, Take what other says optimistically. Go head. You will get everything one fine day.. That day you will definitely laugh at your worries you had before.
Interesting Facts About Infertility Survival Day:
A statistic data states that the infertility rate in the United States has been considerably dropped down in recent years.
As per the reports of Centers for disease control and prevention, the percentage of infertile women who are at an age between 15 and 44 has been reduced from 8.5 percent to 6 percent as of 2010.
Even in case of oldest women, the percentage is declined to 27 from 44 percent between 2006 and 2010.It was 44 percent during the year 1982.
Conversely, the percentage of women who experiences pregnancy difficulties has been drastically increased. It increased from 8.4 percent to 11 percent over the past three decades.this is reported to be because of bearing children at an older age.
Roughly 47 percent of the women who are at age 40-44 are experiencing complications during the pregnancy.
The rate is constantly increasing due to the increase in the rate of childless women who are at age more than 40 intends to have a child.though several fertility treatments are in place, could not cope up with the increase in Infertility of aged women.
surprisingly, a study has found that 40 percent of the childless women do not intend to have a child.
History of Infertility Survival Day:
The Infertility Survival day is created by Beverly Barna Author of the book "Infertility Sucks! Keeping it All Together when Sperm and Egg Stubbornly Remain Apart" in the year 2004. She coincides this day with the day she conceived after struggling with infertility and in order to console the struggling parents with a special day she founded this day. Moreover, she owns a website by which she raises awareness of Infertility issues.
I hope National Infertility Survival Day will lift their spirits and give them the impetus to celebrate themselves and that which they do have. This is not to negate the very real despair they may be facing. Rather, it's an opportune time to stop and smell the Chanel, and also to blunt the emotional pummeling that can occur leading up to, on and around Mother's Day. And it's also a vehicle through which those close to them can provide meaningful, creative, and fun support" Says Barna.