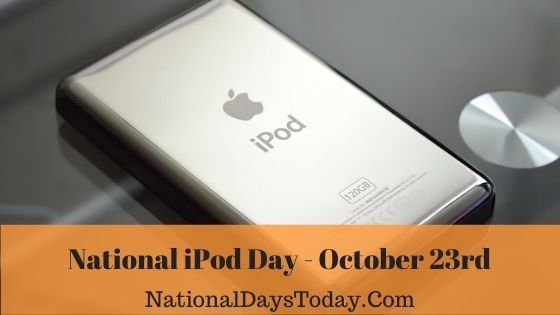 National iPod Day:
National iPod Day is observed on the 23rd of October. This day is celebrated to recognize iPod, the portable music device.
| | | | |
| --- | --- | --- | --- |
| Year | Date | Day | Where |
| 2023 | 23rd October | Monday | United States |
| 2024 | 23rd October | Wednesday | United States |
| 2025 | 23rd October | Thursday | United States |
Twitter Hashtags:
#NationaliPodDay
#iPodDay
Related: Other National Days Celebrated on October 23rd:
National Swallows Depart From San Juan Capistrano Day
Why National iPod Day?
In 2001, the portable electronic industry was at its peak, and the world was beaming with the hottest musical components. The CD player was also introduced around this time. But little was known to the world than that a computer company has set its first step towards revolutionizing and rocking the music industry to its core.
Apple introduced iPod on the 23rd of October in 2001. The first iPod was purchased on 10th November 2001. It was purchased for $399. This day is celebrated to commemorate this groundbreaking invention. This small device revolutionized the ways of listening and managing one's music collection. It has created its impact on thousands of people and took music portability to another level.
This gadget scooped up all the music enthusiasts to compile all of their favorite songs in one place. This was a historical event. Music is always loved and appreciated by all, and it was for the first time that any song one wants to play was just a push of a button away. Soon after this, the release of iTunes was another masterstroke from Apple. With these two new musically powerful tools, the music industry was all set to provide songs on a meal basis.
iPod was not limited to the music industry only. It also introduced other media, and soon people could listen to their favorite book or news also in this compact device. iPod revolutionized the ways of listening and telling storied by bringing in podcasts. Anyone who wants to upload something could broadcast it on iPod, and listeners can easily tune in to download this podcast. Nowadays, there are a lot of apps that offer this podcast feature.
Various versions of the iPod have replaced the first iPod model. All the models of iPod saw a lot of success in the market and were sold out very fast. Even today, many people own iPods, and listening to music on it is still a trend. iPod touch is still in production, and Apple phones provide a lot of functionalities that enhance one's music listening experience.
iPod day is also celebrated as a tribute to the founder of Apple company, Steve Jobs. He was the one whose ambitions drove Apple from a computing company to an international powerhouse of electronic gadgets. iPod paved the way for a lot of new music portable devices.
This day is perfect for idolizing Steve Jobs and learning from his hard work and sacrifice that anything is possible. All you need is a bit of inspiration and determination to achieve all your goals and become of the world's business tycoons.
The invention of this device changed the way of listening and purchasing music.
How Can We Celebrate National iPod Day:
There are many ways to observe this day!
The first and foremost thing that you could do to celebrate this day is listening to music on your iPod.
Music is the best way to express yourself. One's music taste tells a lot about their personality. You could share your favorite playlist on your iPod to celebrate this day.
One of the best days to celebrate this day is to go through all the music on your iPod and recollect the memories of the first song that you put in there.
You could share your first iPod.
Buy that one iPod that you have been longing for on this day. This day is a perfect excuse to pamper yourself musically.
Upgrade your iPod playlist. Reinvent yourself musically by deleting all those songs that no longer define and upgrading your music library.
Share your favorite podcasts or advertise your podcast.
Let others also know about this day. Share playlists, or podcast memories, or an image of your favorite iPod on social media, and use hashtags like #iPodDay or #NationaliPodDay.
Interesting Facts About National iPod Day:
Some interesting facts on National iPod Day are:
A freelance copywriter, Vinnie Chieco, proposed the name iPod. A phrase inspired this name in Stanley Kubrick's movie.
An amateur DJ, Tony Fadell is known as the father of the iPod. He was the one who came up with the idea of a portable music player and not an apple.
The design of the iPod was inspired by Braun T33 transistor radio and created by Dieter Rams, a German designer.
The first iPod made had a capacity of 5GB.
France has a law that states playing iPod over 100 decibels is illegal.
The battery of the iPod could last for 14-28 days if not used at all.
The world's most expensive iPod costs around $231,776.
iPod classic version was discontinued by Apple in 2014 and is now a collectible item.
History Of National iPod Day:
We don't know for sure who started celebrating this day, but it is celebrated on this day as the world's first iPod was invented on this particular day.