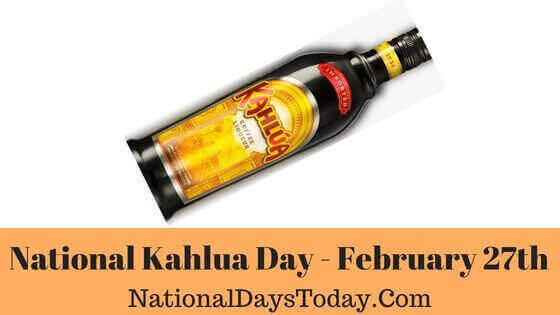 National Kahlua Day:
There is maybe no better example of tempting (and slightly sinful) drinks than a cold, creamy glass of Kahlua. This rich liquor is a Mexican drink widely consumed worldwide, so it should come as no surprise that devoted fans of the tasty beverage have created a day to commemorate it on February 27. And for a good reason!
| | | | |
| --- | --- | --- | --- |
| Year | Date | Day | Where |
| 2023 | 27th February | Monday | United States |
| 2024 | 27th February | Tuesday | United States |
| 2025 | 27th February | Thursday | United States |
Twitter Hashtags:
#NationalKahluaDay
#KahluaDay
Related: Other National Days Celebrated on February 27th:
Why National Kahlua Day?
Kahlua is a sweet and rich coffee-flavored liqueur made from an expert combination of coffee, rum, corn syrup, and vanilla bean (another typical Mexican ingredient). It gives a kick to every cocktail and is the ideal after-dinner tipple. However, because of the combination of many traditionally Mexican ingredients, a bottle of Kahla can take up to seven years to make from start to finish, owing primarily to the growing and processing of the coffee beans used to give it the signature coffee kick.
One of the essential bottles to have behind the bar is Kahlua. Kahlua is more than a bottle of liquor; it represents small business dreams, promotes the value of female leadership, and anchors the character of a film masterpiece.
We sincerely doubt you'll find hordes of Kahlua fans flocked to the bar early in the morning to watch parades and wear national colors to commemorate the day if you step into a bar anywhere in the United States. Most people are unlikely to be aware that February 27 is a holiday. It isn't celebrated. However, it should be.
This day is meant to do just that. It might not have an intriguing historical story behind it, but in these times of isolation and misery, wouldn't you love a glass of a fine drink, some hearty conversation with your loved ones. Take a break to count your blessings. So bring some friends along with a Kahlua cocktail of your choosing. They'll gladly dust off the bottle and pour some for you, no matter how you like it.
Cheers!
How Can We celebrate National Kahlua Day:
Kahlua pairs well with a variety of desserts and drinks due to its ingredients and flavor. There appears to be no "wrong" way to enjoy this exceptional and one-of-a-kind cocktail, whether on the rocks, mixed with coffee, or even atop a scoop of ice cream. So, what do you have to lose? We've got some of these classic drinks that will help you celebrate #NationalKahluaDay!
Two ounces Kahlua, 2 ounces Baileys Irish Cream, 2 ounces milk or cream, 2 cups ice Chocolate syrup, and whipped cream to garnish.
In a blender, mix all of the ingredients and blend until absolutely smooth. Then, into two Martini or Hurricane glasses, pour your Mudslide.
Four ounces Vodka, 2 ounces Kahlúa, Ice cubes.
Pour all ingredients into two ice-filled mixing glasses. Stir the ingredients briefly, then strain into two old-fashioned glasses filled with one or two big ice cubes.
Enjoy these refreshing drinks on this day with family and friends and celebrate in style and do not forget to post them on social media using #NationalKahluaDay #Kahluaday.
Interesting facts about National Kahlua Day:
Pedro Domecq developed Kahlua for the first time in 1936 in Veracruz, Mexico.
From the harvest of the coffee beans, vanilla, and sugar cane to the bottle, each bottle of Kahlua takes seven years to make.
In the 1950s, a collector of old Mayan statuettes was employed at Kahlua and used them in many of its advertisements. The advertisements and statuettes enthralled people.
A female-dominated team ran Kahlua in the 1960s. It was highly uncommon, if not unheard of, at the time. The Kahlua ladies, as they were called, were a media sensation, but not for the reasons that we associate with liquor brands today. They happen to be the company's executives.
Kahlua is made with a base spirit that is similar to rum. Kahlua is a caffeinated beverage made primarily from coffee beans. Other ingredients in this drink include rum, corn syrup, Vodka, and sugar, in addition to a blend of fine Mexican coffee.
History of National Kahlua Day:
The origins of Kahlua can be traced back to a man named Pedro Domecq, who produced one of the world's most famous liqueurs by combining rum, vanilla, corn syrup, and coffee in 1936. The name of the alcoholic beverage comes from a Mesoamerican tribe that lived in the Mexico Valley long before the arrival of Spaniards. Initially, only known near its founder, Kahlua's fame has since spread across the globe. Countless millions of people around the world now enjoy it in different ways.