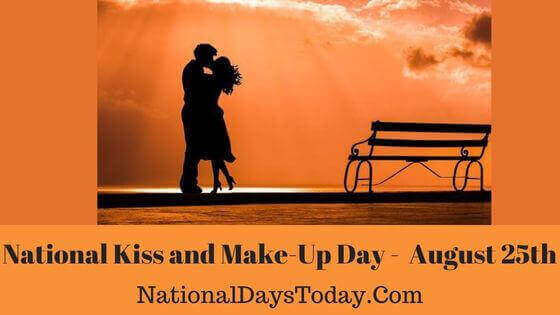 National Kiss and Make-Up Day:
We all know about the 14th of February, celebrated as Valentine's Day, the day of love. But, have you wondered about a day especially for celebrating your love with your significant others in the form of a kiss and making up with them? The 25th of August is the day of National Kiss and Make Up Day.
| | | | |
| --- | --- | --- | --- |
| Year | Date | Day | Where |
| 2023 | 25th August | Friday | United States |
| 2024 | 25th August | Sunday | United States |
| 2025 | 25th August | Monday | United States |
Twitter Hashtags:
#NationalKissAndMakeupDay
#KissAndMakeupDay
Related: Other National Days Celebrated on August 25th
National Park Service Founders Day
National Second Hand Wardrobe Day 
Why National Kiss and Makeup Day?
It is the day of love when you bury all the anger and grudges you have for someone special in your life and makeup with them by celebrating your love for them.
We all get into conflicts with our loved ones once in a while. Conflicts may arise due to a stupid misunderstanding, due to a lie, or a clash with your sibling, best friend, or a lover.
How can we observe National kiss and Makeup Day?
If you think you committed some mistakes in the past and want to get over them, you can take your lover for a special candlelight dinner and make up with them for everything that happened in the past.
Even if you want to seek things out with your close friend, this day is perfect for doing any repair needed by the relationship. Remember, forgiving and forgetting are the key!
Getting the person their favorite flower, or simply a sorry card can do loads as it shows the number of efforts being put in by you. You can also prepare a mixed tape for them making them feel important.
You can also celebrate this day to make your relationship with your family, lovers as well as friends stronger. It will not only create a deep bonding between you two but will also save you from any further problems and help you deal with the consequences.
If your partner loves shopping, getting them to shop their hearts out will bury all the anger or grudges they have with you. To make things more interesting, you can spend time with your person later on a movie night or a dinner date.
Celebrating your love for another person on social media is a recent trend going on on the internet nowadays. You can do the same by posting a story with your lover on Instagram or Snapchat and telling people how much you love them.
Sending a personalized letter, written by yourself to your lover, or friend apologizing to them or telling them how important this relationship is to you will make them forget everything and hug you right away! Telling them that you want to make things better is going to add spark to the relationship sooner than you realize.
Never forget to share your ideas using hashtags #NationalKissandmakeupday and #KissandmakeupDay.
Interesting facts about National Kiss and Make Up Day:
Even though this day does not have any official holiday per se, people all over the world still celebrate it with their loved ones to remove all grudges from the past. This holiday started by Jacqueline Milgate got popular due to the need to introduce something like this to make the
world a better and loving place to live in. Expressing your love for your special one and living a happy life with them is what this day signifies.
History of National Kiss and Make Up Day:
New York's Jacqueline Milgate should be thanked by everyone for introducing this day to us! The main motive behind having a specific day for this was so that people give time to the significant others in their lives and express their love by obviously kissing as well as making up.
Setting aside all the grudges you hold against the person, you start the relationship by reconciling everything from the past. Since then, the day started to be celebrated by everyone especially all the couples in the world as the news spread through the internet.
This day holds particular importance for people who feel their relationships have not been going smoothly with the love of their lives lately. If you want to resolve a fight with your significant other or want to make them feel extra special, this day is perfect for you!
There's nothing wrong with giving someone a second chance right? Make this a fun holiday to provide another chance for your loved ones and express your love for them.
Even though it is not an official holiday, you surely do not need a reason to celebrate or mend things with your family, friends, or partner.
Conflicts are an inevitable part of life and there is no way you can avoid them at any point in life. If you think apologizing to someone will make you look weak, you are probably wrong. Even if you apologize without meaning it, it would be considered a no apology. This is something that you should definitely think about if you want to maintain a relationship with the people in your life.
Even though love should be expressed every day of the year, having a special day for a special person does not do any harm.
In case you think you did not do anything wrong, this day is a reminder to put one's ego aside and not be stubborn. You never know how the other person felt at that moment. After all, it's the efforts that matter, right?