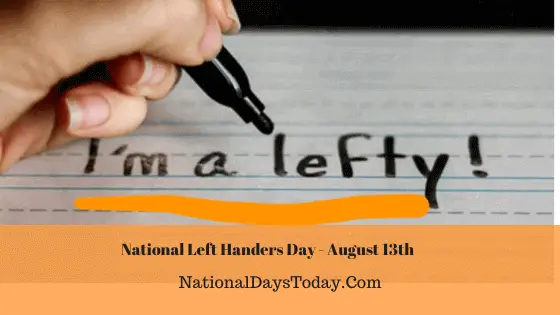 National Left Handers Day:
Celebrated on August 13th every year. This day is for the Lefties and to sort out the issues faced by the left-handers in this world that purely designed for the righties.
| | | | |
| --- | --- | --- | --- |
| Year | Date | Day | Where |
| 2018 | 13th August | Monday | United States |
| 2019 | 13th August | Tuesday | United States |
| 2020 | 13th August | Thursday | United States |
Twitter Hashtags:
#NationalLeftHandersDay
#LeftHandersDay
Related: Other National Days Celebrated on August 13th
National Blame Someone Else Day
Why Left Handers Day?
This day is for the Lefties and to sort out the issues faced by the left-handers in this world that purely designed for the righties. This day is credited to their achievements in spite of difficulties and challenges in day-to-day life. Reported to be only 10 percent, with hundreds and thousands of people adapted to use right hand, the achievements of the remaining left-handers are invincible. Moreover, this day highly demands to emphasize the special requirement of the left-handed kids so that at least the future generation would not suffer.
How we can Celebrate National Left Handers Day:
National Left-handers day is being celebrated as an international event and various programs are being conducted exclusively for the left-handers. Mark your presence at any of the events and use this hashtag #Lefthandersday to share your experiences. Use this hashtag #Famouslefthanders and post the achievements of Left-handers and regarding the famous left-handers.
And Dear Left-handers,
You are merely 10 percent of the world's population but still you are equally competing with 90 percent of the right-handers in all sorts of streams, from politics to sports and first of all, kudos for that! You are the Inspiration for all of us. From Notebooks, Pens, Scissors, even desks in schools are designed for right-handed people and we know how much you would suffer because of such provisioning. Just share your difficulties, achievements, Thoughts for improvement using this hashtag #WeAreLeftHanders.
And Dear Right-handers,
Let us do everything by left hand for a day. It will be a great fun. Post your drawings, writings using this hashtag #RightHandersOnLeftHandersDay.
Interesting Facts About Left Handers Day:
Left-handers are often denoted as -Southpaws", a word that is affiliated to baseball game to point left-handed pitchers.
Approximately 85 to 95 percent of the people are right-handed. Writing does not determine the handedness since most of the left-handers uses right hand to write and uses left hand for other purpose. In addition, Left-handedness is common in mate compared to female.
 Left-handedness reported to be occurred prominently in identical twins and persons who do have neurological disorders like epilepsy, Down's syndrome, mental retardation, autism, dyslexia. Etc. and since the connected right brain cerebral is more active in left-handed people, they said to be a genius and possess good artistic skills.
As we all know, each Hemisphere controls a particular types of emotions. This control depends on the handedness as per a study. Thus, the approach of brain will be different in left-handers. Moreover, Left-handedness might be because of genes. There is a 26 percent of chances of Left-handedness in a child if both of the parents are left-handed; however, it cannot be determined in a single generation gene. Other factors could be prenatal hormone exposure, birth position in the uterus, high number of ultrasound scans and Lower birth weight. Rather, no researches have confirmed the same.
In accordance with a research, left-handers could hear well than those of right-handers. They can hear slow and quickly changing sounds better.
Interestingly, most of our recent former presidents are left handed. Barack Obama, Bill Clinton, George H.W. Bush, James Garfield, Harry Truman and Gerald Ford, all are left handed. Not only in politics, also in sports too. Tennis player Rafael Nadal, Golf player Phil Mickelson, boxing champion Oscar de la Hoya are few of the famous left-handed sports people. Left-handers are tends to be good in sports due to the brain-hand connection protocol. The great artist ever since,Leonardo da Vinci is left-handed.
In terms of fear and alcoholism, left-handers are likely to be affected more, comparatively to that of right-handers. . Nevertheless, some of the researchers never acknowledged it and the concept is still in dilemma. As per the research, lefties are great observers.
Change of hand while doing a task is celled as mixed handedness or cross-dominance; it is merely less than one percent of the world's population. Likewise, the ability to use both hands equally well is called as Ambidexterity.
In some of the countries, left-handers are motivated to change the hand preference to right especially in china, since Chinese will be extremely difficult for the left-handers. However, languages like Hebrew, Arabic etc. are easy for the left-handers.
Few Famous left-handers of the United States:
Harry S.Truman: 33rd president of the United States and the only leader who used nuclear weapons during the wartime. He approved the infamous nuclear bomb attack on Hiroshima, Nagasaki of Japan that had led to nearly 105000 people death.
Gerald Ford: 30th president of the United States and his presidency is the shortest one in the American History, which lasted only for about 29 months
Ronald Reagan: 40th president of the United States. Prior to that, he was an actor, trade Union representative and served as the Governor of the California state. He has coordinated for the end of the cold war. He died at the age of 92 and his death was mourned as National Day of Mourning, declared by the then president George L.W. Bush.
George H.W. Bush: 41st president of the United States and the longest-lived president in the American History (as of 2018). The Queen Elizabeth II honored him with the honorary Knighthood award and he is the third president to receive the award after Dwight D.Eisenhower and Ronald Reagan. He is also known for his humanitarian activities.
Bill Clinton: 42nd president of the United States and third youngest resident to serve the country.
Barack Obama: 44th president of the United States and first African-American president to serve the country. His presidency was lauded by most of the Americans and historians since most of the bills passed during his presidency were greatly appreciated by the civilians.
Surprisingly, all the above are the former presidents. Five out of seven recent former presidents were lefties.
ENTERPRENEURSHIP:
Bill Gates: A Businessman, humanitarian, philanthropist and the Founder of the Microsoft Corporation. Gates is one of the famous wealthiest people around the world. He has donated a large part of his money to various charities and scientific researches.
Steve jobs: Co-founder of Apple, a famous computer company and he is the discoverer of Digital revolution.
Mark Zuckerberg: Co-founder of Facebook and a philanthropist. He pledged to give 99 percent of his wealth in future.
SPORTS:
Babe Ruth: Nicknamed as King of Crash, Sultan of swat, he is one the famous American Professional baseball player.
Bill Russell: A famous basketball player. He ranks first in NBA History. He is one of the seven players to win an Olympic gold medal, a NCAA Championship and a NBA Championship.
Phil Mickelson: Nicknamed as Lefty, he is one the famous American Professional Golfer.
ASTRONOMY:
Edwin E.Buzz Aldrin Jr: an astronaut and the second human to land on the moon after Neil Armstrong since the two were the part of the mission.
ENTERTAINMENT: Oprah Winfrey, Lady Gaga, Angelina Jolie, Jennifer Lawrence, Ronald Perlman, Marshall Mathers are other few American media moguls who are lefties.
History of Left Handers Day:
Left-handers day club declared the National left-handers day on August 13, in the year 1976, initiated by Dean Campbell, an U.S Publicist. The day was launched to focus on the sufferings of the left-handers and to deprive. The day is also acknowledged to analyse the pros and cons of left-handedness.