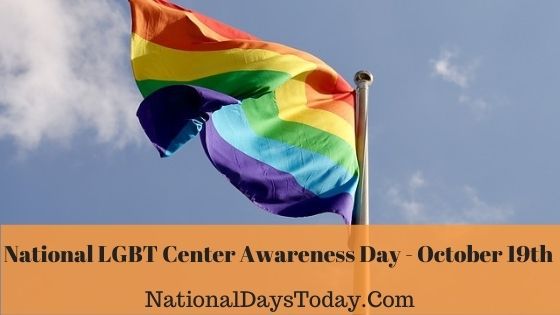 National LGBT Center Awareness Day:
Celebrated on October 19th every year. It is dedicated to the LGBT ( Lesbian, gay, bisexual & Transgender) communities that are functioning across the nation to spread awareness.
| | | | |
| --- | --- | --- | --- |
| Year | Date | Day | Where |
| 2023 | 19th October | Thursday | United States |
| 2024 | 19th October | Saturday | United States |
| 2025 | 19th October | Sunday | United States |
Twitter Hashtags:
#NationalLGBTCenterAwarenessDay
#LGBTCenterAwarenessDay
Related: Other National Days Celebrated on October 19th:
Why National LGBT Center Awareness Day?
This day came into existence because of centerlink, which is the organization that has founded various LGBT community centers for spreading awareness regarding the important services that the community centers are offering. These centers' prime focus is on building a strong support system for people belonging to the LGBT community. They provide all kinds of services for the members of such communities, including mental health counseling services, social services, recreational activities, support groups, etc. They make sure that the people get appreciated for who they are.
A whole day was specially dedicated to this cause because they wanted to attract people's attention towards these community centers and what they do for society. LGBT community people are still treated in abnormal ways. This is why it was mandatory to create awareness for them to become more accepting of people belonging to these communities.
The LGBT community centers that were established by centerlink serve nearly 40,000 people weekly. They also appreciate the participation of people outside their centers. There are different ways in which outsiders who wish to associate with this cause can participate in celebrating this "National LGBT Center Awareness Day."
Normally, when people come to know that their children or someone close to them are lesbian or gay, they abandon them, which was highly prevalent in various households. It is because of this reason that people hesitate in opening up as their true selves. Since it was a wrong practice, this special day was founded to end the injustice against people who do not fit according to society.
These community centers are wholesome places for people who are abandoned due to their sexuality. They not only shelter them but also provide other services too like educating them. They give a feeling of familiarity to all its members. People find comfort and value in these centers. They do not feel odd and are appreciated by other similar people.
Centerlink has also partnered with other organizations like True colors fund for getting higher visibility and reach more masses. They give the opportunity to people who want to participate in their initiative to join via online mode. They have resources and materials for the same purpose. They provide a login facility to the interested candidate via the website of the organization.
Apart from this, they also have themed clothes: blue colored T-shirts as the common uniform which all the people who belong to these community centers wear. The hashtag #lgbtCAD is their famous hashtag that is used by people who want to mention them anywhere on social media platforms.
How can we observe National LGBT Center Awareness Day?
There are various ways in which this day could be celebrated by simply sharing some relevant information about this day on social media platforms to participating in various events or functions like :
Seminars
Fundraisers
Art shows
Open houses etc.
If you want to organize your own event on this day, that will also be another interesting idea to celebrate this day's spirit. The best way is to make the people belonging to these communities feel heard so that they can get a chance to open up and be comfortable with you as a person.
Post photos and videos of your local LGBT communities using #NationalLGBTCenterAwarenessDay and #LGBTCenterAwarenessDay on all your social media pages today.
Interesting facts on  LGBT Center Awareness Day:
Some of the interesting facts about LGBT Communities are:
Youth who are LGBT and are out of their families are happier than those who are not.
Society has become more accepting in the past 10 years of the LGBT community.
Same-sex marriage is legal in 19 states of America and the district of Columbia.
Being a lesbian, bisexual or gay is not the same as being Transgender.
Homosexuality is not a mental illness.
The state with the most gay couples in California.
Almost 1% population in America is confirmed as Transsexuals.
Bayard Taylor's 1870 Joseph and his friends were the first U.S novel to highlight the concept of homosexuality.
The oscar wilde memorial bookshop was the first gay bookstore situated in Newyork city.
History of National LGBT Center Awareness Day:
Centerlink, which is an American member-based group of LGBT ( Lesbian, gay, bisexual & Transgender) Community centers, is the founder of the National LGBT Center Awareness Day. It was founded in the year 1994. And since then, they are growing as among the largest community centers serving the LGBT community. They serve 40,000 people on a weekly basis.