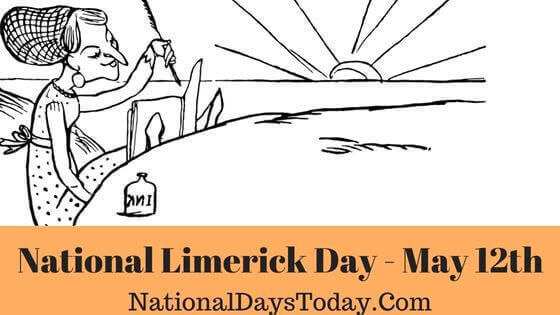 National Limerick Day:
Every year on May 12th, National Limerick Day honors Edward Lear, an English poet who popularized the classic five-line poem, which is recognized for its amusing, sometimes raunchy topics. They're instantly recognizable and are skillfully structured to put a smile on your face.
| | | | |
| --- | --- | --- | --- |
| Year | Date | Day | Where |
| 2023 | 12th May | Friday | United States |
| 2024 | 12th May | Sunday | United States |
| 2025 | 12th May | Monday | United States |
Twitter Hashtags:
#NationalLimerickDay
#LimerickDay
Related: Other National Days Celebrated on May 12th:
National Fibromyalgia Awareness Day
Why National Limerick Day?
The Limerick is a type of hilarious nonsensical poem that is very brief. Limericks are five-line poems with the first two lines rhyming with the fifth line and the third and fourth lines rhyming with each other. Although limericks are supposed to have five lines, Edward Lear has frequently exhibited with three or four to make room for his accompanying sketches and paintings. The limericks have an anapestic trimester, which is an official term for the rhythm.
Most limericks begin with a description of a person or a location, followed by a description of that person's behavior. Limericks can be profane or harsh, and they're frequently offensive. Lear preferred them this way because he thought "clean" limericks were only passable at most. Limericks about current events and societal issues have become more popular in recent years.
National Limerick Day seeks to raise awareness of this type of poem, which can serve as a wonderful exposure to the idea of poetry for children. Observing this day on Edward Lear's birthday is a fitting tribute to the man who introduced them to the general public's attention. The day promotes awareness of this poetic form.
How can we Celebrate National Limerick Day:
Spending some time learning more about limericks and poetry, in general, would be an excellent way to commemorate this day. Edward Lear and his wonderful limericks might be honored on National Limerick Day by devoting some time to them. Other prevalent ways to celebrate this day include:
Come up with your own Limerick.
You can gather a group of pals and compete to see who can come up with the funniest, most incomprehensible five-liner to honor Edward Lear. Make sure to share your finest version with the world using the hashtag #nationallimerickday. By this, you can identify your potential to become a famous poet, if you have any.
Enroll in a poetry class.
You can start taking classes and practice five-line limericks and then move on to other styles of poetry. A sonnet is a 14-line rhyming poem, but free verse poetry has no limitations and allows the writer to experiment with lines, rhyme, and even punctuation. Many libraries, as well as public leisure facilities, offer community writing programs.
Travel to Limerick, Ireland.
Only the most adventurous limerick fans will choose this route. Take a journey to Limerick, the poem's namesake country, and spend some time there! Visit St. John's Cathedral and take a boat cruise along the River Shannon. Visit People's Park before heading to the Hunt Museum to see original masterpieces by Picasso and Leonardo da Vinci.
Interesting facts About National Limerick Day:
Many individuals enjoy commemorating this day for a variety of reasons.
Saint Augustine, who wrote a brief rhyme sometime in the 13th century, is credited with writing the first limerick. It follows a limerick's stress structure and rhyming, except it's written in Latin. Though, it's assumed that he was not aware of the term limerick then.
A limerick is a unique form of poem that is brief, full of comedy, and made up of "nonsense"; it is intended to be humorous. A limerick is a five-line poem. A limerick's distinguishing trait is that it must have a specific rhythm, which is referred to as an "anapestic trimeter."
Lear, who was born in 1812, loved a good laugh and created his 'Book of Nonsense,' a collection of 72 limericks, in 1846, with that in mind. The book was a great success, elevating the author's profile and the limerick's status in popular culture throughout the world.
They provide us the freedom to be inventive. Limericks are a type of poetry that is short and simple to produce. It's a fantastic and creative method to get your pen to paper and write a few poems.
They belong to the people. The Poem is not for everyone. Limericks are a fun way to be poetic without being too serious. Every poem doesn't need to be 100 lines long and rhymed. Limericks are short stories that make you laugh and live a bit.
History of National Limerick Day:
This day is celebrated on Edward Lear's birthday to remember the contributions of this English artist to the field of art and his outstanding achievements during his lifetime. Although Edward Lear did not invent limericks, celebrating National Limerick Day on his birthday is a fitting tribute to the man who brought them to the notice of the general public, notably when he was 34 years old with his Book Of Nonsense, published in 1846.