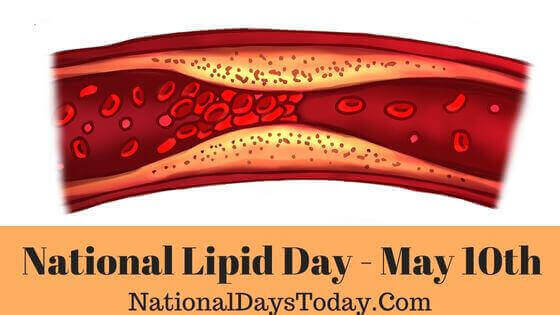 National Lipid Day:
In the U.S., National Lipid Day is celebrated on May 10 every year. The objective of the day is to increase awareness of dyslipidemia. An unusual amount of fats or cholesterol which is present in the blood causes Dyslipidaemia.
| | | | |
| --- | --- | --- | --- |
| Year | Date | Day | Where |
| 2023 | 10th May | Wednesday | United States |
| 2024 | 10th May | Friday | United States |
| 2025 | 10th May | Saturday | United States |
Twitter Hashtags:
#NationalLipidDay
#LipidDay
Related: Other National Days Celebrated on May 10th:
National Clean Up Your Room Day
Why National Lipid Day?
Dyslipidaemia is an elevated level of cholesterol as well as other lipids, also termed fats, in the blood. But lipids are vital for life. They are a crucial component of the live cells. At the same time, elevated concentrations can lead to cardiac arrest or heart disease at any time.
Most individuals with dyslipidemia are oblivious that they have it. A doctor will likely identify dyslipidemia via normal blood testing or screening for another diagnosis. The symptoms that can develop are leg discomfort, tightening or tension in the chest and breathlessness, pain in the neck, jaw, back, and shoulder. Even digestion issues and reflux can arise. It also induces sleep disturbances, daytime tiredness, and cold sweats.
What do you think causes such elevated levels of cholesterol? Cholesterol is just an oil-based chemical. It does not combine with your blood because it is water-based. It moves throughout the body in the form of lipoproteins. Factors that influence your risk of excessive cholesterol levels involve a poor diet in which consuming far too much saturated fat and trans fat may contribute to abnormal cholesterol levels.
Saturated fats are present in fatty cuts of meats and full-fat milk products. Trans fats are found mainly in pre-packaged snacks or desserts. Then obesity is another factor in it. To have a body mass index of 30 or above puts you at risk of elevated cholesterol.
Smoking may lower your amount of high-density lipoprotein that is classified as beneficial cholesterol, whereas consuming too much alcohol might increase your overall cholesterol level. If you do not exercise, it depletes the body of helpful cholesterol, contributing to it having more bad cholesterol.
As you grow older, your liver is much less able to eliminate cholesterol. Therefore, you are at risk for high levels of cholesterol well beyond your 40s. However, some children can also have unhealthy quantities of cholesterol.
However, high cholesterol can generally become better with lifestyle adjustments. Nevertheless, it is always necessary to talk to a doctor to know if drugs are also required. 
How Can we celebrate National Lipid Day?
Following are the various ways to celebrate this day-
Spread awareness about Dyslipidaemia
Speak out about the adverse effects of elevated cholesterol levels and about the risks of not controlling your blood pressure or cholesterol intake.
Talk about the lifestyle changes people make to lead a healthier life
Even if people have high cholesterol, they can manage their levels by eating healthier as a few modifications to your dietary plan can decrease cholesterol and enhance your cardiovascular health. Not smoking or quitting smoking can also help. And then exercising regularly also helps lower the levels.
Try out new recipes that promote good cholesterol!
Make salads using beans, legumes, cruciferous veggies, etc. It does not have to merely be healthy, and it can be tasty as well. Add your favorite toppings and enjoy! Even porridge is a healthy way to increase your good cholesterol, and it can also be made appealing with your favorite ingredients.
Take pictures or videos of yourself exercising or working out and tag them using #HappyLipidDay on your social media pages. 
Interesting facts About National Lipid Day:
Here are some fascinating tidbits about lipids for all of you here-
All lipids are water-insoluble. Because they are repulsed by water, these are characterized as hydrophobic molecules.
The average individual adult has roughly 50,00,00,00,000 fat cells.
Fats are generally crucial for the brain development of young children.
It's not like all fat and cholesterol are bad.
History of National Lipid Day:
The history of this day is currently not that clear. In 1968, the very first occurrence of dyslipidemia was found in the U.S.
The National Lipid Association (NLA) was built out of the success produced first by the Southeast Lipid Association (SELA), which was established in 1997 by a team of leading lipid researchers and doctors from the South-eastern United States. In 2000, the Board of Directors of SELA agreed to a national organization being founded to encourage expertise in the domain of Clinical Lipidology.
The first reported event recognized as National Lipid Day was on May 10, 2015.