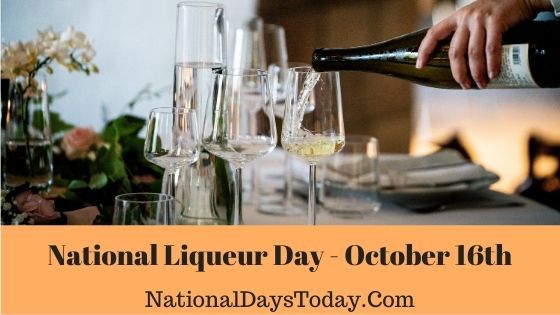 National Liqueur Day:
Celebrated annually on October 16th, the National Liqueur Day honors the many flavors of the sweet and aromatic Liqueurs in the US and the world. This is a fantastic beverage loved by almost all American households for its ability to be blended with nuts, cream, spices, herbs, flowers, and much more!
| | | | |
| --- | --- | --- | --- |
| Year | Date | Day | Where |
| 2023 | 16th October | Monday | United States |
| 2024 | 16th October | Wednesday | United States |
| 2025 | 16th October | Thursday | United States |
Twitter Hashtags:
#NationalLiquerDay
#LiquerDay
Related: Other National Days Celebrated on October 16th:
Why Liqueur Day?
A liqueur is not Liquor! It is a distilled spirit-based drink that is further blended with natural flavors to give a sweet taste. Its alcohol content ranges between 24% and 60% which is way lower than the content present in spirits.
The liqueur is prepared by using brandy as a base spirit and is not aged for a long period although the base spirit would be aged. Liqueurs only undergo a brief resting stage for proper blending of flavors.
The origin of liqueur can be traced back to 400 BC Egypt where Egyptians made spirits that were flavored with honey and cinnamon by distillation of wine. Today liqueurs are made similarly and the mead that is available today has the same flavoring ingredients.
European monks during the 13th-century drinks similar to our Liqueur were created with a slightly improvised distillation process as medicine.
A liqueur is prepared by combining a base spirit and a sweetener to achieve at least 2.5% of sugar content. The base spirit is either rum or brandy and the sweeteners could be sugar or corn syrup along with fruits, nuts, creams, plats, purees, spices, etc for the flavor and aroma!
You can find Liqueurs being called Schnapps or Cordials as well. But at least in the US, you can call a Liqueur Schnapps only when fermented fruits are used to distill the brandy.
Syrupy or sweet Liqueurs can be mixed with your coffee or to enjoy a few after-dinner drinks! You can have them straight, mixed with other drinks or desserts, or simply poured over ice!
You could be surprised to find that most of your favorite mixed drinks have liqueur in them!
Today we have access to myriads of generic and proprietary liqueurs under different brand names and secret recipes!
However you choose to enjoy them, Liqueurs that can accommodate any palate deserve a celebration!
How Can We Celebrate National Liqueur Day?
Get out and try some of the best Liqueur your favorite bartender recommends! Or get a few Liqueur bottles home to enjoy with family and friends!
Love your coffee? Add a dash of Cream liqueur to your hot or iced latte for some indulging flavor.
Love the many flavors of liqueur? Learn how to make it today! You could attend a liqueur-making workshop or learn by watching videos online!
Learn more about Liqueur's history!
Turn a few pages of history to know more about the journey of this vibrant drink!
Experiment with different Liqueur!
You can try herbal, cream, berry, flower, nuts, spices, and many more liqueur genres! And if you found a new flavor share it with everyone!
Use them in your recipes!
If you love trying new recipes check your mom's recipe book or the internet for some special recipes that include liqueur! There are many desserts that you can enjoy with liqueur as well!
Celebrate Liqueur day on social media!
Take the celebration to the next level by sharing about National Liqueur Day on all your social media channels! Use #NationalLiqueurDay and #LiqueurDay to post creative & fun posters, videos or blogs today!
Interesting Facts About National Liqueur Day:
Here are some interesting facts surrounding liqueur Day!
Liqueur was introduced to the France court when Catherine de Medic was married to Henry II of France in 1533!
The rise in international trade routes in 1640 also contributed to the rise in different flavors of liqueur!
As of 2018, over 1.14 million US homes consume liqueur!
Absinthe, the anise-flavored liqueur was banned in many countries due to its hallucinogenic properties!
Liqueurs are not left to age but rather left to rest to perfect their harmonious blend!
The Liqueur genre called Limoncello was greatly popular in Italy in the past decade that some restaurants were giving them as complimentary!
History of National Liqueur Day:
The origin and the founder of National Liqueur Day are yet to be found by our researchers. While we look for it don't forget to enjoy as many liqueur flavors as possible! This holiday is celebrated as a fun unofficial drink holiday!