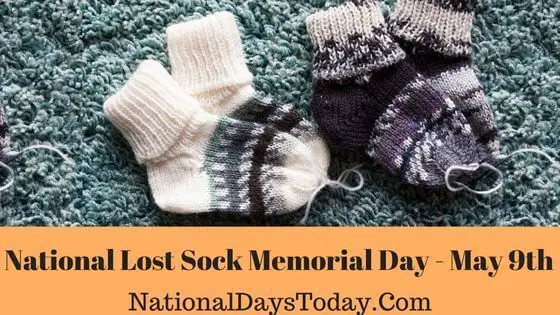 National Lost Sock Memorial Day:
The geneses of National Lost Socks Memorial Day are as big a mystery as the location of socks to celebrate the day. The day is celebrated on 9th May each year.
| | | | |
| --- | --- | --- | --- |
| Year | Date | Day | Where |
| 2023 | 9th May | Tuesday | United States |
| 2024 | 9th May | Thursday | United States |
| 2025 | 9th May | Friday | United States |
Twitter Hashtags:
#NationalLostSockMemorialDay
#LostSockMemorialDay
Related: Other National Days Celebrated on May 9th:
National Butterscotch Brownie Day
Why National Lost Sock Memorial Day?
This day is celebrated to bid farewell to the lost sock and dispose of the other orphaned sock as it's impossible to find the lost sock again.
Everyone loves the happy ending, especially when they find their favorite socks. So yes, all are waiting for the lost to meet again someday. The socks are comfortable, warm, comfortable, and keep your feet healthy.
Walking without socks can cause sweat, odors, blisters, and cracks in the feet. If you have foot problems like this, it may be time to try new socks. People often wear it while sleeping.
All pairs should be washed after wearing. For those people who wear socks almost every day, these are some of the pairs they need. Don't forget to stock up on socks for National Lost Socks Memorial Day.
How Can We Observe National Lost Sock Memorial Day?
–Clean Up Sock Drawers
If you inadvertently throw your socks into one or more drawers, take a little inventory and check the actual size of the damage.
Build a single sock station. All you need for a laundry room is no sock station. Paint a small piece of wood with a fun color. Glue some clothespins to keep the individual socks in place. Decorate the sign with the words "Look at it alone!"
–Gifts of Socks
You don't have to wait until Christmas to give socks to the whole family. No, socks come in many unique styles and are perfect gifts all year round.
– Post on social media
You can post on social media about this day with #Nationalloastsockmemorialday and celebrate the lost socks with your friends and family.
Interesting facts About National Lost Sock Memorial Day:
Randy Goldberg and David Heath founded Bombas, a clothing company that provides a pair of socks to the homeless for every pair purchased, as the need for socks and the variety of them has expanded. Since socks were the number one apparel requested by shelters during 2013, this initiative is a comforting moment, just like socks!
Do you know why the socks are called the socks? Well, initially called stockings, "socc," an old English world was the precursor for our modern "sock." The Latin term "soccus," meaning a low heeled shoe popular in Egypt then, was the origin of both these terms.
The citizens of the USA are known to have a tradition of hosting a full-on sock party in memory of all the socks lost. Some people also believe in a Sock Gifting Day, both of which are quilted with games and fun activities!
Have you wondered about the very reasons socks were invented? For comfort and warmth, a statement of style, and health reasons, the socks have evolved to be a lot today. It's quite surprising to note that socks were used as a signifier of wealth and holiness! Silk socks were for the wealthy, while woolen was used by the poor. But, peasants started wearing it to keep their feet protected from the scorching heat and freezing chillness.
History of National Lost Sock Memorial Day:
The origins of National Lost Sock Memorial Day are as mysterious as the socks themselves. Socks have been around for ages. In the eighth century B.C., the first recorded socks were created from knotted animal hair.
Animal skins were used to tie over the ankles of Romans and were knotted around their feet for warmth and a significant portrayal of wealth. In the 2nd century A.D., the Romans were the first to stitch fabric together to produce udones or sock-like garments that made it's way to becoming the socks we know today. Socks had made their way up to Europe by the 5th century A.D. However, they were only worn by holy folk or those who were closely linked with the Church.
In 2018, we purchased over $ 11 billion in socks in the United States alone. Most men wear socks every day-even especially fashionable men who wear socks with sandals.
The sock industry continues to grow in sales and is becoming more diverse. The era of one-color, one-style socks is over. Nowadays, socks are made to serve multiple purposes and function as needed. Of course, there are elegant socks in neutral colors for professionals and rare occasions, but the fun and functional sock market is making its name. Themed graphic socks are suitable for modern, non-casual work environments.