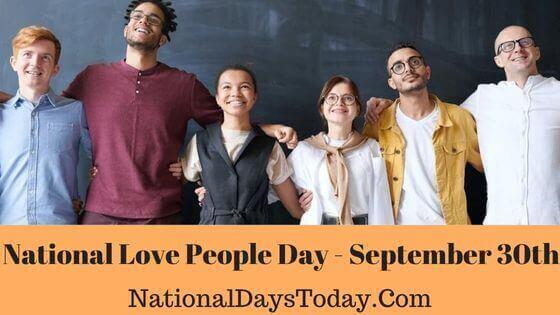 National Love People Day:
On September 30th, National Love People Day invites us to lift each other with the force of love that is unconditional.
| | | | |
| --- | --- | --- | --- |
| Year | Date | Day | Where |
| 2023 | 30th September | Saturday | United States |
| 2024 | 30th September | Monday | United States |
| 2025 | 30th September | Tuesday | United States |
Twitter Hashtags:
#NationalLovePeopleDay
#LovePeopleDay
Related: Other National Days Celebrated on September 30th:
Why National Love People Day?
Love is in the air.
Feeling loved makes us feel better, and scientists have linked it with the release of dopamine in the event of pleasure or what's known as "love at first sight." This is also why we are satisfied whenever we do something kind to others. The power of love is the thing that makes us want to do something, the things we love for others, regardless of whether we are rewarded in any way.
True love is selfless.
Since the beginning of time, romantic writers have thought about the concept that love is "selfish love." However, that's not the case. True love is unconstrained, which means without limits or limitations. The day opens the door to discussions about the importance of love regardless of race, ethnicity, religion or national background. It is a loving and open relationship and completely contrasts selfishness.
The real love is on the inside.
The founders of Lifeline Church came up with the idea to celebrate the way that love begins with the self and extends outward to those around us. We can love ourselves when we consume healthy food and develop healthy habits and keep a healthy lifestyle. When we show ourselves love by showing love, we open the conversation to embrace the feelings of love for others.
How Can We Celebrate National Love People Day?
Send a small note to write "I Love You", make a friend who is far away an email or leave an adorable message on a family member's wall to remind them how much the love they feel is during National Love People Day! Check out these ideas to join in the celebrations for a holiday:
Perform Random Acts of Kindness
Help someone at the grocery store bring your groceries, offer an employee a thank you, let someone wait in the line directly ahead of you, take a seat on a packed subway or bus or leave an excellent post on a website or blog news story. You can also "pay it forward" at the drive-through, taking the person in line behind the payment. It's fun and exciting to be imaginative and find ways to show love for neighbours.
Serve in the Local Community
A key aspect is giving back to your community through ways which may not be familiar. Make the most of the opportunities during this holiday to come up with a chance to assist people in need. Help out at the soup kitchen, help in a homeless shelter, donate to a charity, or take up the opportunity to read to those who are elderly at the nursing home. There are always plenty of chances to show others they are appreciated, so take advantage of the moment and give a hand! Use hashtags #NationalLovePeopleDay and #LovePeopleDay to shower your love.
Listen to Songs about Love
For inspiration ,create a playlist of songs about love, such as the following:
Man in the Mirror by Michael Jackson. The King of Pop track is about changing yourself to create a better place.
One Tribe by Black Eyed Peas. The song encourages listeners to let go of conflict and connect.
What about Now by Daughtry. Encourages listeners to be in the present and show love.
Interesting Facts about National Love People Day:
Are we looking for a reason to spread the love? If your answer is yes, you may be interested in reading some information about the subject of love we've included below.
Hugging Your Partner Relieves Stress
Are you looking for a quick stress reliever? If so, you should think about giving your partner a warm hug. Research has shown that hugging your loved ones can lower stress levels by around 30%. If you are feeling stressed, consider giving it a shot.
Married People Have Fewer Heart Problems
Perhaps there is a connection between love and the heart. Several studies have demonstrated that those who were married until 50 years old were 12 per cent less likely to develop vascular ailments than divorced or single people.
Being in Love can reduce the Frequency of Headaches
For research into the effects of oxytocin, a chemical compound created by the human brain and frequently referred to as "the "love hormone," Stanford University School Of Medicine offered oxytocin to patients suffering from trans nasal headaches to test how the drugs affect them. Most participants noticed less headache pain for four hours, and 27% reported no pain for the same time. This could be an argument to sufferers of chronic migraine to take part in more things that release oxytocin, such as cuddling or hugging.
History of National Love People Day:
National Love People Day was established by a church in Chicago, Illinois, in 2017. The idea behind the day was a result of the desire of the church to reach out to people to let them know that they are loved and valued by families, relationships, and love. The idea can be extended to absurdity through small acts of generosity, like giving free cars to single mothers or even doing home renovations.
However, doesn't need to be an arrogant celebration; it can also be celebrated by doing the little things that show love to everyone. The best part is that it does not take much time to do- it can be completed in a matter of minutes or only a few seconds!