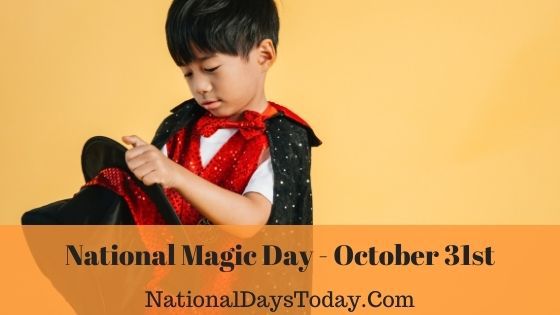 National Magic Day: 
National Magic Day is celebrated every year on the 31st of October every year. It celebrates the enjoyment and amazement that is associated with magic and magical performances.
| | | | |
| --- | --- | --- | --- |
| Year | Date | Day | Where |
| 2023 | 31st October | Tuesday | United States |
| 2024 | 31st October | Thursday | United States |
| 2025 | 31st October | Friday | United States |
Twitter Hashtags:
#NationalMagicDay
#MagicDay
Related: Other National Days Celebrated on October 31st:
National Knock-knock Jokes Day
Why National Magic Day?
The very word magic brings to mind a world of fantasies and mystical events. Magic is undoubtedly one of the oldest performing arts in the world. Magic is something that amuses, confuses, and entertains people all around the world. From Circus to dedicated magic shows, magic has grown to become a part of the entertainment industry over the years and has become an integral part of it.
Magical shows are quite popular among people. Kids especially enjoy these shows immensely and are greatly entertained by them. Many kids like to have magic shows as a special part of their birthday parties and celebrations. Magic shows are also conducted in other happy events like weddings and anniversaries to entertain people.
Magic creates a very strong feeling of enchantment and mysticism in the minds of the audience. It gives them a sense of thrill and keeps them thinking about the secrets behind the tricks and illusions. It is a quite harmless form of entertainment that is enjoyed by all ages. However, very few people recognize the amount of hard work and creativity that practice magic as a performative art.
National Magic Day seeks to celebrate this amazing and creative performing art that has entertained people through several generations. It seeks to make people appreciate the art and creativeness that goes into doing these tricks seen in magic shows.
How Can We Observe National Magic Day?
Celebrating National Magic Day can be an extremely fun affair. Here are a few tips on how you can observe and celebrate the national magic day:-
You can watch some nice magic shows on your television or mobile. They are easily available online.
You can pay for a magic show to be done at your home where you will enjoy the joys of magic with your family.
You can organize a magic-themed party at your house with friends and family.
You can learn some cool magic tricks at home while taking help from online tutorials.
If you have kids, you can either pay for a magic show or organize one for them at your home, where you will become the magician and entertain them.
You can visit any nearby magic show event that happens to fall on that day.
You can ask your friends and family to attend nearby magic shows or recommend some cool virtual magic shows that are available online.
You can learn the history of magic as performing arts and the origins of magic shows and popular tricks.
You can visit a museum that is dedicated to magic and the history of magic tricks. Consider going to the Houdini Museum in Pennsylvania.
You can share your knowledge about magic and National Magic Day by making social media posts. Kindly use hashtags like #nationalmagicday, #celebratingmagicday, and #magicday.
Interesting Facts On National Magic Day:
Here is a list of some interesting facts about National Magic day and magic that will amaze and excite you:-
Pennsylvania has a museum dedicated to Harry Houdini, who is the inspiration behind National Magic Day.
National Magic Day was approved by Mrs. Houdini, who was the wife of Harry Houdini, the magician.
The 25th to 31st of October is considered National Magic Week in the USA.
Harry Houdini was also known as "King of Handcuffs" because of his mind-boggling ability to unlock them.
The root of the word magic comes from the Greek word "Mageia."
In Persia, magicians or people who performed magical tricks were called "magosh."
David Copperfield was the richest magician in the world with a net worth of $800 million.
The phrase " hocus pocus" comes from Norse Mythology.
The largest known organization for magicians is the International Brotherhood of Magicians.
Magic tricks and illusions were often used to persuade children to attend church and Sunday mass.
The very first book on magic tricks and their secrets was released in 1584.
Magic tricks have several genres like escaping, levitation, prediction, disappearing, and so on.
In Queensland, Australia, only magicians are allowed to own pet rabbits.
Hollywood Walk of Fame has the names of only two famous magicians. They are Harry Houdini and David Copperfield.
The modern typewriter, which was an amazing and helpful invention, was the brain-child of a magician.
History Of National Magic Day:
The Society of American Magicians started national Magic Day in 1938 on the recommendation of a magician who was a Chicago resident. The day was created to honor the memory of Harry Houdini, who was a famous magician.