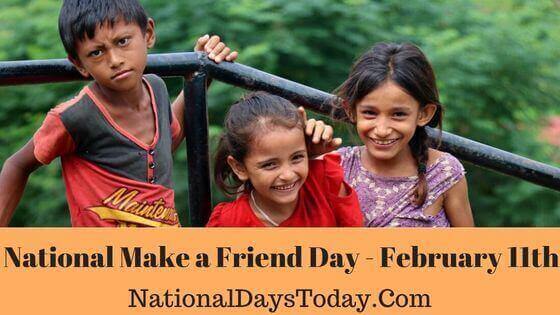 National Make a Friend Day
Friends, companions are those important living things in our life that give us a reason to live. Friends can be a human being, an animal, plant. National Make a Friend Day is celebrated on February 11th every year to help us all remember that friends contribute to our lives and that we all should make friends as they are the biggest treasure.
| | | | |
| --- | --- | --- | --- |
| Year | Date | Day | Where |
| 2023 | 11th February | Saturday | United States |
| 2024 | 11th February | Sunday | United States |
| 2025 | 11th February | Monday | United States |
Twitter Hashtags:
#NationalMakeAFriendDay
#MakeAFriendDay
Related: Other National Days Celebrated on February 11th:
National Don't Cry Over Spilled Milk Day
National Shut-In Visitation Day
Why National Make a Friend Day?
National Make a Friend Day is celebrated each year for reminding us that there are no strangers in this world and all are our friends. We continuously meet new people and end up being friends with them, who are a great part of our lives since they regulate our emotions, help us out when we need them, and help us pass through challenging times. Making new friends lets us dive into the world of new experiences, share feelings, thoughts, and ideas with others. New friends can change our lives, and we should meet new people often.
It is so amazing and enlightening to have friends in our lives who are valuable assets. As we often make new friends, it helps us in our lives to broader our perspective about different people, and we get to know different types of people out there in the world. Some are caring, friendly, supportive, and have good traits, while others have a few negative traits like impatience, anger, stubbornness, etc. Moreover, our social skills are highly developed, and we learn the different spheres of life. Our friends don't need to be a copy of us, we might have similar interests or likings, but each person is unique. They have their personality and nature of living, which we cannot and should not govern. On this planet, all the living organisms have the rule to live their own lives as they wish to.
The most common and easiest way to find new friends is to socialize. In this modern world, people are highly dependent and addicted to social media finding their friends, love, or even animals. Technology has paced so fast that almost everything is done through the internet, and hence, friendships can also be made through the internet. You will find plenty of people on various social media platforms like Snapchat, Instagram, Facebook. And these platforms offer the feature of chatting or calling as well. Besides this, you can also join a club, be it gymnasium, pilates, yoga classes, dancing, and many more, and you can easily find strangers with matching interests. And you never know those friends might become your lover too.
How Can We Observe National Make a Friend Day:
National Make a Friend Day can be observed by making new friends by going out there and meeting new people. It is not necessary that the person needs to be a total stranger; it can be the friend of your friend, a person in your classes, or anything. We need to interact with new people often in person and not just on social media. It can expand our perspective about others, and we can gain so much knowledge with National Make a Friend Day.
Make sure whenever you are out there meeting someone new, always take a picture to remember the moment, and do not forget to add #NationalMakeAFriendDay or #NationalFriendDay. It will be aware of other people about this day and the importance of this day's purpose. The whole point is for you to connect with people and make your life more happening and fun.
Interesting Facts About National Make a Friend Day:
Friendship is one of the strongest forces out of all relationships. In this honor, here are some interesting facts about this day-
The most effective cure for loneliness is to make new friends and interact more. Unfortunately, the US is a country that has the highest percentage of lonely people.
We all have plenty of friends, but only 2% of them are our real, true friends.
Even animals can form a friendship with human beings, which lasts very long.
People who are in a romantic relationship are likely to have fewer friends.
History of National Make a Friend Day:
National Make a Friend Day was initiated through the internet, and today has lost its originality, but some people still contribute to this day.