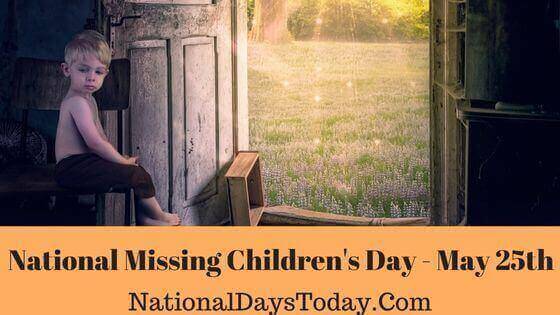 National Missing Children's Day:
Many children go missing every minute, and parents around the globe are always worried and careful about the safety of their own children. Commemorated since 1983, every year on May 25th, the United States observes National Missing Children's Day. This day is in the spotlight every year to focus on the safety of young children and on ways to improve it.
| | | | |
| --- | --- | --- | --- |
| Year | Date | Day | Where |
| 2023 | 25th May | Thursday | United States |
| 2024 | 25th May | Saturday | United States |
| 2025 | 25th May | Sunday | United States |
Twitter Hashtags:
#NationalMissingChildren'sDay
#MissingChildren'sDay
Related: Other National Days Celebrated on May 25th:
Why National Missing Children's Day?
As the name itself suggests, on this day, citizens of the United States remember those children who were never found, be thankful for the ones who have made it back home, and improve the effort in searching the missing children.
This national day came into existence with the help of the International Centre for Missing and Exploited Children (ICEMC). On this day, we need to remember the ones lost and make a collective effort to protect the future of the nation by taking multiple precautions.
Although the Polly Klass Foundation study shows that 99.8% of the children who get lost find their way back home, we still cannot afford to lose 0.02% of the children. We are always sure to tell our children our expectations but never teach them the vital information for their own safety.
We will vow to help create a safer environment and educate our children about their safety on this day.
How Can We Observe National Missing Children's Day:
We can observe this day through various ways, have a look at the listed pointers below-
Visit your nearby shelter for young children or go to your neighborhood community and help raise awareness about this day. You can do that by holding out posters and explaining to people the importance of this national day. With the help of some professionals, you can even organize online events and webinars to help people understand the importance of child safety and measures to overcome an unsafe environment.
Go to the ojdp.gov website to participate in their poster-making competition. Increased participation during the event will amplify the cause and help bring more traction towards the importance of the national day.
Let the social media influencer in you come alive. Post relevant photos, posters, brochures, and resources on your stories and statuses using the #NationalMissingChildren'sDay. The more people use this hashtag, the more it will gain popularity, and the word will be spread.
Interesting Facts About National Missing Children's Day:
There are some facts about this day that are given below-
The case of a child named Etan Patz took media by storm and was one of the significant reasons this national day was founded. His case is also one of the most famous missing child cases in all of the United States.
Some researches reveal that about 2300 children are going missing every day, and on a yearly basis, a whopping figure of 460000 American children go missing.
According to National Today, The kid kidnapped for the longest time in the USA was Jaycee Dugard. She went missing in the year 1991, June, and she was only found in the year 2009, August.
According to the National Center For Missing and Exploited Children, one in six of the children who run away from home end up in child sex trafficking.
History of National Missing Children's Day:
The history behind National Missing Children's Day dates back to 1979 when Etan Patz was kidnapped in New York City on his way home from his bus to his school. The day Etan Patz went missing was and still is observed as National Missing Children's Day.
Etan Patz's father was a photographer who distributed several photos of Etan around the city in an effort to find him. As he distributed more photos of his son, it soon caught the media's attention and search parties to find Etan. Unfortunately, the officials could not find Etan, but the accused Pedro Hernandez was found and sentenced to prison in 2017.
A few years after Etan's disappearance, President Ronald Reagan proclaimed May 25th as National Missing Children's Day.
Children make up our future, and it is crucial we protect them at all costs. On this day, let us all remember the ones we lost and be more vigilant about the rest. Educate and teach your children your phone numbers and house address for their safety. Let's all be safe.