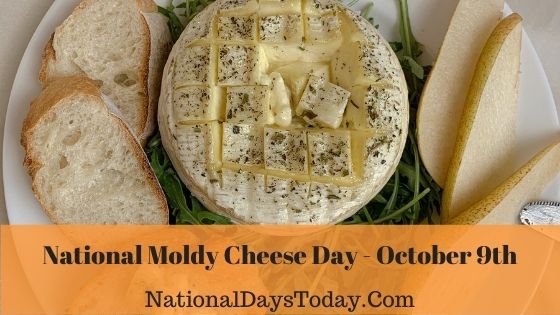 National Moldy Cheese Day:
National Moldy Cheese Day is a celebration that takes place annually on October 9. During this day, cheese lovers get to enjoy a fabulous food feast.
| | | | |
| --- | --- | --- | --- |
| Year | Date | Day | Where |
| 2023 | 9th October | Monday | United States |
| 2024 | 9th October | Wednesday | United States |
| 2025 | 9th October | Thursday | United States |
Twitter Hashtags:
#NationalMoldyCheeseDay
#MoldyCheeseDay
Related: Other National Days Celebrated on October 9th:
Why National Moldy Cheese Day?
The National Moldy Cheese Day is the perfect celebration for cheese lovers. The day was specially created for cheese fanatics, who would enjoy everything associated with cheese. This day presents many opportunities for cheese lovers to become creative and try out different recipes that are associated with cheese. Besides cheese, this day is also used to mark the love for different dairy products such as butter. This day is set aside to encourage people to try out moldy cheese that has grey, green or blue colors. Moldy cheese is safe to eat, and it has a unique flavor. If you do not want to consume the mold in the cheese, you can cut off the outer part and still enjoy the unique flavors.
How can we celebrate  National Moldy Cheese Day:
There are many ways that people can celebrate National Moldy Cheese Day. Some of these ways include:
Visit your local deli: During this celebration, you can choose to visit the deli that is located close to your location and enjoy different cheese products. You can invite your friends to tag along if they are also cheese fanatics. At the deli, you can try out different cheese products and flavors. Your local deli may also have special cheese menus during this day.
Try out a new cheese recipe: You can also use this day to learn a new recipe that involves moldy cheese. You can get your lessons online, or you can buy a cookbook with different moldy cheese recipes. Being as creative as you can when learning new cheese recipes will guarantee that you enjoy this amazing day. You can use the cheese to make different dishes, pies, etc., and let yourself savor in the unique flavors the moldy cheese brings.
Invite friends and family for a cookout: You can also choose to celebrate this special day with your close friends and family. You can invite them over for a cookout as you learn new recipes from each other. Observing this celebration with your close ones will make it more memorable for you. It will also create a tradition where you will celebrate this day together each year.
Carry a cheese snack to work: You can choose to go the extra mile and celebrate this day at your workplace. You can do this by carrying a cheese snack to work that you can share with your colleagues. This is the ideal way for you to celebrate if you have a busy work life. You can also look for moldy cheese in the office refrigerator and use this to prepare a unique moldy cheese dish for your workmates.
Post your cheese day celebrations on social media: The other way you can celebrate this day is by posting your celebrations on social media. Post pictures of you celebrating this day by eating different cheese products and invite your friends to take part in the celebrations for a memorable day. Use hashtags #NationalMoldyCheeseDay and #MoldyCheeseDay.
Interesting Facts about Moldy Cheese Day:
The moldy cheese that is used during this celebration is not harmful to eat. The cheese is eaten or used to prepare recipes in its greenish or bluish state.
This celebration sensitizes people to the fact that eating grey, blue or green cheese is not harmful but rather better than fresh cheese because of the unique taste that it has.
Moldy cheese produces different flavors that are not found in fresh cheese. The unique flavor gotten from moldy cheese is one of the reasons why cheese lovers enjoy celebrating this day.
Using blue cheese during this day is better than using white moldy cheese. Blue cheese makes the mold more noticeable, and it yields a smell that is more distinct.
History of National Moldy Cheese Day:
The history of the national Moldy Cheese Day is not known. However, it is believed that this day was created by cheese fanatics who wanted to have a special day that they could celebrate the unique flavors that are only found in moldy cheese. However, research pertaining to the origin of this day is still ongoing. The celebrations for this day happen on October 9, and cheese lovers always come together to use moldy cheese for cooking.