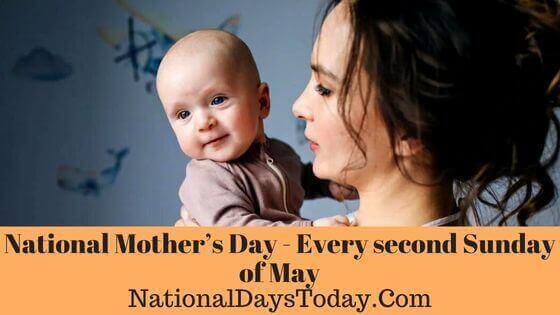 National Mother's Day:
Mother's Day is celebrated annually on the second Sunday in May to thank everyone's forever friend, Mother!
| | | | |
| --- | --- | --- | --- |
| Year | Date | Day | Where |
| 2022 | 15th May | Sunday | United States |
| 2023 | 14th May | Sunday | United States |
| 2024 | 13th May | Sunday | United States |
Twitter Hashtags:
#NationalMother'sDay
 #Mother'sDay
Related: Other National Days Celebrated on May:
National Stamp Out Hunger Food Drive Day
National Senior Health and Fitness Day
Why National Mother's Day?
Mother, a divine word!! Love may come and go, but a mother's love stands forever!  Not only Ignorance, a mother's love is also a bliss.  She is a forever smile and a voice of comfort. The only love that never expect any reciprocation, even you left her, she would never leave you and think about you forever.  Right from the childhood, till now, she can understand your silence, your words, your actions, sadness, frustration, success, failure, depression, regret, misery, your less spirit etc.
A simple story that expresses the height of mother's love
one day a mother sleep with a new born baby. She was sleeping next to the baby in a bed. She weighs about 75 kg and was in deep sleep. A one move would crush the child.
The husband was seeing all this and become panic. As he doesn't want to disturb his sleeping wife and baby, he watches over both of them.
Suddenly, a feather flew by and about to fall over the child.
The mother who was in deep sleep, woke up and see the feather. The husband finds it weird and questioned her about her sudden Awakening.
She replied that she got a sense that something about to fall on her baby. The husband astonished and she returns to sleep.
This small story could be the symbol of mother's love. When her one turn could crush the new born baby, she can sense the fall of a feather even in deep sleep.
To the World, she is a mother and to the family, she is the world. No language could express the love of Mother.
A mother carries her child in her belly before birth and carry in her hand when is born, carry in hip when the child is an infant and carry in shoulders when becomes toddler and carry forever in heart since then.
The masterpiece of God's creation would be a mother's heart. Though a day would not be enough to celebrate the bliss, this would recall us to remember that even that heart aches at times.
We are strong because a Strong woman raised us. And this day is to celebrate all the strong woman in the world.
A Mother is a greatest comfort,
Thank her! Love her and always respect her.  The day is to recall us to respect the only selfless woman in the family.
How can we observe National Mother's Day?
 A Mother's arms are more comforting than anyone else's               ~ princess Diana.
Let's celebrate Mother's Day by doing what a mother loves a most,
Do Chores:
No women in this world would say no if we extend our help in family chores. This would be one of the best gifts to your mother. Let her take a day off so that we would all the work. At least once in a while, let her skip her daily routine. Post it and become an inspiration to all. Use the hashtags #MothersDay and #NationalMothersDay to post your helps.
Cook For her:
Cook for her, make her sit and eat your brunch. Not only on this day, at least give her off once in a while.
Decorate Her Room:
Decorate her room with flowers. If you find her room messy, clean for her and decorate it.
Gift her:
Buy her what she like. And present her your own made gift. She would be very happy.
Call Her:
If you don't stay with her. Call her and spend some time at least through a video call. Every mother wish would be with her children.
Go For Date:
Bundle up your job for a day and go for a date with her. Treat her in a restaurant and if time permits go for a movie or shopping.
Create a Video:
Create a video with pictures from past and present her. Share her happiness on social platforms through hashtags #MothersDay and #NationalMother'sDay.
Consider Everyday as Mother's Day:
Consider Everyday as a Mother's Day and treat that delicate woman properly. Ask her concentrate on self-care as most of the woman don't take proper care for their well-being.
Accompany her to medical checkup:
Today so many clinics offers discounts on medical tests. Go with her and if she doesn't come, force her to take important tests. Family is to take care of each other. Family is not for us to be taken care by a woman singlehandedly.
Watch a Movie:
Watch a movie with her. Suggest some good Mother's Day special Movies.
Make sure you carry out all these at least once in a while.
Treat her some meal at least once in a month.
Go for date at least once in every two months
Plan a trip with her at least once every year and once in every two years.
Make sure that she doesn't miss her medical checkup.
Accompany her at least once in six months to ensure about her health.
Always don't think that a mother should take care of family chores. Do your help every day as much as you could, if not every weekend. Give her a week off.
Make her to sit and do facial for her if she does not go to parlor.
Traditional customs followed on Mother's Day:
Churchgoing
Family dinners
Distribution of carnations
Sending Cards
Ideas for Gift:
watch
dress
Homemade gift
Greeting card
photo album
book
jewelry
vacation tickets
And, if last of all, any special way to celebrate Mother's Day, share with us using the hashtags #Mother'sDay.
Interesting facts about National Mother's Day:
Anna Jarvis trademarked the phrases "Second Sunday in May" and "Mother's Day".
Carnations have started by Anna herself. She was the one to initiate carnations by sending 500 during the first-year celebration. It's her mother's favorite flower.
Sending Cards is the usual custom and the day is the third largest in the United States for sending cards. Around $68 million is spent on Greeting cards every year.
This is one of the federal holidays heavily commercialized that drawn criticism. Even Anna criticized the practice of sending cards. She supported personal handwritten letters. She protested against the commercialization of the day and regretted for creating the day.
50% of American Households share greeting cards on this day.
Mother's Day draw a significant increase in Jewelry purchase that added a heavy revenue to U.S jewel industry.
Approximately $2.6 billion is spent on flowers and $1.5 on gifts.
sports players often wear pink clothing accessories on Mother's Day weekend.
About Anna Maria Jarvis:
Anna Maria Jarvis was born to Granville E. and Ann Maria Jarvis, a social activist, on May 1, 1864.
She was the ninth of eleven children. Seven of her siblings died early childhood or Infancy.
She was the Fidelity Mutual Life Insurance Company's first female literary and advertising editor.
She was very close with her mother Ann. Her desire often expressed a desire to the establishment of Mother's Day.
She spent majority of her lifetime in taking care of her mother as her health deteriorated due to heart problems.
She was neither married nor became mother herself.
Jarvis died on 1948, and was buried next to her mother, sister, and brother..
Her birthplace is listed on the National Register of Historic Places.
Mother's Day celebration in Other Countries:
Mother's Day is been celebrated widely in around 40 countries but on different dates which mostly falls on either March or May.
Mother's Day in most Arab countries is celebrated on 21 March every year. Mustafa Amin, a famous Egypt columnist and Journalist, introduced the day in Egypt and was first celebrated in 1956. The practice has since been adopted by other Arab countries.
In Iran, Mother's Day is celebrated on 20 Jumada al-thani, the sixth month in the Islamic calendar. It falls on different dates when compared with Gregorian Calendar.
In Armenia, along with Mother's Day in March 8, another day is celebrated in April 7 as Maternity and Beauty Day, an official holiday in Armenia.
In Indonesia, Mother's Day is celebrated nationally on 22 December that marks the anniversary of the opening day of the first Indonesian Women Congress.
In Albania, Mother's Day is celebrated on March 8 that coincides with International Women's Day.
The day is also to recall all the selfless service of notable mothers who sacrificed their wellbeing and devoted to the society. Those mother-like figures might not be a mother themselves, but to the whole society.
Let's honor some of those mothers who embedded in the world history because of their motherhood.
Mother Teresa: born in Yugoslavia, was a Roman Catholic nun who dedicated her life to helping the world's impoverished and disadvantaged people. In the year 1928, Teresa left home at the age of 18 to pursue a career as a Catholic missionary. She visited the Loretto sisters in Ireland initially. Her family was never seen again. Later she moved to Kolkata where she worked as the head teacher of St Mary's High School for around 15 years. Later she went on to start a missionary in which her Former pupils were among the first to join her. Still Today, even after almost two decades after her death, still she is hailed as the "mother of the earth" by the whole world.
Irena Sendler:  was a polish woman who smuggled almost 2500 Jewish children in order to save them during the Holocaust. She further placed them in orphanages and homes with by faking their original identifications. Despite arrest and tortures by Nazis, she never revealed any information about children. She received white Eagle Award for this fearless contribution to 2500 innocent children.
Lou Xiaoying: A poor uneducated woman from china with a daughter just rescued almost 30 babies when she scavenging trash! When she suffers for her own daily needs, she adopted some of the babies and tried her best to provide them as much as possible care.
Last but not the least,
Angelina Jolie: A great actor and  hailed as a Great Humanitarian for adopting and supporting refugees. She does not need any introduction in the United States as she is the most iconic figure of the Nation.
Like the Mother Teresa, and above all, there are so many women in the world who took care of others though not connected. This day honors all of them with a standing ovation.
History of National Mother's Day:
Anna Maria Jarvis was the founder of Mother's Day in the United States.
Some of the interesting facts of personal details about Anna Maria Jarvis.
Mother of Anna, Ann Maria Jarvis is a social activist and has a strong desire to create a day for commemorating the endless service and sacrifices of Mothers.
She said,
"I hope and pray that someone, sometime, will found a memorial Mother's Day commemorating her for the matchless service she renders to humanity in every field of life. She is entitled to it".
Her Mother developed severe heart problems and Anna had to be with her to take of her. After her mother's death, she determined to fulfil her mother's long-time wish. She offered a small memorial service in the year 1907 after establishing Mother's Day in 1905. That marks the first unofficial observance. The first official Mother's Day service was held the succeeding year 1908.
She then campaigned with fellow socialists towards the establishment of the day. And the first state to officially declare "Mother's Day" is West Virginia followed by other states. From 1910 onwards, celebrations started across United States.
On May 8, 1914, the U.S. Congress passed a law declaring the second Sunday in May as Mother's Day and thereby requesting a proclamation. The next day, President Woodrow Wilson issued a proclamation regarding the first national Mother's Day and stated every American citizen to show the flag in honor of those mothers whose sons had died in war.
After 20 years, in 1934, the then U.S. President Franklin D. Roosevelt approved a stamp commemorating the holiday.