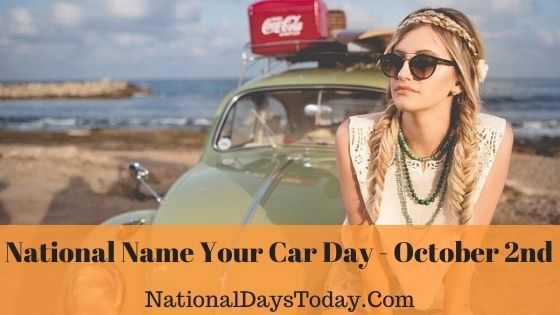 National Name Your Car Day:
This Day is celebrated every year on October 2nd, and the reason it is celebrated is to encourage a special commitment to your wheels. It is a way via which you show your trusty automobile what it needs, a name – that your car will be proud of.
| | | | |
| --- | --- | --- | --- |
| Year | Date | Day | Where |
| 2023 | 2nd October | Monday | United States |
| 2024 | 2nd October | Wednesday | United States |
| 2025 | 2nd October | Thursday | United States |
Twitter Hashtags:
#NationalNameYourCarDay
#NameYourCarDay
Related: Other National Days Celebrated on October 2nd:
National Custodial Worker's Recognition Day
Why National Name Your Car Day?
National Name Your Car Day sounds weird, but you'll realize its importance if you look at the concept. We all use inanimate objects in our everyday lives as they make our lives easier and a necessity at present. People who own ships, boats, etc., name those and, at the same time, show their appreciation for the same. To showcase the personality of your car, this day is a great way to do that.
This day, along with naming your car, you take it out for a spin, a nice wash, and shine. Cars help you in your life every day by dropping you to places, getting back from there, helping you go on trips, etc. Cars are a great gift to us, and as we use them every day, we shouldn't take them for granted and hence, this day is a big reminder for the same.
Cars came into global use in the 20th century, but people came up with various innovations to commute before these. The first working steam-powered vehicle was invented by Ferdinand Verbiest around 1672. But this was not proved to be helpful. Then came self-propelled mechanical vehicle or car in about 1769; he created a steam-powered tricycle, which Nicolas-Joseph Cugnot built. Even though his innovation was helpful but it had its cons.
After these, many innovators came up with different designs and vehicles that will help people in transportation. All of these were helpful, but then finally, Karl Benz came up with the three-wheeled Motor Car, known as the "Motorwagen," in 1886 and patented it. Eventually, he built a car company that still exists today as the Daimler Group and is very popular.
Since then, a lot has changed when it comes to cars. They are mass-produced, the cost is reduced significantly, to harmful impact on the environment – there have been modifications, etc. The technology has advanced so much that now there are autonomous cars. Due to this innovation, a lot more options for businesses and employment options have come into the picture as car sharing has become a huge business.
To thank the car for everything it does and is doing, we celebrate this day. One of the most popular car names observed by us is 'baby.' This could be one of the reasons why on October 16th, there is a 'Meet My Baby' contest held. In this, car owners send a picture of their 'baby' (car) along with a description. The post with the most amounts of votes wins the contest and gets $5,000 to take a road trip in her/his baby, along with a $2,500 gas card. Apart from the winner, five runners-up also receive $2,500 gas cards.
Naming our car on this helps us feel safe and closer to them, makes them seem like a human, and makes them seem more intelligent.
As humans, we possess a natural behavior of getting attached to everything around us which we are used to or are dependent upon irrespective of the fact that whether the item is living or non-living such as our family, pets, neighbor's or cycle, bike, boats or cars, etc. And to establish the relationship of attachment, everyone is used to naming these non-living items in the same way as parents used to name their child or people name their pets.
People are often seen naming their boats, ships, etc. then why should we be afraid or discourage naming our cars and that too when cars have shown and proven themselves to be much more worthy than boats, ships, etc.  Where huge automobile inventions such as boats, ships, planes, etc. are used occasionally in a household and that too only in the houses of the privileged ones, cars are something which is used approximately every day in every household ranging from the lower-middle-class ones to the richer upper class and hence is much more useful for sure. Whether someone wants to go to their office or school, or someone wants to go on a long trip with his or her family, or someone wants to drive it for the sake of their living to earn a handsome amount for survival, cars have always been everyone's first choice for a variety of daily works.
Various movies or television shows have shown their characters naming their cars, such as Bumblebee from Transformers, Lightning Queen from Cars, Herbie the Love Bug, etc., which has somehow started a trend among the masses to name their cars and show a lot of affection towards them. Just imagine operating your car just as you operate your mobile phone via Google assistants or Alexa by some personalized name. In the upcoming years, as the technology is progressing at a great pace every day, calling your car by a name which you want, such as Swifty, Bumblebee, etc. will soon be a reality, and at that time, naming your car will be much more useful and relevant to everyone.
How we can Observe National Name Your Car Day?
The most obvious way to celebrate this day is by naming your car. According to the personality of the car, the way it helps you, etc., you can either name it yourself or go online and take help of the existing naming your car generator websites.
As the name of the day National Name Your Car Day suggests, this day is all about naming and loving your car. So if you have not yet named your car or want to rename your car to have a brand new feel, you should do that on this day. But remember to choose the name of your car very wisely so that the name clearly reflects your car's attributes and pattern.
Show your car the love it deserves!
If you haven't taken care of your car in a while, then do that. Go to a 'wash me' center and get it washed, put oil in it and even tune it up. Just treat it the way it should be treated.
National Name Your Car Day is a perfect day to shower some love on your car by giving it a complete makeover. If you haven't taken care of your car for a long time because of your day to day busy schedules, then this day is perfect for cleaning and servicing your car. Do whatever you can: Change the oil fuel, repair dents, change tires, clean or upgrade the interiors, etc., but just make sure that your car should look the same as the day when you had bought it.
Go on a ride in your car.
After getting it washed, go for a long ride. Sing songs; address it by its name, etc. If you have been quite busy in your day to day works for a long time and hence haven't been on holiday for a long time, then without thinking twice take out your car and have a long ride with your friends or family or you can even have a solo ride if you like.
Showcase your appreciation for it!
Post pictures with your car on your social media sites. Use hashtags like #NameYourCarDay and #LetsAppreciateOurCars. Share your love towards your car to the world by sharing your sweet and rough memories of your car on social media platforms using the hashtags #NationalNameYourCarDay.
Interesting facts about Name Your Car Day:
Almost 25% of Americans name their car on this day.
There are almost 17 percent male drivers and 27 percent women drivers who name their cars this day.
Most of the men name their car either after a movie character or a historical figure. There are comparatively fewer amount of female drivers who name in the same fashion.
The kinds of names used are as follows – Herbie from the Love Bug, General Lee from The Dukes of Hazzard, Bandit from Smokey, and Lightning McQueen from Cars.
Almost 26 percent of people who name their car think of it as a female.
The most common name found for the car is 'baby and hence, 2 weeks later to this day 'Meet My Baby' contest it held.
Several new innovations had taken place on this day, such as Nevada became the first state to issue Self-Driving Car licenses in 2012, and Tesla exceeded its weekly total for the first time in 2018.
A blind person invented cruise control in cars.
There are more cars than humans in LA.
History of National Name Your Car Day:
Celebration of this Day started in the year 2019. The origin and founder of this day remain unknown. But we can say one thing for sure that the founder must have been too much fond of his car and hence made this day to let everyone celebrate their cars.
This day is celebrated on 2nd October and pays homage to those of us who love our rides so much — we name them!