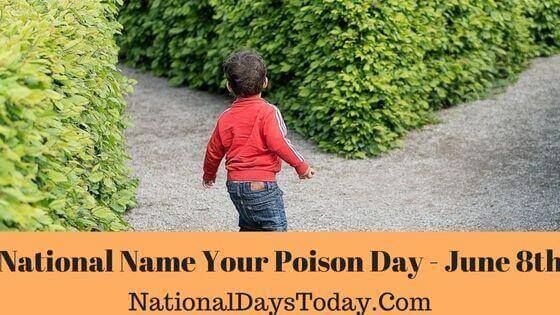 National Name Your Poison Day:
National Name Your Poison Day is observed or celebrated on the 8th of June every year, in recognizance of the many important decisions we take in our lives.
| | | | |
| --- | --- | --- | --- |
| Year | Date | Day | Where |
| 2022 | 8th June | Wednesday | United States |
| 2023 | 8th June | Thursday | United States |
| 2024 | 8th June | Saturday | United States |
Twitter Hashtags:
#NationalNameYourPoisonDay
#NameYourPoisonDay
Related: Other National Days Celebrated on June 8th:
Why National Name Your Poison Day?
Unlike how ominous it sounds, the day is not anywhere ominous. There are many stages in life, where we have to make decisions. Every day, there are choices to be made and things to be chosen based on multiple factors. It is a tough day when there are many challenges and you have to pick one of them to face. The question is whether you would make the right choice or not, whether you can identify the best choice in a situation.
The phrase "name your poison" is generally referred to as the one used by bartenders when referring to alcoholic drinks. Here, in this case, we are referring to the least bad option or the best possible option you can opt for. It is a day to celebrate the inherent ability in us to choose the better of the two evils.
How can we celebrate National Name Your Poison Day?
Life is all about making decisions. But if you are wondering about the best way to celebrate this day, then we can help you out with a few options to make it easy for you to decide.
Today is the day when you can list out the most pressing challenges of your life and then decide on the best option to face them.
If you want to take the literal meaning of the day, then this could be a chance for you to research poisons in general. This is purely for seeking intelligence and nothing more.
You can share your views, thoughts, and how you would face your challenges on your online platform using the #NationalNameYourPoisonDay.
Interesting facts about National Name Your Poison Day:
This is the best day to improve your knowledge about poisons in general and here are some interesting facts.
Cyanide is a known poison. However, what many of us do not know is that there are multiple food crops that contain compounds that upon metabolism will change into cyanide. And the list includes sugar, soybeans, maize, wheat, paddy rice, etc.
Many fruit seeds and pits, like that of the apple, contain cyanide.
Nicotine also referred to as the defensive poison, is not just found in tobacco. But you would find them in eggplant, tomatoes, peppers, cauliflower, etc. in smaller amounts.
The pufferfish toxins can paralyze a person for nearly 4-20 hours and it would take at least a week to recover from a non-lethal dosage. One can say the story of Snow White is not completely false.
There are poisons which when administered in small doses can build your immunity towards them. This would be the case for poison from plants or that of snakes.
The witches mentioned in Shakespeare's Macbeth are brewing a pot of poisons, that inhaling the vapor can induce a trance-like state easily.
Poisons have been used by humans for many thousands of years for hunting and warfare. You would find historical evidence suggesting that arrows and spears were tipped with poisonous plants. History also states that clay pots with venomous scorpions and snakes were thrown on enemies by the Romans in war.
There are some poisons used in medicine for their inherent ability to cure certain conditions. For instance, the saliva from the Gila monster can reduce sugar levels in the blood, while viper venom can decrease blood pressure.
Solenodon, a venomous mammal, whose existence dates back to more than 70 million years, still exists in certain Caribbean islands and its bite is extremely poisonous.
Poison dart frog has poisonous skin due to the presence of batrachotoxin which they don't produce.
History of National Name Your Poison Day:
There is no information available to ascertain the start of the celebration of this day to date. Of course, the history of poison dates back to ancient times of hunting, before 4500BCE. And as far as the history of the phrase "name your poison" goes, you can attribute it to the same being mentioned in Daily National Republican.  The story soon became popular and was used in different forms across different places. However, it is a day which emphasizes our decisions and is certainly a day you would want to celebrate every year.