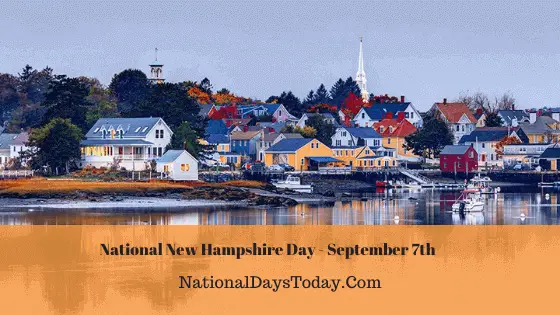 National New Hampshire Day:
Celebrated on September 7th, every year. The day is dedicated to New Hampshire,which joined the American union in June 1788.
| | | | |
| --- | --- | --- | --- |
| Year | Date | Day | Where |
| 2023 | 7th September | Thursday | United States |
| 2024 | 7th September | Saturday | United States |
| 2025 | 7th September | Sunday | United States |
Twitter Hashtags:
#NationalNewHampshireDay
#NewHampshireDay
Related: Other National Days Celebrated on September 7th:
National Neither Rain Nor Snow Day
Why New Hampshire Day?
The day is dedicated to New Hampshire,which joined the American union in June 1788. It became the 9th state to join the union which later formed to be the United States of America. New Hampshire is famous for its attractive scenaries. It includes Mountains and seas which attracts several visitors throughout the year. Moreover, the history of New Hampshire is magnificent since many historical events like the first women strike against unequal low wages despite a failure taken place in New Hampshire.
How we can Celebrate National New Hampshire Day:
Post about the history, natural phenomenon, holiday destinations, important facts using this hashtag #NewHampshireDay on the social media. Post the details of prominent Hampshire personalities using this hashtag #famouspplOfHamsphire.
Interesting Facts About New Hampshire Day:
New Hampshire is the first state to get independence from the British. It formed a government later and had their own written laws before joining the American union.
Robert Frost Farm State Historic Site, Madam Sherri Forest and Castle, Thompson Falls, Hampton Historical Society and Tuck Museum Complex, U.S.S. Albacore, Mount Washington Valley Children's Museum, Hood Museum of Art, American Independence Museum, Manchester Historic Association and Aviation Museum of New Hampshire 

are some of the historical treasures of New Hampshire.

The capital of the state is Concord and the largest city is Manchester.
It consist of 

numerous

 mountains in which mountain washington is the highest one. It attracts visitors due to its dynamic weather conditions.during the cold days,several snow centric competitions and other winter sports are being held in mountain washington.
New Hampshire was one of the state which revolted against the British rule during the American revolution. Actually, on that time, it was a divided province and the primary occupation was trading via ships and that is reason the ship 

was depicted

 in the great seal of new Hampshire.
Right from the year 1945, the motto of the state is "Live free or die". It is the best motto of all times when all the state's motto are considered. It asserts freedom and even it appears on the New Hampshire National Emblem.
New Hampshire became the first state to authorize same-sex union without any order proclaimed by the court.
New Hampshire is famous for agriculture. Apples are cultivated more comparatively to that of others like dairy products,cattle, and eggs. Apple cultivation contributes a significant role in New Hampshire economy.
In terms of Education, New Hampshire includes nearly 80 public high schools and 30 private high schools.Many historical schools like St. Paul's School, Kimball Union Academy, and  Phillips Exeter Academy 

are located

 in the state.moreover,it has so many colleges and institutions.
Hampton, Rye, Weirs Beach, Plaice cove, North beach are the famous one 

whereas

 

Massabesic

 Lake,Onway Lake, Meredith Bay, Bow Lake Village, 

Mascoma

 Lake are famous lakes known for the dynamic color changes especially during the autumn and winter season. Lake Winnipesaukee is the largest glacier lake along with 258 small islands.
In addition,it also consist of several museum,hiking destinations,fishing and camping.
The state's fruit is pumpkin and vegetable is white potato.
The state's sport is skiing.
The state's flower is Purple lilac and the mammal is White-tailed deer.
The state's insect is Ladybug.
History of New Hampshire Day:
The creator and origin of this day is unknown.