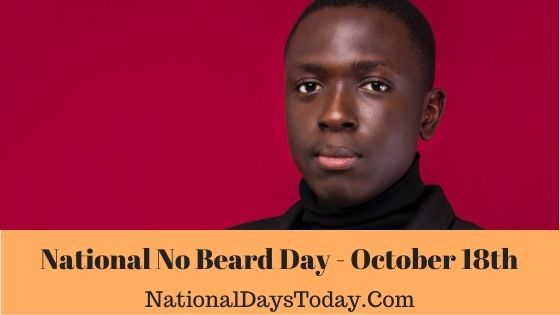 National No Beard Day:
The annual National No Beard Day was launched on October 18th and it celebrates those who have cleanly shaved faces. It is a day to shave off your beard for a smooth look.
| | | | |
| --- | --- | --- | --- |
| Year | Date | Day | Where |
| 2023 | 18th October | Wednesday | United States |
| 2024 | 18th October | Friday | United States |
| 2025 | 18th October | Saturday | United States |
Twitter Hashtags:
#NationalNoBeardDay
#NoBeardDay
Related: Other National Days Celebrated on October 18th:
National Chocolate Cupcake Day
Why National No Beard Day?
The National No Beard Day is a celebration that is set aside to celebrate cleanly shaven faces. It is a day to shave off the beard you have kept for many months or one that you have just started to keep. If you are insecure about how you would like without a beard, the day presents the perfect day for you to gain a new look together with hundreds of other people. Nowadays, the art of shaving your beard off completely is no longer embraced. Before the late 20th century, people used to shave their beards off completely and this is a day when you can relive the olden days. To make the day even more exciting, you can use a straight razor, shaving soap, and brush to achieve the best possible shave. However, you may need time and effort to use such tools.
How can we celebrate National No Beard Day :
Some of the ways that you can observe the National No Beard Day include:
The only thing that you can do to celebrate this day is to shave off your beard. You can shave off your beard by yourself in the comfort of your home. You can choose to go the traditional way and buy a straight razor and a shaving soap. This will help you achieve a clean and shiny look. If you cannot manage a shaving session on your own, you can visit the local barber, who will give you a clean shave.
Arrange a shaving party with your friends
You do not have to celebrate this day on your own. You can organize a shaving party in your home where you and your friends and come together to shave off your beards. You can also compete on who can shave their beard the fastest or who can deliver the cleanest shave. You can also choose to invite barbers to your home if you are looking to having a professional clean shave. You can also organize a shaving event with people in your community in partnership with your local barbers.
Post your shaving experience on social media
Social media always presents the best platform for you to celebrate National No Beard Day. On your social media pages, you can share videos of you shaving your beard and advocate for more people to join in the challenge. You can also make it more memorable by sharing your best beard experiences as well as your worst beard experiences. Using the hashtag #NationalNoBeardDay and #NoBeardDay will also help to make people aware of the celebrations.
Interesting facts about National No Beard Day:
Some interesting facts that many people do not know about beards include:
Pogonophobia is a fear of beards. There are people who are terrified about beards and cannot stand next to people who have beards. Such people always maintain a cleanly shaved look.
Beards can protect you from dust and pollen. This can be a huge advantage especially to people who are allergic. Beards help in trapping foreign materials so that it does not cause infection to your skin.
People who do not have beards are generally regarded as neat and hygienic while men who maintain neatly kept beards are associated to be of a higher social status.
Men who regularly shave their hair and beards will spend an average of 3350 hours in their lifetime shaving.
The person who had the longest beard in history is Hans Langseth, whose beard measured 5.33 meters in length
History of National No Beard Day:
The history of the National No Beard Day is not well known and this is because it is one of the holidays that are ideally generated by people over the internet. However, this day presents an opportunity for people to learn more about the history of shaving beards. The history of beard shaving started with the use of straight razors. However, in the 1800s many men maintained their beard hair as a sense of fashion and having a cleanly shaved face because a fashionable trend in the 1900s. After the Gillette Company introduced a self-shaving razor in 1904, most men were more willing to shave their beards and maintain a neat look.