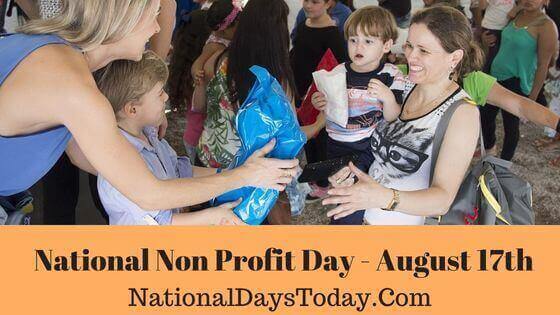 National Non-profit Day:
Observed on every August 17, National Non-profit Day is an annual day that recognizes the tremendous effort charities and non-profits put into making a difference in their communities.
| | | | |
| --- | --- | --- | --- |
| Year | Date | Day | Where |
| 2023 | 17th August | Thursday | United States |
| 2024 | 17th August | Saturday | United States |
| 2025 | 17th August | Sunday | United States |
Twitter Hashtags:
#NationalNonProfitDay
#NonProfitDay
Related: Other National Days Celebrated on August 17th
Why National Non-Profit Day?
They make a difference in shaping our society and offer hope for a better future by:
Making an impact. We can recognize those who make a positive difference in our community. It allows us to come together, work on new projects, and most importantly, make a difference in people's lives.
Non-profits create jobs. The Bureau of Labor Statistics rates non-profits as the most important source of employment in the U.S. They employ more than 10% of America's workforce.
They address sensitive issues. Non-profits deal with some of society's most difficult challenges. Some charities can address every concern, including education and housing.
Each one has a mission. Some help children learn, others pay for patients' medication, and still others are involved in global warming issues. These charities benefit all communities around the globe.
They deserve our support, and we should volunteer to help them every day.
How Can we Observe Non-Profit Day?:
The best way to celebrate is to raise the profile of a non-profit you believe is doing great work. You can do this by informing your friends and family or by using your social media accounts.
You can also celebrate the holiday by putting a donor wall on your website or blog. This is a great way for non-profits to raise funds that could use some extra cash to continue their great work. This holiday can also be observed by donating money. Volunteering your time for a worthy organization is another option. It could be as simple as volunteering to help at a food bank or giving blood at the Red Cross.
People should also give thanks to their volunteers on this day. They give so much of their time and energy to achieve the goals of the organizations that they work for. It is a great day to show appreciation to them.
Volunteer.
You can volunteer at your local shelter or food bank. Many non-profit organizations operate on a very tight budget and would love to be given free assistance.
Raise awareness.
Contribute to the efforts made by non-profits all around you by using social media to increase awareness. To promote your charity or non-profit, you can also create a blog. Use your social media accounts to create awareness for your organization among masses and those who may not know about your cause, its goals and why it's important to get involved.
Give thanks
You can thank your volunteers and reach out to those who advocate on their behalf.
Start Fall Fundraising Early:
Have you started fall fundraising activities yet? Start with a campaign that features results from a recent campaign and introduces a brand new initiative. It can be shared on social media, email, and your site.
 Display a digital donor wall:
Every donor matters when you want to increase your organization's effectiveness. A digital donor wall can be displayed on your website or the stage at your next gala fundraising event. The scrolling donor list recognizes those who have made it possible for your organization to reach its goals.
Honor Benefactors:
They are those who save animals, provide meals for fire-fighters during natural disasters, or help people recover from life-threatening diseases. To give your fundraising and engagement efforts more meaning, highlight those who have benefited from the tireless efforts of your communications.
The day allows us to acknowledge the positive effects charitable organizations have on society. You can help in many ways, including volunteering, giving your time, or donating money.
There are many ways to honor people who dedicate their time to the cause.
Set aside time on August 17 for employees and volunteers to send an emotional thank you email. It can make a difference to let them know how much you appreciate them. If your organization is small enough, personalized notes are a bonus.
Recognition can be a motivator. Use your social media accounts to highlight the people who are most committed to your organization. Don't forget to use the hashtag #NationalNon-ProfitDay and #Non-ProfitDay to bring awareness to your organization and the National Nonprofit Day observance.
Volunteers and employees work hard. Let them know the results by sharing stories about people your organization has helped. It will help employees and supporters to remember your organization's impact on the community
There are many things to do on the day of events. Likely, you won't have a photo with your incredible team. As a sign of solidarity, gather everyone and wear the same shirt or color. Everyone should have a copy of this picture.
Interesting Facts about National Non-Profit Day:
Some of the facts about donations and volunteering that everyone should know. On this day.
Although most people are familiar enough with the idea of non-profits, few people know anything else. We decided to share some facts about non-profit organizations and those who volunteer for them to address this problem.
According to research, donations to non-profits have increased dramatically in the past ten years. It is therefore essential to celebrate National Non-profit Day. You can raise awareness on various issues by doing this.
Every year, more than 30% of Americans volunteer. Many people volunteer their time to support non-profit organizations on National Non-profit Day. Over 1/4 of the U.S. population volunteers at least once a year. December is the month that people give the most to non-profit organizations. Most research shows that donations to non-profits have increased in the past ten years.
With the help of engineers and nurses, the non-profit sector contributes significantly to the national economy. The nation's Gross Domestic product increased by 5.4% in 2012 after the recession. The non-profit sector contributed $887.3 billion to the recovery.
The Tariff Act was enacted on August 17, 1894. The Tariff Act provided exemptions from federal income tax for charities and charitable organizations. Despite many changes, the exemptions for N.G.O.s have remained stable and helped charities operate. This incentive makes the non-profit environment more accessible for new organizations.
History:
The day was started by Sherita J. Herring, an author and well-respected speaker. It was created to empower and educate everyone to make a difference.
The first step towards positively changing society is to recognize that there are people in our community who need assistance. Charitable organizations have been strong fighters in the fight to close the wealth gap. They provide a platform for people to reach out directly to the poor or donate.
In 2012, the U.N. General Assembly announced the International Day of Charity. It was created by the Hungarian Civil society initiative in 2011 with the support of the Hungarian Parliament and Government.05-Sept-2021 Non-profit Day is commemorated on August 17 to honor non-profit organizations' ongoing efforts to serve the local community. According to the National Centre for Charitable Statistics, 1.5 million registered organizations are in the United States.
These non-profit organizations are vital in helping communities develop by providing services such as food banks and affordable housing, legal counsel, education, and medical care. After-school activities are another important contribution of the non-profit sector. These centers provide vital services to these communities.