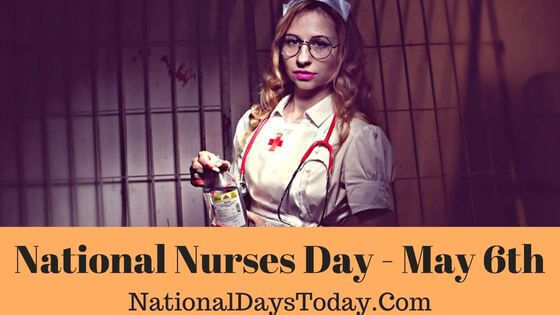 National Nurses Day:
 National Nurses Day is observed annually on May 6, to celebrate the hospitality of the hospital, Nurses!
| | | | |
| --- | --- | --- | --- |
| Year | Date | Day | Where |
| 2023 | 6th May | Saturday | United States |
| 2024 | 6th May | Monday | United States |
| 2025 | 6th May | Tuesday | United States |
Twitter Hashtags:
#NationalNursesDay
 #NursesDay 
Related: Other National Days Celebrated on May 6th:
Why National Nurses Day?
Nurses the heart of healthcare, the hospitality of the hospital. The precious human beings who devoted their lives to save other lives. Nursing is not an easy profession.
No one in this world would like to stay at hospital. Even a mother who expects a child always want to come out of the labor room. The sensory experience anyone had in the hospital would be terrible. The Smell of antiseptic and cleaners will frown as with disapproval. Despite all this, the healthcare department workers prefer to save us. It is our duty to treat them with respect.
It is a shame on us that we led Nurses to create a Forum like #EndNurseAbuse by the American Nurses Association itself. It's a day that reminds us to stop any act of threat or physical violence on Nurses.
Let us honor the angels who heals our body, mind and soul!
How can we observe National Nurses Day?
Share Your Quote: if you are a good writer, then express your tribute through a quote. Use the hashtags #NationalNursesDay and #NursesDay to share your quotes.
Treat them With Respect:  Celebrating a day for them and abusing them tomorrow is of no use. In U.S, the survey done by American Nurses Association reports that at least one in four nurses are abused/assaulted while on duty. Is it really good to treat someone who tries hard to save lives?
The survey is a recent one and not a decade before report. Though government has initiated strict laws to stop, this cannot be eradicated unless every human ought to.
Shoutout: Shout out to all the nurses in the world. The Nurses not belong to any country, they are the Saviors sent by the almighty. Let us thank every single nurse in this World through this day.
Don't Demean the Profession: Also, it is to be accounted that very few nurses without responsibility abuses their patients. It is not only you demean yourself but also your profession. Please don't do!
Ask Sorry: If you ever been harsh on nurses, please seek your apology through #SorryMyNurse. Certain violations comes under crime and everyone should be disciplined no matter what!
List out Famous Nurses: We have listed out famous Nurses after our searches.  You can share details about any nurses with their achievements in comment section.
Search More About the Nursing job and answer the Questions:
Who is the first orthopaedic Nurse?
Who is the founder of Modern Nursing?
Who is the first nurse in America?
Who is the US President's wife who volunteered to nurse the wounded soldiers during a war?
Who is the first African-American woman to become a registered Nurse?
Who is regarded as "American Florence Nightingale"?
Who is called as Heroine of World War I?
Share your answers at nationaldaystoday@gmail.com.
Interesting facts about National Nurses Day:
Let's see some of the famous nurses in history who became the heart of healthcare in their era. This would be fantastic way to celebrate this day!
It is to be noted that "Skin color" was a major rejection from nursing in those times as the wounded soldiers refused to get treatment from black nurses. When this blocked several black girls to become nurses, few black women fight against this racial discrimination and wrote their names themselves in the history. If not racial discrimination, it would have led to many Florence Nightingale's. racial discrimination was severe where black women were paid less comparatively to the white.
Martha Moore Ballard was an American midwife and healer known for Diary with 10,000 entries about her daily medical task that she wrote over 27 years. Later, it became valuable information's to the healthcare.
Clara Barton was the American Nurse who founded the American Red Cross.
Florence Nightingale is the founder of Modern Nursing. During the Crimean war, it is reported that the death rate is decreased from 42% to 2% of soldiers as she implemented hygiene practices. She is fondly nicknamed as "The Lady with the Lamp" during the war. She established Training courses for Nurses that eventually led to "Modern Nursing"!
Edith Louisa Cavell was a British nurse celebrated for saving the lives of soldiers from both sides without discrimination during the First World War. She was accused of treason and despite international pressure, she was executed by a German squad. She became an popular icon not only in Uk but also in US due to her heroic approach to death.
Her last words were,
"I am thankful to have had these ten weeks of quiet to get ready. Now I have had them and have been kindly treated here. I expected my sentence and I believe it was just. Standing as I do in view of God and Eternity, I realise that patriotism is not enough, I must have no hatred or bitterness towards anyone"
Selma Mayer was an Israeli nurse became known as the "Jewish Florence Nightingale" for her 50 years contribution in Nursing.
Mary Seacole Jamaican nurse who was rejected from nursing during the crimean war because of her color. But that did not stop her. She established clinics near war areas at her own cost and treats Jamaican and British Soldiers.
Virginia Avenel Henderson was an American Nurse who developed Nursing theory and called as the "First Lady of Nursing". 
Acknowledgement:
Florence Nightingale Medal is an international award presented for Nurses irrespective of country.  Established in 1912, this medal was given to Six selected Nurses on a yearly basis. The First recipients of this award were all Americans. The medal was restricted to only Female nurses initially.
After the bill 1991, gender discrimination is abolished and now medals are awarded to the maximum of fifty nurses every two years.
Christiane Reimann Prize is a most prestigious award presented to nurses every four years. The prize is in cash and awarded to one or More registered first level nurses. Named after Christiane Reimann,  ICN's first full-time Executive Secretary, this award is the highest award in Nursing profession. 
History of National Nurses Day:
In 1953, Dorothy Sutherland sent a proposal to then president Mr.Eisenhower to declare "National Nursing week" in October as it mark the centennial work of Florence Nightingale. Only a year after, it was officially recognized. National Nursing Week was observed on October from 1954.
By 1974, then President Nixon Declared National Nurse Week to be celebrated annually in May as the end of the week, may 12 is Florence Nightingale's birthday.
However, American Nurses Association (ANA) insisted for a special day for recognizing the nurses that lead to the proclamation of "National Nurses Day" by the year 1982.