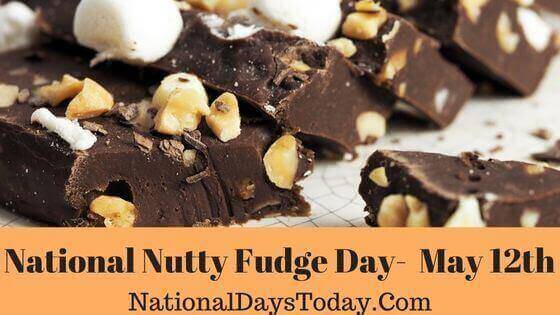 National Nutty Fudge Day:
The day celebrates one of the most iconic candy. National Nutty Fudge Day is celebrated on May 12th , along with another special day, Mother's Day.
| | | | |
| --- | --- | --- | --- |
| Year | Date | Day | Where |
| 2023 | 12th May | Friday | United States |
| 2024 | 12th May | Sunday | United States |
| 2025 | 12th May | Monday | United States |
Twitter Hashtags:
#NationalNuttyFudgeDay
#NuttyFudgeDay
Related: Other National Days Celebrated on May 12th:
National Fibromyalgia Awareness Day
Why National Nutty Fudge Day?
Most people must be wondering why the day is celebrated. And the simple answer to that question is because it gives people a chance to celebrate an incredibly delectable candy. Currently, the United States of America celebrates more than 1500 national days every year, and as is expected, many of these days are dedicated to delicious food items.
Along with this, On July 22, we celebrate National Penuche Fudge Day, and on November 20, we celebrate National Peanut Butter Fudge Day.
The day celebrates the nutty variation of the western confection in all its glory. The right kind of fudge is sweet, soft, crumbly yet firm, and with nuts added to it, the sweetness is elevated to an even better standard.
The history of fudge is a little contentious, as is with many kinds of foods and candy. However, the three most common stories floating around the creation of fudge are-
One of the stories surrounding the invention of fudge goes a little this way- Students following the recipe to make a toffee provided by a college professor in Virginia, USA, didn't mix the mixture at a high enough temperature, which resulted in fudge.
The second most popular story is that of a caramel maker's apprentice. The caramel maker, who was a little busy with the customers, asked his apprentice to look after a bubbling pot of caramel and stir it. But by the time the caramel maker returned to his station, the caramel was no longer shiny and smooth but had become grainy.
Although the caramel maker believed that the caramel had been ruined, to his surprise, the customers enjoyed it. And the candy was named Fudge after the apprentice who ruined the batch of caramel.
The third story has the most historical validity to it and is considered the first recorded evidence of its creation. In 1886 a young student by the name of Emelyn Battersby Hartridge of Vassar college received a letter either from her cousin or a schoolmate's cousin.
The letter referred to a candy that the letter writer, who was from Baltimore, Maryland, had made and sold for 40 cents per pound. Once Hartridge got her hands on the recipe, she made at least 30 pounds of the candy herself for the Vassar College senior auction.
How can we Observe National Nutty Fudge Day:
There are many ways to celebrate nutty fudge day.
The most obvious and fun way to celebrate the day is to buy store-bought fudge and eat copious amount of it.
If you are a baker or like to make food, you can also make your nutty fudge. The best thing about fudge is that once you know its foundation, you can play with endless flavor and nut combinations.
Fudge is not only easy to make but also makes the best gifts; they also travel well. Therefore, you and your friends can host a fudge-themed potluck party, with each friend bringing their interpretation of the candy and share the pictures on social media using hashtags like #nationalfudgeday #fudgeday.
Interesting Facts On National Nutty Fudge Day:
The first possible mention of fudge was traced back to 18th century Scotland in "The Household Book of Lady Grisell Baillie." Unlike the American recipe, which was made with chocolate, the Scottish variation was prepared with cream and sugar and was flavored with vanilla, whisky, and nuts.
Some people believe that the term "to fudge something," which means to mess something up or ruin something, was coined because of how fudge came to be, mistakenly while making other things.
Fudge was legendary American composer Cole Porter's all-time favorite candy.
Northwest Fudge Factory currently holds the record for the largest fudge ever made in the world in Ontario, Canada. The factory made a 5,760-pound slab of fudge which was made from 300 gallons of condensed milk.
History Of National Nutty Fudge Day:
The origin of this day is unknown!