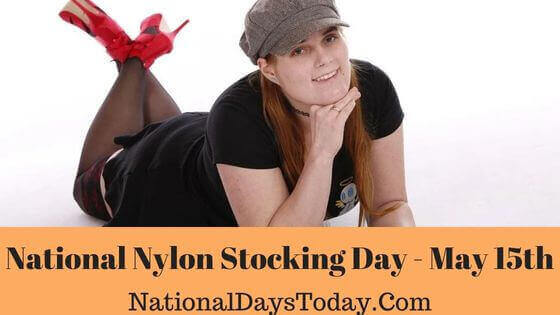 National Nylon Stocking Day: 
Celebrated on May 15th of every year, National Nylon Stocking Day cherishes the nylon stockings for their style, variety, and color! Join the celebration by swaying with your favorite nylon stocking today!
| | | | |
| --- | --- | --- | --- |
| Year | Date | Day | Where |
| 2023 | 17th May | Friday | United States |
| 2024 | 17th May | Sunday | United States |
| 2025 | 17th May | Monday | United States |
Twitter Hashtags:
#NationalNylonStockingDay
#NylonStockingDay
Related: Other National Days Celebrated on May 17th:
Why Nylon Stocking Day? 
In contrast to other national holidays, National Nylon Stocking Day has little specific information about its history. These nylon stockings have various designs, colors, and transparency. It is interesting to see how the nylon stocking is still being celebrated today amidst its unpopularity.  Let us find out more about it.
Before the 1890s stockings were made using cotton, wool, silk, or Linen materials.  In the 1920s, women began wearing stockings to keep themselves warm. As the hemlines of women's dresses rose, they wore stockings to cover their exposed legs.
Nylon stockings first made their debut in the United States in the year 1939, introduced by a chemical company, DuPont. Ever since then, nylon has been used as the material for stocking production. It became a hit among the people for its high durability, affordability, and compatibility. On May 15, 1940, DuPont achieved a mark of five million pairs of nylon stockings sold.
During World War II, nylon was used for building airplane cords, parachutes, ropes, thus halting the production of nylon stockings. This created a huge demand for stockings, and this was followed by a black market for stockings. By the end of World War II, stocking production had resumed.
The stockings were sewn into briefs, introducing the pantyhose in 1959. They were first used by actresses and dancers. The liking and demand for nylon stockings decreased as people began embracing pantyhoses. In the year 1970, pantyhose exceeded the sales of nylon stockings for the first time in the United States, and ever since it has remained the same.
Nevertheless, the nylon stockings depict a number of different concepts. National Nylon Stocking Day celebrates this simple wardrobe essential that gives allure to people. Let's celebrate the day by wearing these comfortable stockings that make our outfit complete!
How Can We Celebrate National Nylon Stocking Day? 
Get a pair of stockings for yourself today!
A simple way to celebrate Nylon Stocking Day is by purchasing a pair of stockings in your favorite color. Slay it with your outfit and rock the day!
Read about the history of nylon stockings today.
On this day, you can read about the history of these classy nylon stockings and share what you've learned with your family and friends, encouraging them to celebrate Nylon Stocking Day too!
Gift away a few pairs of stockings!
Know anyone in your family or friends who love stocking? celebrate the day by gifting them with their favorite color of Nylon stocking today!
Host a nylon stocking-themed fashion show.
On this day, you can host a nylon stocking-themed fashion show and enjoy the day by walking the ramp with the best and latest Nylong stockings!
Nylon stockings for the party!
Wear your favorite stockings that complement your outfit and go on a fun party by yourself or with your girlfriend squad and celebrate the day!
Let's spread the word for nylon stocking
Create awareness about Nylon stockings and the low attention they get in the fashion market. You could publish photos, videos, or blogs to share your insights on nylon stockings by using #NationalNylonStockingDay and #NylonStockingDay.
Interesting Facts About National Nylon Stocking Day: 
Here are some interesting and fun facts about National Stocking Day.
The first stocking frame machine was invented by William Lee in 1589 for faster knitting
Since 1920, the main reason for wearing stockings was for warmth.
In the initial days' stockings were worn by the royalty alone.
Queen Elizabeth I, made a fashion statement in 1560 by wearing a stocking.
In 1939, the DuPont Company introduces nylon stockings to the world!
It is cost-effective as it is affordable for all.
In 1940, within four days, four million pairs of stockings were sold.
The little to nil production of nylon stockings caused women to riot in 1945.
The nylon material is stretchy and comfortable.
It takes approximately 40–50 years for nylon stockings to decompose.
Germany exported the highest number of stockings for the year 2020.
The History of National Nylon Stocking Day: 
The origin of National Nylon Stocking Day remains a mystery to this day. Well, it doesn't have to obstruct us from celebrating National Nylon Day.