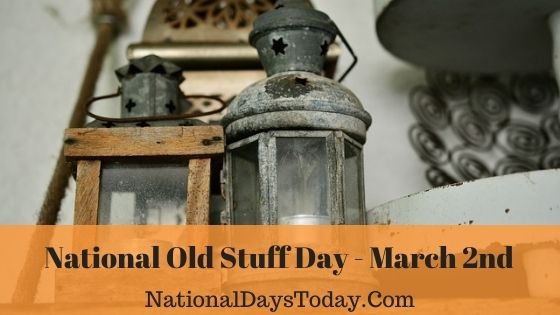 National Old Stuff Day
National Old Stuff Day is observed on the 2nd March of every year. This occasion encourages people to get rid of old stuff, get new things, and open up to new experiences, marking new beginnings!
| | | | |
| --- | --- | --- | --- |
| Year | Date | Day | Where |
| 2023 | 2nd March | Thursday | United States |
| 2024 | 2nd March | Saturday | United States |
| 2025 | 2nd March | Sunday | United States |
Twitter Hashtags:
#NationalOldStuffDay
#OldStuffDay
Related: Other National Days Celebrated on March 2nd:
National Read Across America Day (Dr.Seuss Day)
Why National Old Stuff Day?
Old things always have some value to them. Ancient artifacts are worth millions because they tell us about the history and culture of humankind. It is human nature to care and attach ourselves to old things and belongings, and this is why we might hold on to some outdated things that we may no longer require, and sometimes even things stuff that has worn out. National Old Stuff Day celebrates this spirit while also encouraging you to move from your old and things you no longer require.
Old things have sentimental value to us. Because of this reason, some people tend to collect stuff over time that is not of any use. Such a collection is also referred to as "hoarding." It is very important to get rid of things that you no longer require. This practice keeps your house clean and saves space for important things, and makes sure you have a fresh state of mind. Decluttering your belongings every now helps you understand your needs and clears your minds off the things sitting in your home taking up space.
As we all are aware of the popular saying, "cleanliness is next to godliness," it is also very important to implement this feeling. In recent times many people are taking up a minimalistic approach to holding stuff in their homes. They stick to the basic necessary item that one requires in their day to day life and avoid buying extra things that offer no long-term benefits. Some people also hire professional house cleaners, declutterers, and storage organizers to eliminate their wasteful expenditures and purchases.
Keeping the same thought, the National Old Stuff day encourages people to throw out their old belongings and get rid of any stale and negative energies and bring in new things to freshen up their lives. This day is also a great opportunity for you to look around and focus on your purchasing habits, and if you are a shopaholic or hoarder, then you should try to change a few things in your life and take advantage of the National Old Stuff Day.
National Old Stuff can also apply to your state of mind! To bring newness into your life, you can look at your philosophies, opinions, and thoughts. You may bid goodbye to outdated ways of thinking and any thoughts that hold you back or cause you frustration. Introducing a new perspective can help you perceive the world differently and bring new energies into your life. You also use this day as an opportunity to get rid of any old bad habits like smoking or biting your nails and replace them with a new good habit or hobby!
How Can We Observe National Old Stuff Day:
There are simple ways to observe National Old Stuff Day and get rid of some old things and habits.
Use this day as an opportunity to get your bags and fill them up with all the junk that you have been keeping in your house, basement, garage, office, and even your car! Also, get your family involved in the process and get rid of the things you have been saving up someday but never used! Emptying physical space can be very therapeutic!
You can donate all the items that you can find that you don't need. Everything from clothes, electrical equipment, and furniture can be given away to someone who actually needs it or can't afford it. You can make a garage sale, give your stuff away to your nearest thrift shop or give them away to people around you.
You can share the knowledge about this day with your friends and family and motivate them to celebrate National Old Stuff Day! This way, people around you will also have cleaner, fresher and newer environments and a state of mind! Don't forget to use the #CleantheClutter and #NationalOldStuffDay on all your social media platforms!
Interesting Facts On National Old Stuff Day:
An average person spends about a year of their life dedicated to looking for lost items.
Cleaning up and decluttering allows you to save yourself from 40% of the housework.
You can find branded and vintage clothing at much lower prices at thrift stores.
We only wear about 20-30 % of the clothes that we own, repeatedly rather than making use of the rest of our closet and wasting it.
History Of National Old Stuff Day:
Not much is known about the History of the founder of National Old Stuff Day, but we know that its main goal is to get people up and cleanse their surroundings and mental space!