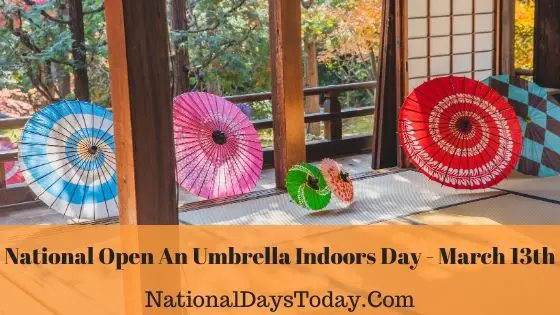 National Open An Umbrella Indoors Day:
National Open Umbrella Indoors Day is celebrated every year on March 13. It is a celebration of a popular omen and a fun science experiment to inspect if the act of opening an umbrella inside could cause bad luck.
| | | | |
| --- | --- | --- | --- |
| Year | Date | Day | Where |
| 2023 | 13th March | Monday | United States |
| 2024 | 13th March | Wednesday | United States |
| 2025 | 13th March | Thursday | United States |
Twitter Hashtags:
#NationalOpenAnUmbrellaIndoorsDay
#OpenAnUmbrellaIndoorsDay
Related: Other National Days Celebrated on March 13th:
Why National Open An Umbrella Indoors Day?
Superstitions are irrational beliefs that are firmly followed by many people or entire communities. These beliefs can be harmful and lead to people acting in strange and illogical manners. The most popular superstitions include knocking on wood to avoid a jinx, avoiding black cats or birds, and not trimming nails and hair at night! Sometimes they are harmless and followed by people just as precautions and because they are easy to follow through. But sometimes, these superstitions can cause discomfort and be unsafe.
The Umbrella is simply a tool we use to protect ourselves from calamities like rain, hail, and the harsh heat of the sun rays. Humans have used umbrellas and Parasols since ancient times. The exact origins of Umbrellas remain unknown, but there have been shreds of evidence that suggest that the umbrellas were invented in China about 4000 years ago. Still, they were also being used in places like Egypt and Greece during the same time period. Some other superstitions are revolving around umbrellas as well. For instance, falling down on an umbrella could suggest pain or problems in your workplace, and placing an umbrella on your bed or furniture is considered an invitation to ill health or even death!
The superstition behind opening an umbrella can be traced back to Egypt. People of that region used umbrellas made from feathers to protect themselves from the sun's scorching heat. They believed that the Umbrella should only be used near the sun, and using it inside the home where there is no heat can cause the Sun God, Ra,  to get upset. This leads to the Sun God punishing the person who opened the umbrella and their family by leaving them with bad luck. The superstition about opening an umbrella inside the house is one such harmless but unreasonable.
The National Open An Umbrella Day is considered to be a social or science experiment as well.  The day creator of the day,  Thomas Edward Knibb of Frederick, called for everyone worldwide to open their umbrellas indoors and perceive any bad luck that they suffer. He wanted to combine observation and reason with superstition to make people think in a more sound manner. Celebrating this day holds importance, not because of the silly reason that appears the cause of it but because of the thought put into creating the National Open An Umbrella Day. Thus celebrating this national holiday may seem silly, but observing this day is a light and fun way!
How Can We Observe National Open An Umbrella Indoors Day?
The ways to follow and celebrate this day are super simplistic, and you can do them as well!
Open Your Umbrella Indoors!
The easiest and most direct way to celebrate The National Open an Umbrella Indoors Day is to unfold your umbrella inside your home and behold any bad luck or mishaps that come your way!
You can ask your friends and family to share this day with you by telling them about it and asking them to open umbrellas indoors themselves! You can then observe the day unfold together and discuss any bad luck if you endured it. You can use #NationalOpenAnUmbrellaIndoorsDay and #OpenThoseUmbrellas on your social media pages!
Share Awareness about Harmful Superstitions
You can also dedicate this foolish but fun holiday to focus on some important issues by addressing old age superstitions that can be detrimental to society if followed blindly.
Interesting Facts On National Open An Umbrella Indoors Day:
Opening an umbrella indoors was considered disrespectful to the God of Sun in ancient Egypt.
The modern belief behind the superstition blames bad timing for the unlucky things that happen.
In the ancient empire of Aztec, umbrellas were made of feather and gold and considered to the flags or identification of the population. They were even carried by the army journals.
According to Hindu Mythology, the Sun offered the umbrella as an apology for its heat to the Hindu Goddess Renuka.
Umbrellas have been used in every ancient society, including Asia, Africa, South America, and Europe.
History Of  National Open An Umbrella Indoors Day:
The National Open An Umbrella Day's history and origins go back to as recently as the year 2003. This day was coined by Thomas Edward Knibb of Frederick, MD, in 2003. His intention behind the silly holiday was to encourage the public not to believe in illogical myths and folklore. This is why he created this unofficial holiday as it would motivate people to find the truth behind groundless superstitions like this and the ones which are more serious and dangerous.