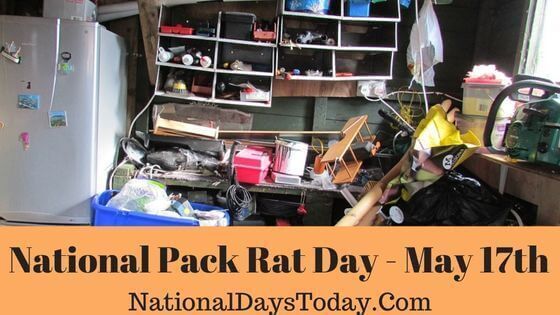 National Pack Rat Day:
Celebrated annually on May 17th, the National Pack Rat Day encourages us to check on our "Pack-Rat" tendencies. Do you often find yourself or a friend carrying things "just-in-case" the need might appear? We feel you and let's make it through the clutter!
| | | | |
| --- | --- | --- | --- |
| Year | Date | Day | Where |
| 2023 | 17th May | Friday | United States |
| 2024 | 17th May | Sunday | United States |
| 2025 | 17th May | Monday | United States |
Twitter Hashtags:
#NationalPackRatDay
#PackRatDay
Related: Other National Days Celebrated on May 17th:
Why Pack Rat Day?
The phrase "pack rat" can be traced back to the late19th century references to a wood rat that was known for hoarding random objects including food. Today, people who do the same are described likewise
Collecting and hoarding are distinguished by a fine line. A collector will gather things and store them in an organized manner often displaying his possession with pride.
Whereas a person suffering from hoarding tendencies will have his possession in clutter and is embarrassed about it.
Some studies have revealed a close link between hoarding, and OCD and could also be one of the most difficult disorders to treat.
Even in the age of recycling and reusing pack rats find it extremely difficult to toss or donate things as they think they might need them in the future.
While harmless hoarding is acceptable, you might need help in case your packrat tendencies are causing you or others harm.
Pack rat day gives us the opportunity to examine our collecting behavior. We could be holding on to unwanted clothing, tools, boxes, shoes, etc.
Being a pack rat could also lead to limited space at home or the workplace as they could easily get cluttered with old furniture, dis-functional electronic goods, old newspapers, books, etc.
Packrat tendencies often accompany feelings of anxiety for the future and difficulty to let go of unnecessary things. This could decrease the confidence of the person.
Cleaning and organizing are great ways to prevent hoarding while ensuring that the underlying factors for such behavior aren't ignored.
Pack Rat Day is an encouragement to help ourselves and others to live life without clutter physically and emotionally. Today take time to go through all the things you have been collecting and declutter by tossing, selling or donating the things you no longer need or that can't be used.
How Can We Observe National Pack Rat Day:
Do you keep acquiring things, even when you don't need them?
Has your collection started to clutter and prevent your rooms from being used for normal activities?
Chairs and pathways are found piled with stuff that they cannot be used?
Have a dedicated room or space for accumulating unwanted things?
Feels like a big challenge to toss away unwanted things?
Have so much stuff, that you feel embarrassed to have visitors?
Feel addicted to objects?
If your answer is a yes, then it's time to get help from a mental health professional.
It takes a minimum of 26 days to learn a new habit, so try organizing things, throw away unwanted things or those that are beyond repair, and give away things that are in good condition which you no longer need! You could also segregate the donating items to give away to specific centers that need them!
Now that you understand the signs of hoarding, help a fellow family member or friend to acknowledge and come out of this habit. With your help, they can too now live a hoarding-free life, physically and emotionally.
Before you buy or acquire anything, think if you need it and not that you may need it in case some unforeseen situations arise.
Let your story inspire the world
Tell your story of being a packrat and let the world know they are not alone in this and that they can gradually overcome this too! Share your tips for decluttering and getting help today!
Use #NationalPackRatDay and #PackRatDay to share all your posts!
Interesting Facts About National Pack Rat Day:
Here are a few interesting facts related to Pack Rat Day
Packrats or wood rats have large eyes, ears, and long tails compared to other rat species.
Packrats build complex dens using twigs, cactus, and other debris. The dens are extensive and have several chambers stashed with food and other stuff.
Packrats are easily attracted to shiny things and leave the object they are carrying for something more attractive.
Packrat disorder or hoarding disorder are most often related to Obsessive-Compulsive Personality Disorder(OCPD), Attention-Deficit Hyperactivity Disorder (ADHD), and Obsessive-Compulsive Disorder (OCD)
History Of National Pack Rat Day: 
The origins and the mastermind behind this day, unfortunately, remain unknown.