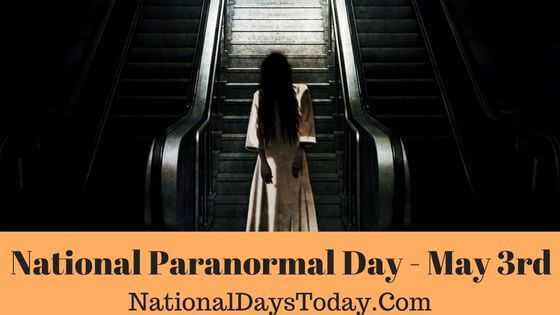 National Paranormal Day:
Celebrating all those things which cannot be easily explained like UFOs and ghosts, the National Paranormal Day is observed on the 3rd of May every year.
| | | | |
| --- | --- | --- | --- |
| Year | Date | Day | Where |
| 2023 | 3rd May | Wednesday | United States |
| 2024 | 3rd May | Friday | United States |
| 2025 | 3rd May | Saturday | United States |
Twitter Hashtags:
#NationalParanormalDay
#ParanormalDay
Related: Other National Days Celebrated on May 3rd:
National Chocolate Custard Day
National Garden Meditation Day
National Specially-Abled Pets Day
National Raspberry Popover Day
National Two Different Colored Shoes Day
Why National Paranormal Day?
When there is an occurrence or incident which is not easy to explain using science and the same is not as per the normal norms, then the same is referred to as paranormal. And when we refer to the word paranormal, we immediately think of ghosts, spirits, haunted places, etc. However paranormal has a broader coverage which also includes any extraterrestrial activity as well into its fold.
It is surprising and yet true that almost every city in the world has its own stories of paranormal activities either observed in space during the night or in the form of hauntings and spiritual inferences. And yet there is a constant debate on the truth behind these occurrences, spotting of unusual objects, and other incidents. There are some who believe them wholeheartedly and there are those who vehemently oppose the very idea of anything paranormal. The day is when people who believe in the paranormal and the paranormal activities gather to share their experiences and discuss about these occurrences.
How can we observe National Paranormal Day:
Have you ever experienced anything otherworldly? Have you ever had to wonder why a certain sequence of events seem as if it has already happened, like a strange déjà vu? If yes, then you have already probably experienced your own level of paranormal activities. Have you heard of certain places which bring about paranormal experiences or a particular day like that of Halloween when spirits are expected to roam freely around this world? Well, whatever be your experience with the paranormal, here is a chance to enjoy this day to its fullest using these experiences.
We have a few tips on how you can spend this day to make it a memorable one for you and your friends and family.
You can gather your friends and family who believe in the paranormal existences. You can then have an experience-sharing session where each of you can speak about your own experiences with the paranormal.
You can of course read a paranormal story that will raise goosebumps as an experience on this day. You can even have a group reading session on the scariest ghost story.
You can also watch an interesting or scary paranormal movie alone if you dare to and along with friends and family if you want to.
Do remember that paranormal is not just about ghosts but even science fiction counts as paranormal and so you can indulge in as many science fiction movies and books as you would like to.
Choose your own way of celebration on this day and share your experiences both about the day and about your paranormal experience with everyone. Remember to include the hashtag #NationalParanormalDay in your anecdotes to bring notice to this day and its importance.
Interesting facts about National Paranormal Day:
Even though the presence of ghosts is denied vehemently by scientists, there are still many of us who believe in these. On this day as we remember paranormal incidents and objects, here are some myths facts about ghosts in general.
Many paranormal researchers believe that ghosts can be hunted even during the day as effectively as they are done at night.
It is an accepted proposition that ghosts haunt old buildings and places where there has been a death. However, this is not the only place for the ghosts to haunt according to the paranormal researchers.
There are individuals from different subcultures in the US, who believe that they are descendants or belong to a class of vampires, in NYC and New Orleans.
The term zombie was initially used for referring to soulless slaves created by Haitian voodoo but it changed into a reanimated corpse after the release of Living Dead by George Romero.
There is a thriving branch in tourism known as paranormal tourism embracing the locations known for their paranormal activity.
History of National Paranormal Day:
There is no clear information on why, when, and how this day came into existence or who initiated the observation of this day. But, the observation of this day kick-started in the year 2013. However, we do know that the existence of unexplainable phenomena can date back to as early as the life of humans on this planet. So let us make this a memorable day sharing our experiences of the paranormal in our lives and of course rejoice in the fact of the presence of otherworldly objects in our world.