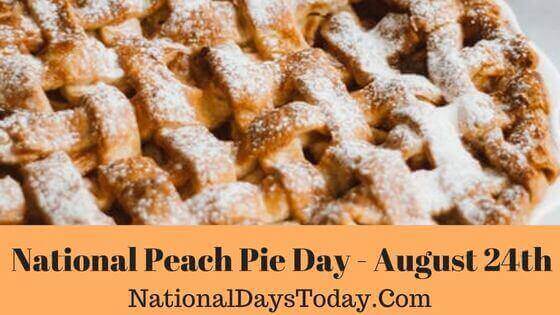 National Peach Pie Day:
Every year on August 24, people celebrate the delicious Peach pie.
| | | | |
| --- | --- | --- | --- |
| Year | Date | Day | Where |
| 2023 | 24th August | Wednesday | United States |
| 2024 | 24th August | Friday | United States |
| 2025 | 24th August | Saturday | United States |
Twitter Hashtags:
#NationalPeachPieDay
#PeachPieDay
Related: Other National Days Celebrated on August 24th
Why National Peach Pie Day?
There are few things in life that can compare to a piece of peach pie Day, which is undoubtedly one of the best. It has a decadent, creamy texture and the unique flavor that only fresh peaches can impart. The ideal way to start or end any day is served with a thick slice of vanilla ice cream. National Peach Pie Day honors this delectable dish and its devotees.
Peach-pie enthusiasts and dessert connoisseurs alike celebrate this delicious festival. Its celebration is always enjoyable, whether you want creamy vanilla ice cream or peach pie topped with lots of whip cream.
How Can We Observe National Peach Pie Day?
National Peach Pie Day is an excellent place to start if you've always wanted to observe a sweet holiday. You should buy or cook your favorite peach pie for this holiday and share it with friends, neighbors, and family. You have a wide variety of options to pick from when it comes to the peach pie recipe. Don't forget to use the hashtag #NationalPeachPieDay to promote this occasion while you're celebrating it.
On this day, peach pies are consumed, made, and given as gifts. On National Peach Pie Day, try this delectable delicacy, especially if you haven't had it before.
Interesting Facts of National Peach Pie Day:
Some Facts Of Peaches:
There are 700 different varieties of peaches, commonly referred to as Persian apples. On National Peach Pie Day, any variety of peaches can be utilized to make pies.
Typically, people make a pie with a substantial crust, fresh peaches, a ton of sugar, and butter.
Every year, 1.9 billion pounds of peaches are grown across the nation.
Typically, a medium peach has 30 calories, 7 grams of carbs, 1 grams of protein, 140 mg of potassium, and 8% of the recommended daily requirement for vitamin C.
Peach trees typically live for around 15 years, however it takes the tree two years to produce fruit.
History Of National Peach Pie Day:
This day's origin and history are unknown. Between June and August is typically when peach fruit is harvested. This day is definitely for you if you missed out on the National Eat A Peach Day celebration. Any pie is a cooked dish made by encasing the fillings in pastry dough and baking it. Typically, the fillings consist of spicy or sweet components.
Making pies is simple. A pie is a cooked dish with a pastry dough crust that covers the ingredients. A pie's filling can be either sweet or spicy, and some pies may even have meat in them. Pies come in a range of serving sizes, from those that can be shared by the entire family to those that are perfect for a fast snack. Fresh peach pie is not only wonderful to eat, but also quite healthful. When accompanied by a big scoop of vanilla ice cream, whipped cream, or a glass of cold milk, it tastes even better.
A peach pie is the ideal way to enjoy a beloved dessert while getting your vitamins because peaches are also rich in nutritious value. On this day, you can sample pies with unusual fillings including mango, avocado, or strawberries in addition to peach pies. To realize how incredibly adaptable the dessert is, you can broaden your palate and try pies from various places. There is no better way to commemorate the conclusion of the peach season than with National Peach Pie Day.
Pies were created in Ancient Egypt around 1,300 B.C. using plain bread dough and honey, fruits, and nuts. The Greeks also produced these pies. To seal in the meat's juices, the Greeks wrapped some type of meat in a paste made of flour and water before cooking it. Though not quite like a modern pie, Neolithic pies were far more similar to what we would consider pies today.
These pies were popular throughout the medieval ages. Pies were created by bakers using a variety of ingredients, and the pie pastry was mostly utilized for cooking. The pie top would be discarded after consumption. which is probably for the best given how difficult they would have been.
This day serves as a reminder that, while being an ancient custom, you can still fully appreciate it by giving it some contemporary touches.