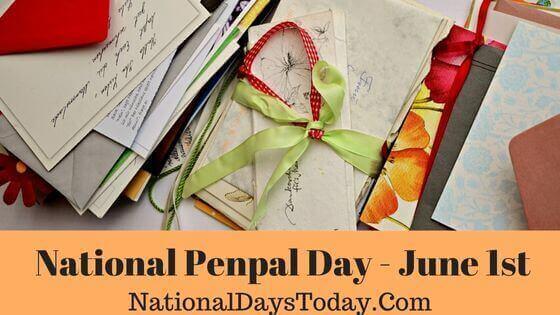 National Penpal Day:
With a lot of excitement, National Penpal Day is celebrated every year on the 1st of June.
| | | | |
| --- | --- | --- | --- |
| Year | Date | Day | Where |
| 2023 | 1st June | Thursday | United States |
| 2024 | 1st June | Saturday | United States |
| 2025 | 1st June | Sunday | United States |
Twitter Hashtags:
#NationalPenpalDay
#PenpalDay
Related: Other National Days Celebrated on June 1st:
National Heimlich Maneuver Day
National Say Something Nice Day
Why National Penpal Day?
Despite the presence and the domination of social media, it is surprising to see that penpals continue to exist. This tradition emphasizes the fact that people love to read and write letters and make friends from around the world. But that is not the only reason why you should be celebrating this day every year. While it does emphasize making new friends and improves your habit of writing letters, many other uses make it the best day to celebrate in a year.
When you have pen pals you can learn about the traditions and cultures of different countries. It gives you an insight into the lifestyle of people from different parts of the world. You would start seeing every country in a completely new dimension with a pen pal. It also improves your writing and vocabulary skills, and also your handwriting. It is one of the best ways to interact with people without falling into the addictive social media, ruling the world right now. This is a means to interact without actually using technology and handwritten letters add to a personal touch to the exercise itself. This is why celebrating National Penpal Day is something to look forward to.
How can we celebrate National Penpal Day?
Making new pen pals might just be the starting point to celebrate this day. You can also undertake plenty of other activities to celebrate this day, some of which could be,
Learning calligraphy which would elevate the handwritten letters to a different level is one of the practices you can start on this day. There are wooden pens, used by the professionals, that you can use for this activity or simply try with the regular pens. You can start with the round hand calligraphy and continue to learn to the advanced levels.
You can make your letters even better with customized letter envelopes. This would personalize the experience your friends have when writing or receiving letters from you. It will also make the communication interesting and the experience creative. You can use handmade options to make it more customized. The addition of a wax seal would add a touch of royalty to the letters.
Letters need not always be to others. You can write a letter to yourself in the future. It could be about the day you are having, current goals, accomplishments, and how you predict your future to be. It would be fun to read it in the future. There are websites that help you send a future dated letter, that you can make use of.
Remember to add your ideas and share them with friends and family on this special occasion with the #NationalPenpalDay to your post.
Interesting facts about National Penpal Day:
When it comes to writing, some facts would surprise you, and here are some to know on this special day, which honors writing.
Writing can be considered in comparison with meditation. The activity involves your neurons in the brain, which means you will find yourself being at peace as you write.
Writer's block is faced by everyone and everyone deals with it in their way. Dr. Seuss had a cupboard filled with hats to deal with his writer's block.
We all know that the word processor was the first replacement to be invented for typewriters. And the first novel written on a word processor from IBM was Bomber by Len Deighton.
Mogigraphia is the term used medically to indicate someone suffering from writing cramps.
Writing does not just give you peace of mind but it can also improve cognitive abilities and intelligence. It is used to boost your brain, despite your age.
It was in the year 1931 when the word pen pal was introduced into the Oxford dictionary.
There is an automated pen pal service for matching and finding the right pen pals by Parker Pen Pavilion. The program went live in the year 1965.
History of National Penpal Day:
Rosie Tholl, a pen-pal from America created this day for celebrating the art of writing and finding new friends. She was co-founder of Pen Pals United and Illinois Pen Pal Picnic Reunion. She traveled around the world to meet up with many pen pals of hers.