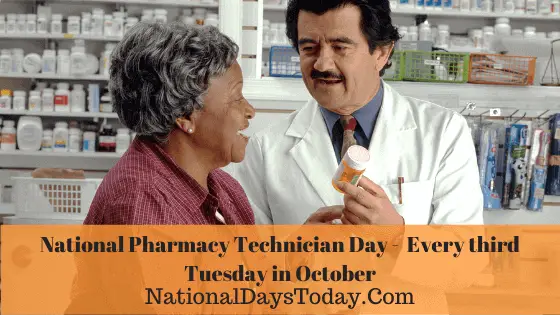 National Pharmacy Technician Day:
Celebrated on third Tuesday in every October. The day is to celebrate the contributions of pharmacy technicians.
| | | | |
| --- | --- | --- | --- |
| Year | Date | Day | Where |
| 2023 | 17th October | Tuesday | United States |
| 2024 | 15th October | Tuesday | United States |
| 2025 | 21st October | Tuesday | United States |
Twitter Hashtags:
#NationalPharmacyTechnicianDay
#PharmacyTechnicanDay
Related: Other National Days Celebrated on October:
Why National Pharmacy Technician Day?
The day is set aside to celebrate the significant contributions of pharmacy technicians. These professionals put in a lot of work in helping people maintain their health. They also work in different environments and they are still able to deliver the best care to their patients. Pharmacy technicians are also very crucial to the smooth running of the health system. Depending on the level of education or training that they have undergone, technicians can work in clinics, hospitals, retail pharmacy stores, veterinary institutions, and more. High-ranking pharmacy technicians can also be tasked with the role of overseeing the operations of other technicians. Some also conduct patient education on various issues.
How can we celebrate National Pharmacy Technician Day:
There are various things that one can do as part of celebrating this day:
One of the ways that you can celebrate National Pharmacy Technician Day is by sending a small gift package to the pharmacists who are close to you. The gift package can contain a teddy, chocolates, flowers and more. The gift will go a long way in showing the pharmacy technicians that you appreciate their efforts in making patients feel better. You can also rally your friends to come with gifts to show their appreciation.
The next best thing you can do to observe this day is to decorate your nearby pharmacy. You can add different decorative materials that will show people that this is a day when they should celebrate the people who give them their prescriptions. Decorating the pharmacy on this day will also go a long way in cheering up the people who work there. Before decorating the pharmacy, you need to make sure that you seek permission first from the relevant personnel.
Celebrate on social media
You can also take your celebrations on social media so that you can reach as many people as possible. When you are on social media, you can share banners and stickers that are relevant to this day. You can also engage your followers so that they can engage in showing appreciation for the pharmacy technicians. You can also go all out and share some of the best experiences you have had with pharmacy technicians. Visiting your pharmacy on this day and sharing videos via the hashtag #NationalPharmacyTechnicianDay will also draw more people into the celebrations.
You can also choose to host an event that will celebrate the pharmacy technicians. You can do this by joining together with your community and collaborating with your pharmacy to throw a lunch or party for these technicians. You can do this by first seeking authorization from the pharmacy before throwing the party. You should also invite people who can give positive stories of the amazing ways that they have been helped by these technicians. When you are celebrating this event, you need to also to make sure that you show your participation on different social media platforms.
Interesting facts about National Pharmacy Technician Day:
Some of the most interesting facts about pharmacy technicians include the following:
Pharmacy technicians work under the supervision of pharmacists. Their main responsibility is to fulfill the prescriptions of their customers as well as collect patient information that will help them serve their patients better.
Someone can advance from being a pharmacy technician to other greater roles in the healthcare industry such as pharmacists, nurses, and other roles.
Pharmacy technicians do not just work in retail pharmacy stores but also in other places such as hospital ambulances and government agencies
Pharmacy technicians also act as a communication link between the patient, hospitals, insurance companies, and other healthcare institutions.
History of National Pharmacy Technician Day:
The National Pharmacy Technician Day started in July 2015. The day was launched by Lindsey Ahrens, who rallied people on celebrating the work that is done by pharmacy technicians in different parts of the health sector. Each year, these celebrations happen on the third Tuesday in October. It is also a day that is celebrated by the American Association of Pharmacy Technicians (AAPT) and the Pharmacy Technician Educators Council (PTEC).