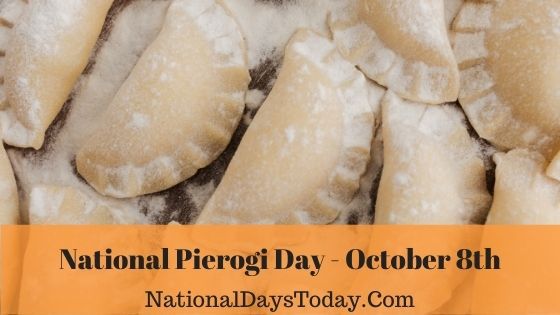 National Pierogi Day: 
On October 8th Every Year, the United States Celebrates the favorite, Tasty and flavorful Pierogi, dumplings.
| | | | |
| --- | --- | --- | --- |
| Year | Date | Day | Where |
| 2023 | 8th October | Sunday | United States |
| 2024 | 8th October | Tuesday | United States |
| 2025 | 8th October | Wednesday | United States |
Twitter Hashtags:
#NationalPierogiDay
#PierogiDay
Related: Other National Days Celebrated on October 8th:
Why National Pierogi Day?
National Pierogi Day is a day when you will celebrate with your favorite tasty and flavorful dumplings. On 8th October every year, the United States people celebrate by eating various dumplings. The food Pierogi is originally a popular food for the farmers. But nowadays, it has become one of the most popular food items across the country.
People of the United States of America are pretty much obsessed with food. That is why they celebrate various special days that are related to different kinds of foods and beverages. National Pierogi Day is also one of those days where people love to eat pierogi with their friends or family.
There are so many reasons to celebrate this day with family, friends, or partners. People of the United States love to have pierogi in any format. That is why #NationalPierogiDay allows enjoying an entire day full of different pierogi dishes. The small food trucks to the most prominent restaurants offer pierogi at a discounted rate on this particular day.
Therefore, you will get the opportunity to enjoy some delicious pierogies after your working hours are over. You can buy it and take it home. Or you can call a few of your friends to enjoy this beautiful day with delicious pierogi on the menu.
Pierogi is very light and comfortable food. After a long day of humiliating work pressure, most people do not like rich food when they are back home. In this situation, a plate full of steamed or fried pierogi can do the trick for you. The most exciting thing is that you can stuff anything you want inside the dough of the pierogi. That is why you should celebrate #NationalPierogiDay tasting various kinds of pierogi with your family or friends.
How Can We Observe National Pierogi Day:
There are different ways to celebrate National Pierogi Day. Here are some of the standard and popular ways to celebrate this special day.
The first thing you can do is to celebrate this day by making pierogis on your own. The process is pretty straightforward. You will find lots of recipes and videos on the internet. Follow them properly and prepare a pierogi dish with your creativity. Once you master making the dish, you can call your friends or colleagues at your place on the evening of 8th October and enjoy the beautiful night with some pierogi and beverages.
Pierogis are also available in food centers and restaurants. So if you do not want to waste your valuable time making pierogi on your own, you can invite them to a restaurant. It will be a good idea to spend a wonderful evening with your buddies or family or life partner with some pierogi dishes on the dinner menu.
Nowadays, people have become so busy with their work. Due to work pressure, sometimes they don't even get a chance to spend quality time with their friends, colleagues, and family members. Hence, you can easily celebrate National Pierogi day at the office or a nearby food center with your buddies.
They also must have some memories of their childhoods. It will be a grand celebration by sharing the old days during lunchtime with pierogi in hand. You can make fluffs for all your office colleagues on your own or order them at the office address.
Wherever you are going or whatever you are doing to celebrate National Pierogi Day, you can take photos and videos of your celebration as memories to keep. You can also post them on social media platforms to share beautiful moments with your friends if you want. That will boost your friends to celebrate this day too. Apart from that, you will also share different recipes with your friends on social media. Use this Hashtags #NationalPierogiDay and #PierogiDay.
Interesting Facts About National Pierogi Day:
Here are some of the reasons why you should celebrate this important day.
Pierogi is an easter European region's food according to its origin. Just like the dumplings, you need to make a dough and boil it. After that, you can bake it and fry it on butter. Initially, the peasants stuffed this dough with potato, cheese, onion, cabbage, mushrooms, and spinach. But nowadays, the list has increased a lot. You can put anything inside the dough – from potato to ground beef.
The taste of this beautiful food depends on what you are putting inside the dough. As the day goes on, pierogi has started evolving with different modifications and add-ons. The restaurants also serve pierogi stuffed with sour cream, melted butter, sautéed mushrooms, fried bacon crumbles, sautéed mushrooms & onions, and green onion.

Do you know pierogi is simultaneously a side dish, appetizer as well as a dessert? That is why people of the United States love pierogi. It is an excellent choice as a dessert. You can have it with applesauce, chocolate sauce, maple syrup, or whipped cream. That is enough reason to celebrate this wonderful day with some good food.
History of National Pierogi Day:
As of now, the researchers haven't found a real history behind this day. But they are still working on it. They couldn't even reveal the exact year of commencement of National Pierogi Day. People will get to know the importance of the day and the real history behind it as soon as the researchers find some evidence. But, till then, you can continue to celebrate this day with your beloved ones on 8th October every year. However, always keep in mind that do not overeat pierogi to commemorate the day.
The oily food you are having may create problems in your stomach, and you can suffer from diarrhea or acidity. That is not at all a good thing for your health. Therefore, caring for your health while celebrating a day full of pierogis is a perfect thing. If you try a new recipe of pierogi on your own, you can share by posting photos of your unique recipe on social media platforms. On the opposite side, you can also have the opportunity to learn a new recipe for pierogi from one of your social media friends.