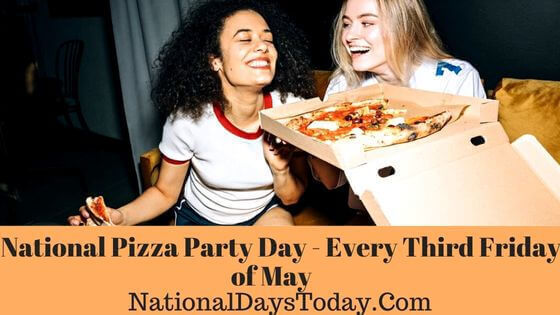 National Pizza Party Day:
Every year, on the third Friday in May, National Pizza Party Day is celebrated, offering everyone a chance to have a good time with friends, family, and pizza.
| | | | |
| --- | --- | --- | --- |
| Year | Date | Day | Where |
| 2023 | 19th May | Friday | United States |
| 2024 | 17th May | Friday | United States |
| 2025 | 16th May | Friday | United States |
Twitter Hashtags:
#NationalPizzaPartyDay
#PizzaPartyDay
Related: Other National Days Celebrated on May:
National Cornelia De Lange Syndrome Awareness Day
National Take Your Parents To The Playground Day
National Defense Transportation Day
Why National Pizza Party Day?
There is no contending the fact that pizza is one of the most delicious foods to have ever been created. With cheese, sauces, herbs, and spices, it has the perfect blend of a perfect meal in one package. The combination is so beautifully balanced and yet the recipe is the simplest with a lot of room for improvisation and innovation. From adding pineapple to bacon, there is no limitation on the kind of toppings you can have on your pizza.
Given that pizza is a complete meal and can also be the perfect finger food, they are the best options for any kind of party. Pizza can create a comfortable atmosphere anywhere, and that is why many of us prefer to have them at parties. And if the party is going to be a pizza party, there is no end to the fun you can have at it. The pizza that we know today involves recipes, ingredients, and collaboration of different cultures, cuisines, and people. Nevertheless, the result is a delight that everyone would love to indulge in, on any day. There is no further reason required to have a pizza party and this day is a bonus to those who love pizzas.
How can we celebrate National Pizza Party Day?
There is no single way to celebrate this day. It is a day of partying with pizza which no one can say no to. So here we have some tips on how you can make this a memorable occasion this year.
The best way is, of course, to have a pizza party on this day. Invite your friends and all those who matter to you for a pizza party. You can further enhance the party mood with pizza-themed décor and have games centered on pizzas. This is one party that no one will be able to resist and will always be a cherished memory for years to come.
If it is a pizza party, then why not make a pizza yourselves. This is the day when you can learn to make a pizza on your own. If you already make pizzas, then this day could be the day to test your creativity and innovative techniques to make a completely new recipe in pizza. You can have your friends and family over to taste your pizza and share their feedback. You can even have a pizza cook-off on this day to know who can make the best pizza.
Not every one of us loves to cook or bake and if you are in this category, then you can make it the day to taste the different pizzas in your neighborhood. Visit the different pizza parlors and restaurants and try the different pizza options. You can share the best pizza for the day with everyone on your online forum and also give a shoutout to the best pizza place near you. Remember to include the #NationalPizzaPartyDay on your posts to bring attention to this day and the celebration around it.
Interesting facts about National Pizza Party Day:
If you think that pizzas are modern-day inventions, then you would be surprised to know that they have been in existence for a long time.
Baked bread with toppings or different flavors has been available since 10000 BC, the Neolithic Age. Greeks from ancient times were known to have their flatbread topped with cheese, oils, and herbs. Pizzas were made on hot shields by the Persian soldiers. The word itself made its first appearance in a Latin text in 997 AD.
Little Italy in New York had the first pizza establishment in the country and it was opened in the year 1905.
As of the year 1997, nearly 2billion pounds of pizza cheese was manufactured every year in the US alone.
The conventional pizza is called the Neapolitan Pizza and it hails from Naples. This pizza's origins can be traced back to the 16th Tomatoes were not added until the 18th century.
Pepperoni is the most popular of the toppings ordered on a pizza in the country while anchovies are the least favored.
The survey conducted by the National Association of Pizza Operators in the US says that nearly 350 slices of the delicious dish are consumed every second in the country.
Yuri Usachov, a Russian cosmonaut was the first person to get a delivery of pizza while being in the orbit of our planet. Nearly a million dollars were paid to the Russian Space Agency for delivering this pizza to the international space station in the year 2001.
History of National Pizza Party Day:
There hasn't been any specific information on how the day came into existence and despite its origins, it is a day everyone loves to celebrate and is another reason to enjoy the delicious pizza.