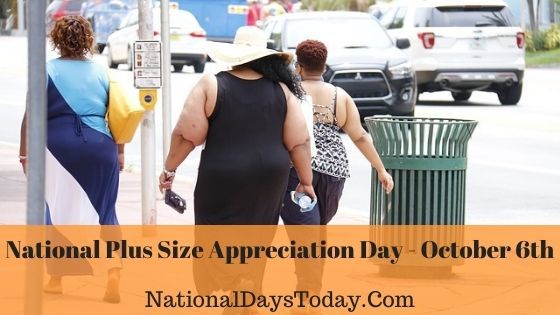 National Plus Size Appreciation Day:
On October 6th every year, "National plus size appreciation day" is celebrated. The reason behind dedicating an entire day to celebrating the beauty of plus size sapiens worldwide is to change people's way of viewing themselves to positive rather than negative.
| | | | |
| --- | --- | --- | --- |
| Year | Date | Day | Where |
| 2023 | 6th October | Friday | United States |
| 2024 | 6th October | Sunday | United States |
| 2025 | 6th October | Monday | United States |
Twitter Hashtags:
#NationalPlusSizeAppreciationDay
#PlusSizeAppreciationDay
Related: Other National Days Celebrated on October 6th:
Why National Plus Size Appreciation Day?
In our society, fat people are treated differently than those who are fit. They are prone to discrimination and bully from a very young age. This leaves an everlasting effect on their mental health. This is why there was a dire need for a day as this "National Plus Size Appreciation Day."
The women rock Inc, of the US, is the one behind this initiative. In the year 2016, this organization came into existence. And from 2017, this day is celebrated. As the quote very well suggests, "Beauty lies in the eye of the beholder." This day is founded on breaking the social stigma around plus-size people and making them feel beautiful about their bodies.
An evident change was witnessed in the fashion industry when they welcomed plus size models. If we look at the current scenario, then times are changing for the better. Now the plus-size people are not declared out of the box. They have access to all the opportunities every normal person has.
This day is celebrated to enhance people's confidence ( both men and women) whose bodies are large. Because a person who does not have a positive body image will feel worthless and contribute lesser than his/her actual potential. The aim is to make them realize just how wonderful they are by being themselves.
There are various options available to celebrate this day with much enthusiasm and zeal. Like complimenting people we know, cherishing their being, and making them feel special despite their flaws. This was changed will be brought to society's stigma that fat people are any lesser than the people with fit bodies. In the end, it is the qualities that matter. So if you are a wonderful being on the inside, that will show on the outside..
Self-love is the key to growth in life, and this is a special occasion to show the power of self-love and what wonders it can do. People who have the capability to rise above the perception of others and love them despite all their flaws are the ones who win the world.
Hence, the "National Plus Size Appreciation Day" brings motivation and positivity into society. 
How can we observe National Plus Size Appreciation Day?
There are plenty of ways in which one can indulge to add to the spirit of this day. By performing various activities like:
Complimenting someone you know who is of plus size and thinks less of themselves. Making them genuinely see that value comes from qualities rather than physical appearance.
In today's digitalized world, you can also talk about this day and its purpose via social media platforms in order to make more and more people aware of it.
Also, you can become a part of an event such as a fashion show of plus-sized personalities. It will certainly boost their confidence.
Hence, you can also do other things like gifting clothes to any plus size person or organizing a special event yourself. All this will help in yielding positive results, which is why this day should be celebrated wholeheartedly.
Post photos and videos of yourself using the #NationalPlusSizeAppreciationDay and #PlusSizeAppreciationDay on all your social media pages today!
Interesting facts on National Plus Size Appreciation Day:
More than half of the population of America is of plus size.
The term plus size came into existence in the early 1920s by the designer Lane Bryant.
There are various brands that support plus size clothing and produce the same.
The fashion industry has plus-size models.
You can be fashionable and of plus size both at the same time.
History of National Plus Size Appreciation Day:
There has not been much time since this day has come into existence. The national plus size appreciation day is celebrated from 2017 onwards on the 6th of October annually. Prior to that, there was no such day. Women rock, Inc is the founder of this day. They wanted to enhance the self-esteem of people who are of plus size. Undoubtedly, it was a very positive thought to decide an entire day to celebrate people's beauty with large bodies. This organization was founded in the year 2016, and self-love is the center of their being.
It provides an opportunity to show them that they are beautiful and cherished. To make them feel special and supporting them. As we know, there are very few people in our society who actually compliment fat people and see them as normal human beings. So the aim was to bring this positive notion into the culture.