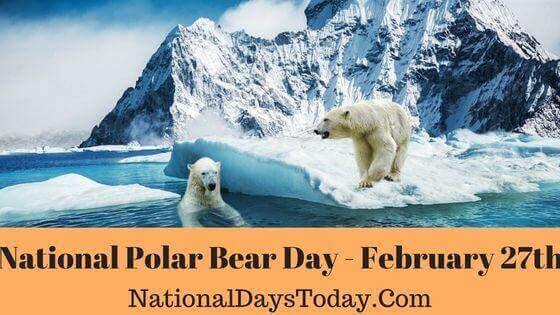 National Polar Bear Day:
Observed annually on February 27th, the National Polar Bear Day opens our eyes to the issues that polar bears face and our responsibility to preserve the future of these gorgeous furry mammals! Climate change and our carbon footprint are a few of the major threats to polar bears.
| | | | |
| --- | --- | --- | --- |
| Year | Date | Day | Where |
| 2023 | 27th February | Monday | United States |
| 2024 | 27th February | Tuesday | United States |
| 2025 | 27th February | Thursday | United States |
Twitter Hashtags:
#NationalPolarBearDay
#PolarBearDay
Related: Other National Days Celebrated on February 27th:
Why Polar Bear Day?
Recent revelations by scientists estimate the presence of polar bears for over 150,000 years on earth!
In the Arctic, polar bears were hunted for thousands of years by the Indigenous groups that resided there striking a balance to the Arctic ecosystem. Things started going haywire around the 1700s, where polar bears were being hunted enormously by North America, Russia, and Europe. This caused a serious decline in the polar bear population.
The increasing use of fossil fuels around the 1900s made the situation worse for polar bears. The burning of fossil fuels like oil, coal, and gas began to melt the sea ice thus increasing the sea levels and thereby disrupting the polar bear's natural environment.
The protests carried out by environmental activists to protect the Arctic often was ignored by the governments of that time.
It was finally in 1973, that the US, Russia, Denmark, and Norway signed an International Agreement to conserve polar bears and their habitat. The agreement classified polar bears as endangered and regulated the commercial hunting of polar bears.
Polar Bear Day is the brainchild of Polar Bear International (PBI), a non-profit group established in 1994. Their mission is to protect the polar bears through various actionable programs!
Further Polar Bear Day is a reminder that it isn't too late to change the polar bears' situation in the Arctic! We need to take action before the arctic ecosystem is disrupted fully and polar bears go extinct. Their extinction could set off a chain reaction in the environment that we might not be able to control later.
The lesser ice in the Arctic means reduced heat deflection for the earth. The consequence of this leads to intense heat waves on earth. Thus it is crucial to consider the impact of rising sea levels especially on crops and coastal communities.
Research reveals that reduction in carbon emissions can control the melting of sea ice and thereby saving the polar bears!
Thus this day we can get educated about polar bears and look for practical solutions to protect the polar bears and the earth!
How Can We Observe National Polar Bear Day:
Get some polar bear education
Observe the day by picking up some new info on polar bears! This will help you get a better insight into the problems that polar bears face and steps to improve their living conditions!
Vote for an environment-conscious government
Make your voice heard by sharing your concerns about the environment and by voting for a government that is people conscious and environmentally conscious as well!
Change begins at home and you can do your bit by working as a community to protect the polar bears. You could rethink the use of your electronics, sustainable garbage, and wastewater disposal, fertilizer, and fossil fuel use for a start to minimize the melting of the ice in the Arctic!
Spread polar bear awareness on social media
You could use creative decors, artwork, songs, videos, research materials, or documentaries to spread awareness about polar bears on social media! If you are an expert in polar bear scholar you could also conduct an online webinar to share your expertise. Use #NationalPolarBearDay and #PolarBearDay in all your posts today!
Donate to Save the Polar Bears!
You could donate to any non-profit organization that supports the research and established programs to support and protect the polar bear families!
Enjoy watching the polar bears with your family!
Have fun watching polar bear-related animated movies with your kids to commemorate the day! You could also watch videos or documentaries on polar bears with older kids today!
Organize a fundraiser for polar bears!
There are plenty of ways to raise funds for the polar bears – a dance recital, musical, play, community potluck, baked goods sale, or any other innovative way!
Interesting Facts On National Polar Bear Day:
Here are a few interesting facts related to National Polar Bear Day!
The polar bear is one of the largest carnivorous land mammals feasting on seals!
A polar bear could weigh up to 1400 pounds and grow up to 9 feet tall!
They are powerful swimmers and cover great distances to find food and mate!
Polar bears have black-colored skin that helps them to attract the sun's heat better!
The polar bear's fatty skin and insulating fur protect them from their cold environments
The polar bear's hair appears white as it reflects the sunlight but in reality, they are transparent.
Only mom-to-be polar bears hibernate.
Polar bears can live without food for a few months straight!
History Of National Polar Bear Day:
The National Polar Bear Day has been observed by Polar Bears International since 2011!