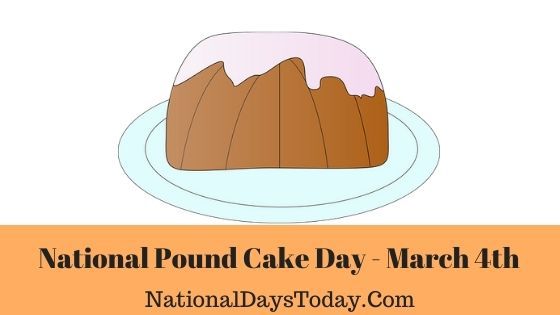 National Pound Cake Day:
4th March each year is celebrated as National Pound Cake Day. This is the day to bake some sweet cakes and make a sweet memory with the loved ones.
| | | | |
| --- | --- | --- | --- |
| Year | Date | Day | Where |
| 2023 | 4th  March | Saturday | United States |
| 2024 | 4th  March | Monday | United States |
| 2025 | 4th March | Tuesday | United States |
Twitter Hashtags:
#NationalPoundCakeDay
#PoundCakeDay
Related: Other National Days Celebrated on March 4th:
Why National Pound Cake Day?
Pound cake is a type of traditional cake that is first made using a pound of each of the four main ingredients- egg, four, sugar, and butter. Then it is baked in a pan or bundt contour. It is served after icing or coating with ice sugar.
Since the pound cake recipe is invented in the early 1700s in Europe, it has undergone a variety of ingredients, and now there are many variations of the pound cake available in the cooking list of cake lovers. You can lower the texture by reducing the sugar or cream for health issues, use gluten or dairy-free ingredients for dieting purposes.
Pound cakes are so delicious that they can be on per with desserts, sweets, and fruits. You can coat it with Nutella or garnish it with coffee-flavored cream for a sweeter teacher creamier flavor to enhance its flavor.
Cake lovers and bakers all over the world enjoy this day by baking and having cakes.
How can we observe National Pound Cake Day?
To share some sweetness with your family and friends and to spread happiness, celebrate this National Pound Cake day with a large and tasty pound cake at home. Poundcake recipes are so easy to make, and ingredients are available everywhere. Bake a pound cake using the traditional method, that is, using one pound of each ingredient. You can lighter the texture using whipping the egg first and adding a pinch of baking powder. Then mix up well all the ingredients with a tinge of vanilla essence and sprinkle of icing dust or berries.
To bake a perfect traditional pound cake, gather up the mentioned ingredients, and follow the instructions.
Ingredient –
9 large eggs
1 pound or three and a half cup cake flour
1 pound or two cups of sugar (2 cups)
1 pound melted butter or margarine
1 to 2 tablespoons of vanilla extract or 1/2  to 1 tablespoon nuts (optional)
Instructions
Preheat the micro oven to 300°F. Prepare two or three bread lounge pans or a bundt contour and a loaf pan.
Whip the butter nicely, pour sugar gradually, and whip until smooth and fluffy.
Add two eggs at a time, beating well each turn. Add flavors.
Add the flour gradually and mix until soft.
Pour the blend into pans. Place the pan in the oven and bake for about 1 hour and 20 minutes.
Make a huge pound cake by increasing the quantity of each ingredient proportionally, and you may add some extra flavor according to your guest's wish like honey, vanilla, berries, cream, fruit and nuts, tutti fruitti, etc.
Capture all the good moments of enjoyment of your friends and family, click pictures of the cake of each flavor, and post those on social media with the recipes. Also, add the recipes you invented. Do not forget to share them with proper hashtag #NationalPoundCakeDay, #PoundCake, #PoundCakeDay.
Interesting Facts On National Pound Cake Day:
Although the pound cake is prepared using the traditional method of using one pound of each four ingredients in equal ratio, it has variation. There are many different types of pound cake recipes available on a different continent. Here are some interesting facts about variation in the pound cake which you will find delightful.
American South Style recipe– They make the original traditional pound cake. This recipe is also favored in the Sothern continent of the United States.
French-style poundcake– In France, the pound cake is well known as "quatre quart," meaning four quarters. In addition to the four ingredients, they also love to add rum of banana puree to enhance the flavor.
Mexican Style poundcake- The Mexican people call it panqué. They traditionally bake the cake. Then add walnuts to prepare panqué con Nueces (means pound cake with walnuts) or raisins to make panqué con pasas (means pound cake with raisins).
History Of National Pound Cake Day:
The actual origin of the pound cake is not known. But it is supposed that people in the Northern region of Europe used to prepare the pound cake in the early 1700s using one pound of each ingredient. Later in 1796, the recipe for the pound cake was published in the American Cookery book. Poundcake recipe had seen many variations over the ages in different countries by different people.
In 1851, Eliza Leslie wrote a different recipe in the Direction of Cookery book, which included using 10 eggs, beating them nicely, and adding lemon or orange juice. In the Indian Meal version of the pound came, cornmeal derived from dried corn can be used in place of flour. It was first mentioned in 1828 in Indian Meal Book.