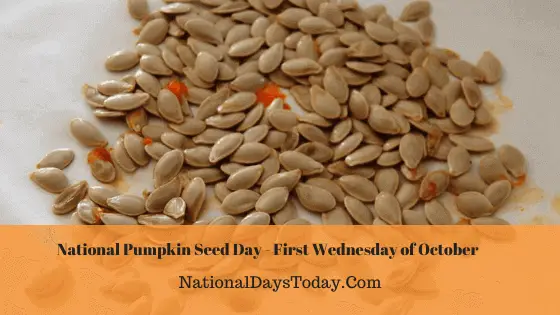 National Pumpkin Seed Day:
Celebrated on First Wednesday of October. The day is to applaud the Nature for providing us as another great elixir, pumpkin seed.
| | | | |
| --- | --- | --- | --- |
| Year | Date | Day | Where |
| 2023 | 4th October | Wednesday | United States |
| 2024 | 9th October | Wednesday | United States |
| 2025 | 8th October | Wednesday | United States |
Twitter Hashtags:
#NationalPumpkinSeedDay
#PumpkinSeedDay
Related: Other National Days Celebrated on October:
National Custodial Worker's Recognition Day
Why Pumpkin Seed Day?
The day is to applaud the Nature for providing us as another great elixir, pumpkin seed. The pumpkin seed is nowadays widely used as a snack food and used in making salads particularly. The day is also found to explore more about the pumpkin seed benefits and the side effects. Nature has provided us numerous things and most of them are to be revealed yet. The day is to make us to work on it.
How we can Celebrate or Observe National Pumpkin Seed Day:
Try a new recipe with pumpkin seeds as a main ingredient; share your recipe details using this hashtag  #PumpkinSeedDay on the social media. Also, explore more regarding the benefits of pumpkin seeds associated to health factors, and post the same using the same hashtag. Rate the best pumpkin seeds packaged product that are commercially produced in the United States.
Interesting Facts About Pumpkin Seed Day:
A seed of Pumpkin is otherwise called as "'pepita ".In Spanish language, it is called as "pepita de calabaza" that means "little seed of squash". The seed is flat, almost oval and green in color and it may or may not have a white outer layer. The seeds are a great source of nutrients like protein, enormous micronutrients, dietary fiber, niacin, iron, zinc, manganese, magnesium and phosphorus, riboflavin, folate, pantothenic acid, sodium and potassium.
Besides, it is rich in fatty acids like Myristic acid, Palmitic acid, Palmitoleic acid, Stearic acid, Oleic acid, Linoleic acid, Arachidic acid, Gadoleic acid and Behenic acid. Consumption of pumpkin seeds are also attributed to weight loss and hair growth due to its richness in antioxidant content. It is also believed that pumpkin seeds help in production of quality sperms, however, not confirmed by any researches.
In Mexican cuisine, Pumpkin seeds are a widely used ingredient and pumpkin seeds roast is a famous snack food. After roasted, it is salted and sometimes spiced and sold commercially as a packaged product not only in Mexico, but also in most of the Latin American countries. Especially in the United States, it is commercially produced as a packaged product like sunflower seeds.
Oil extracted from pumpkin seeds are also used for cooking in most of the European countries and the commercial product contributes in Economy. The pressed oil of pumpkin seed are used as an ingredient in Mexican, Spanish and European cuisine.
Right from the mid-19th century to early-20th century, pumpkin seed was listed as an Antiparasitic in the United States Pharmacopoeia.lt is reported to be used as an ancient medicine by the Native Americans to cure the bites of parasites.
Eating too much of pumpkin seeds may results in bloating, constipation and epigastric pain at some times.
Few Important health benefits of pumpkin seeds:
The presence of magnesium in pumpkin promotes heart health and prevents cardio vascular disease.
The high proportion of Zinc in pumpkin boosts the immune system especially in the children.
A recent research recommended that consumption of pumpkin seeds and pumpkin oil promotes prostate health.
Pumpkin seeds play a vital role in regulating the insulin secretion and further prevent diabetic related issues.
History of Pumpkin Seed Day:
Superseedz Gourmet Pumpkin Seeds, a company that excels in pumpkin seed production created this National Pumpkin seed day in the year 2016 to explore and share about the health benefits of pumpkin. The company owned by Kathie Pellicle, sells variants of pumpkin seed snack foods. The day was registered in National Day Calendar and further approved by the Registrar.