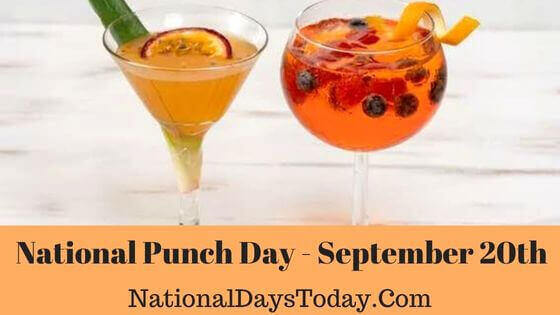 National Punch Day:
National Punch Day is celebrated on 20th September every year. This day is observed to honor the legendary 'old school' drink.
| | | | |
| --- | --- | --- | --- |
| Year | Date | Day | Where |
| 2023 | 20th September | Wednesday | United States |
| 2024 | 20th September | Friday | United States |
| 2025 | 20th September | Saturday | United States |
Twitter Hashtags:
#NationalPunchDay
#PunchDay
Related: Other National Days Celebrated on September 20th:
Why National Punch Day?
The word 'Punch' means five and it was taken from Sanskrit. However, that doesn't mean you have to take five glasses of punch. It's more like using five types of ingredients. You see, there are five basic ingredients to make punch; alcohol, sugar, water, lemon, and tea.
However, many people add other ingredients as per their preference. As we noted before, this special day is celebrated to honor this popular drink. You might know how famous punch is among college parties in our country. So, it deserves a separate celebration.
How Can We Observe National Punch Day
It will be exciting when you celebrate this special day. The good thing is there are several ways to observe this event. Many people choose different things for celebration. However, if it's your first time, you should do something unique. Let's find out how to observe this special day:
When you are ready to celebrate this special event, you have to start with making your punch bowl. Now, it depends on you when it comes to choosing ingredients. You can add new things to make a fusion. However, don't forget to skip the traditional five ingredients. 
What's a better way to observe this day than buying a bowl? Hence, it will make this day more exciting. A new bowl can increase the excitement of this celebration, especially when you are throwing a party. Plus, you can also get a special offer for buying a punch bowl. 
One of the best ways to observe this day is by trying a new recipe. You see, there are several new punch recipes available on the internet. And if you want to do something unique, you can try this one. It will be fun if you try a new recipe with your friends. 
The best way to celebrate this day is by throwing a party. It's the ideal way if you are a party animal. Well, you don't have to be a university student in this case. You can arrange a small get together to highlight the importance of the day. 
Who doesn't love to take challenges? If you are ready to do something crazy, you can take one challenge. Hence, you can find several people are taking challenges on social media. Moreover, you can also involve your friends and cousins to observe this day. 
Post Your Punch Recipe on Social Media
A celebration isn't complete without social media. If you want to try a new punch recipe, make sure you share it with your social media friends. In fact, you can also ask them to try this new recipe. Plus, make sure you post a photo or video alongside the recipe. 
Add more fun by sharing your story on social media platforms. Don't forget to use the #NationalPunchDay hashtag while posting.
Interesting Facts About National Punch Day:
You see, punch has been a special drink for centuries. So, there are so many interesting facts about this drink. When you learn about these facts, celebrating National Punch Day will be more exciting. In the following section, we will share some interesting facts about the punch bowl.
Interesting Punch Bowl Facts
Many bars prefer punch bowls to bottle service. They put a giant punch bowl for the entire table.
According to some sources, many people used Blackbeard's skull as a punch bowl.
Courvoisier and Bompas & Parr has the largest punch bowl in the world. The capacity of the bowl is 4,000 liters.
The punch bowl is a common thing for college and university parties. However, punch is highly alcoholic.
History of National Punch Day:
You might know why punch is the favorite drink for most people. It will be fun to learn about the history of the punch bowl. So, the sailors of the British East India Company made the punch bowl popular. According to them, the drink originated in India.
During the 1600s, the popularity of punch increased with sea travel. Hence, sea travel was the reason why the drink got popular across the globe, especially in America. Now, punch is one of the most unique drinks that is served in special events.