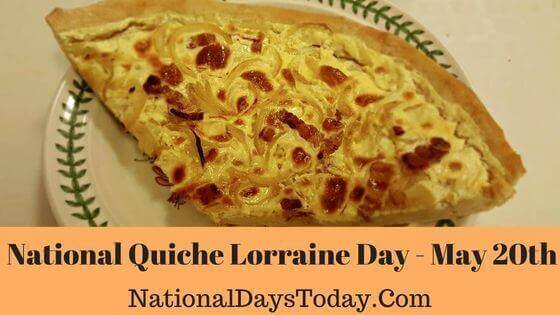 National Quiche Lorraine Day:
On the 20th of May every year, we celebrate another food holiday, dedicated to the famous Quiche Lorraine called National Quiche Lorraine Day.
| | | | |
| --- | --- | --- | --- |
| Year | Date | Day | Where |
| 2023 | 20th May | Saturday | United States |
| 2024 | 20th May | Monday | United States |
| 2025 | 20th May | Tuesday | United States |
Twitter Hashtags:
#NationalQuicheLorraineDay
#QuicheLorraineDay
Related: Other National Days Celebrated on May 20th:
National Pick Strawberries Day
Emergency Medical Services For Children Day
Why National Quiche Lorraine Day?
The dish was originally acclaimed as the poor man's dish and is used with custard comprising of eggs and cream, with cubes of lard and smoked bacon cooked on a bread-based dish in a skillet. Since the ingredients were found in most households it was a preferred dish and was easy to make. Even though the dish is a famous French cuisine, the dish originated from Lothringen or the present Lorraine, a German kingdom from the 1500s.
The quiche is a versatile dish and it can be made in different combinations provided you have a cream pastry and egg custard. But you can use ingredients locally available to you and suitable to your palate to make a quiche. This dish is also versatile enough to use for any meal, be it lunch or dinner, or breakfast. It can be made for any occasion as well. Since it is easy to make, you can prepare this dish in your kitchen as you bond with family and friends. These are some reasons why we love the dish and why it needs a day to celebrate its versatility and simplicity.
How can we celebrate National Quiche Lorraine Day?
There is no single way to make this day special and memorable. Given that this is a food holiday, the best way is of course to indulge in the dish itself.
If you are an ardent cook or you love to experiment in the kitchen, then this holiday presents the perfect opportunity to do so. All that you need to make the dish are basic staples available in any kitchen like eggs, bacon, milk, cream, cheese. You can even try making the pastry from the scratch or use the store-bought one as per your preference.
The Quiche Lorraine tastes the best when you pair it with the right Alsatian white wine, from the region of Alsace, France. You can make it into a picnic celebration going out with your loved ones and making it a memorable occasion to remember for years.
If you want to learn baking then this is the best day to start learning about making pastries. It is challenging to make the pastry dough and with proper guidance, you would be making the dish from the scratch the next year.
Remember to share your pictures, your ideas, etc. on and about this day with #NationalQuicheLorraineDay.
Interesting facts about National Quiche Lorraine Day:
As you gorge on this delicious dish of Quiche Lorraine on this day, we provide you here with some interesting facts about the quiche and the region of Lorraine.
Joan of Arc, the historically acclaimed warrior, the lady who is the role model for many women to date, hails from Lorraine.
The name of the region Lorraine is derived from the word "Lothar" in German, translating to "famous army".
When we speak of white wines, we invariably mention two regions in France, Lorraine and Alsace. Both these regions are famous for white wine, thanks to their viticulture.
Lorraine is not just famous for white wine and quiche. It is also popular for Mirabelle plums, madeleines, macarons, and the famous hotpot of Lorraine.
The regions of Lorraine and Alsace have constantly been on a tug of war between the countries of France and Germany. The regions overlap between the two countries resulting in this state.
The term quiche has its origins tracing back to the word "kuchen" in German translating to cake. This was later changed according to the French who adopted the dish.
Chef Alain Marcotullio made the largest quiche in the world in the year 1997. He created it in Paris, France.
Since quiche doesn't have much meat content in it, it was not considered real food for real men until the early 1900s.
History of National Quiche Lorraine Day:
There is no information as to the exact details regarding the origins of this day or who founded it. As for the dish itself, the savory quiche was first made in the northeastern Alsace-Lorraine region of France. Initially, the dish was made using bread dough crust filled with custard and bacon, with cheese also used in making the quiche in later days.