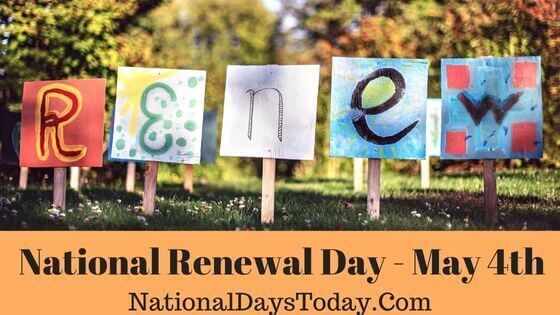 National Renewal Day:
Celebrated annually on May 4th, National Renewal Day is all about starting a fresh and creating new beginnings in your life.
| | | | |
| --- | --- | --- | --- |
| Year | Date | Day | Where |
| 2023 | 4th May | Thursday | United States |
| 2024 | 4th May | Saturday | United States |
| 2025 | 4th May | Sunday | United States |
Twitter Hashtags:
#NationalRenewalDay
#RenewalDay
Related: Other National Days Celebrated on May 4th:
National Candied Orange Peel Day
National Weather Observers Day 
Why National Renewal Day?
According to the Merriam-Webster Dictionary, renewal is defined as "the state of being made new, fresh, or strong again: the state of being new." Thus, this day is important for making those new beginnings in your life or to move on from the past problems or worries and start afresh. On this day, people hail the arrival of spring after the long winter. They change old furnishings, polish themselves up, or reinvigorate themselves for the spring.
The philosophy behind this day is to make yourself new and fresh and start a new chapter of your life. You can do that by doing anything that makes you feel happy and will help you in evolving a new self that you will love and enjoy and be yourself for the rest of your life.
So, National Renewal Day is all about looking at things with a new perspective and zest. It can be big changes such as moving to a new home or a small change such as giving your house a new coat of paint.
How can we Observe National Renewal Day:
We can observe this day in the following ways-
Renewing your Faith- You can recommit yourself to your faith if you have not been following it properly over the past year. Even yoga and meditation will help you in gaining a sense of spiritualism.
Refresh your Outlook- Think about the problems of your daily life that you find troublesome such as waking up in the morning, and try to spot the reasons as to why it's bothersome.
Change your View- Try to look at all things with a new perspective, and you'll be surprised at how much there is either good or bad in the world around you.
Reconnect- Try to regroup with your friends with whom you have lost contact over the past many years. Catch up with your family as well.
Revive an Old Hobby- Whether it be singing, dancing, painting, or almost anything that you have not done for some years, then definitely try to revive them and incorporate them into your daily life.
You can renovate your house or room to whatever aesthetics you feel are right for it.
If you feel your relationship with your partner is getting a bit boring, suggest having a date night at home to spice up your romance.
You can post some photos of yourself on social media on this day while doing any new activity of your choice with the hashtag #NationalRenewal Day.
You can renew your garden with some fresh spring flowers that will enhance your garden beautifully.
You can try your hands at the ancient art of Feng Shui that will give your home positive vibes and make you feel happy and refreshed. Just move around your house furniture and see the difference it brings to your home.
If you've been lazy in going to the gym in the past year, then it's time to renew that gym membership of yours and sweat it out at the gym with your trainer or just doing the exercises by yourself. You can join classes such as Zumba, Yoga, or Power-Training that will keep your body in shape and make you feel energetic for the day ahead. 
Interesting Facts about National Renewal Day:
May 4th is also celebrated as Firefighters' Day and is also celebrated as Star Wars Day.
Julia Louis-Dreyfus, actress, and star of the film "Seinfield," Emmy Award Winner, received the 2,407th star at Hollywood Hall of Fame in 2010.
Margaret Thatcher became the first female Prime Minister of Britain in 1979.
Willie Mays, San Francisco Giants outfielder, broke the record for home runs in 1965. 
History of National Renewal Day:
This day was created in our lives to remind us that sometimes in life, we need to replace our old things or lives with something fresh and new.
On this day, observers choose to renew themselves fully, either in a big or small way. Some choose to renew their old friendships, love lives, or similar things that make them feel happy, refreshed, and energized.
You can choose to update your life in any way you want, whether it be buying new home appliances, your social media profiles, your small details, or even your job, because this isn't the day to make excuses at all!