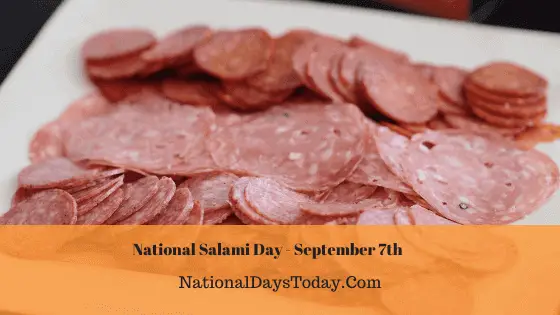 National Salami Day:
Celebrated on September 7th every year. The day is credited to salami, a cured sausage and an air-dried, fermented meat, generally made up of beef or pork.
| | | | |
| --- | --- | --- | --- |
| Year | Date | Day | Where |
| 2023 | 7th September | Thursday | United States |
| 2024 | 7th September | Saturday | United States |
| 2025 | 7th September | Sunday | United States |
Twitter Hashtags:
#NationalSalamiDay
#SalamiDay
Related: Other National Days Celebrated on September 7th:
Why Salami Day?
The day is credited to salami, a cured sausage and an air-dried, fermented meat, generally made up of beef or pork.
The word salami is derived from the Latin words" salsiccia" and "salumen" and it mean salted meats. it is a salted and spiced meat, shaped into a thin and elongated casing, and made to undergo natural way of fermentation for stipulated days. Sometimes, smoking is preferred for prolonged fermentation due to the environmental weather condition. it is sometimes coated with mold culture like Penicillium to prevent decaying during the drying process.
Salami was popular among some regions of Europe due to the scarcity of fresh meat and since it can be stored at room temperature for more than 30 days.
How we can Celebrate National Salami Day:
Enjoy this day with Salami. Post using this hashtag #SalamiDay on the social media.
Interesting Facts About Salami Day:
Salami or any cold cured meat is safe during pregnancy since chances of food poisoning are low, as stated by National Health Service of the United Kingdom. However, it is better to stay away from salami during your trimesters.
Traditional salami is prepared from beef or pork, sometimes from veal. In turkey, it is also prepared from poultry and venison.
In kosher and halal salami, Beef is the only used rather than pork for religious customs.
Salami is an air-dried and cold-cured meaty which can be eaten raw as well.
Europeans after the migration to North America, they introduced different varieties of sausages to the Americans and few of the famous fermented and air-dried type meats are bologna, Salami, pepperoni, etc.
In some regions, horse and donkey meat is used for Salami preparation; however, those are of rare cases. The other ingredients of salami are white pepper, wine, vinegar, herbs, minced fat and garlic.
Some of the varieties of Salami are Cacciatore " hunter" salami, Chorizo, American pepperoni, Felino, Kulen spicy salami, Lardo, Sujuk Turkish Salami, German salami, Winter salami and so on. Normally, all the old traditional salamis were named after the region or country.
Three processes were involved in preparing salami. The first process is, the raw meat is ground and mixed with the other ingredients like white pepper, wine, vinegar, herbs, minced fat and garlic, yeast and mold culture. The next process is the fermentation process. now the mixture is shaped into the desired one, normally an elongated intestine like shape. After shaped, it undergoes fermentation process, the mixture is left in the warm humid condition so that the fermentation will be smooth and later it is treated in cool humid condition to support drying process. Certain bacterial cultures are being used to support fermentation. After that, the mixture is air-dried so that it can be stored for the long time due to the low proportion of water content.
Greek Meat Manufactures ranks top in the salami production with over 10000 tons on an annual basis.
History of Salami Day:
Salami Appreciation Society created National Salami Day in the year 2006. The first observance was held on September 7, 2006 in Henrico,Virginia.