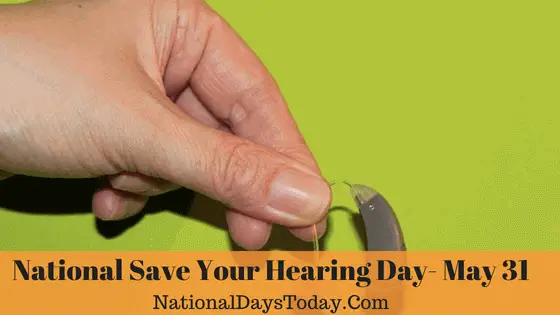 National Save Your Hearing Day:
Observed on May 31, every year. The day is observed to promote the medications, therapies available for treating hearing loss since the treatment for the advanced stage is tedious.
| | | | |
| --- | --- | --- | --- |
| Year | Date | Day | Where |
| 2023 | 31st May | Wednesday | United States |
| 2024 | 31st May | Friday | United States |
| 2025 | 31st May | Saturday | United States |
Twitter Hashtags:
#NationalSaveYourHearingDay
#SaveYourHearingDay
#SaveYourHearing
Related: Other National Days Celebrated on May 31st:
National Autonomous Vehicle Day
Necrotizing Fasciitis Awareness Day
National Speak in Sentences Day
Why Save Your Hearing Day?
The National Save your hearing day is observed to promote the medications, therapies available for treating hearing loss since the treatment for the advanced stage is tedious while the beginning stage can be treated with medications and simple surgeries corresponding to the level of hearing loss. A survey has estimated that roughly 18 percent of the people irrespective of ages are being affected by hearing loss ranging from mild to a profound level.
Around 1.1 billion people are affected by the hearing loss. Moreover, a study had revealed that almost 50 percent of such hearing loss could be preventable and curable if it is from mild to moderate level. Despite, vaccination or Immunization against various of congenital and middle ear infections are available, preventive factors like limiting the use of headsets, Switching to a moderate level volume are suggested to prevent the hearing loss.
This day is observed as a gentle reminder to save hearing and to prevent hearing losses. The hearing loss happens at any age due to the factors like Age, overexposure to Noise, Genetic reasons, Problems in the nerves which are towards the eardrum.
Prolonged illness, sudden aggravation of certain flues like Swine Flu, Impact due to medication, Induction of certain chemicals and birth complications might also be routed to hearing loss. Thus, this day is observed to save hearing at any cost since the loss of hearing might lead to loneliness, work related difficulties, emotional, social stress if untreated.
As stated by Helen Keller, An Author, Political Activist and the first deaf-blind to receive a degree in Bachelor of Arts, "Deaf-Cuts you off from the people". However, early treatment provides the best results. Therefore, this day is observed as a reminder to save hearing.
How we can Celebrate or Observe National Save Your Hearing Day:
Observe this day by promoting the tips to be followed to save the hearing and to prevent loss. Use this hashtag #Saveyourhearing and post on social media. Share your experiences regarding the treatment, if any, you went through and post using this hashtag #MyHearingLossExperiences. Suggest any well-established doctors using this hashtag #ApproachDoctorForHearingLoss so that, others could be benefitted. Test your hearing at least once in a year. Save your hearing.
Interesting Facts About Save Your Hearing Day:
As directed by the World Health Organisation, Audio players can only be used for an hour in a day. This is basically for the younger generation who often seemed to be sticking themselves with smartphones and headset. Words like "Impairment" and "deaf" are not supposed to be used as claimed by Advocacy Organizations since it might further become an emotional stress to the people who suffer from hearing loss. Hearing Aids, Lip reading method, Sign language are significant measures for hearing loss.
Hearing Loss is categorized into several levels, namely mild, moderate, moderate-severe, severe, and profound. Treatments are available based on the severity. Medications or Treatments are not available for the 100% of the inability to hear and considered as a permanent hearing loss.
Hearing Test is performed for to measure the level of hearing loss. If a person could not hear 25 decibels of sound, at least in one ear, he or she is termed as hearing-impaired.
Hearing Loss are of three types. Conductive Hearing loss happens due to the malformation of outer ears, fluid in the middle ear that damages ear canal, eardrum, and middle ear. Treatments are provided depending on the problems ranging from minor to major surgical correction.
Sensorineural Hearing loss happens due to the attack of Virus, Over and continuous exposure to noise, Auto immune system failure and aging factors. Treatment could be either medication or therapies with sometimes, minor surgeries required. Mixed Type Loss is the combination of Conductive Hearing Loss and Sensorineural Hearing loss.
History of Save Your Hearing Day:
The creator of this day is yet to be found and the origin of the day is uncertain.