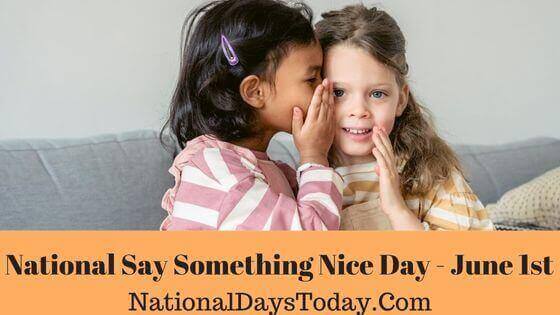 National Say Something Nice Day:
Celebrated on the 1st of June every year, it is a day about speaking nicely to everyone and reiterating the importance of politeness in conversation.
| | | | |
| --- | --- | --- | --- |
| Year | Date | Day | Where |
| 2023 | 1st June | Thursday | United States |
| 2024 | 1st June | Saturday | United States |
| 2025 | 1st June | Sunday | United States |
Twitter Hashtags:
#NationalSaySomethingNiceDay
#SaySomethingNiceDay
Related: Other National Days Celebrated on June 1st:
National Heimlich Maneuver Day
Why National Say Something Nice Day?
People can never forget what you say to them and how you tell them. Words have a huge impact on their perception of you and this is just the day to make things better. When you say something nice to people, it automatically brings out a smile on their faces. The smile and the happiness are caused by the release of endorphins and it affects their body positively. Being nice will not just make you happy and positively brimming but it also helps in the better health of the other person. This is a good reason to celebrate this day every year.
It is not just when you say something nice, but when you hear something nice, it just makes your day better. As you dish out compliments to everyone, you are sure to get your stock as well. This would bring out the smile and happiness you deserve in your life too. Most importantly, when you want to break the monotony and help enjoy the routine of life, then choosing to stay positive is the most important. To stay positive, it is important to think and share positive thoughts. This is why celebrating a day to speak nicely to people is of imminent need in this fast-paced world.
How can we observe National Say Something Nice Day?
It is important to speak politely and use nice words in a conversation as words have an easy way of getting stuck in the other person's heart. On this day here are some things you can indulge in to make it a memorable occasion, not just for yourself but for others as well.
While you might do it when the occasion demands it, this year on this day, you can acknowledge any accomplishment of your employee or co-worker. It could be as simple as completing a presentation or as complex as designing a new project. Acknowledge and appreciate them now.
The acknowledgment need not be reserved only for co-workers as our friends and family deserve the same too. You can use this day to appreciate someone you know for something they do. It could simply be a step to pursue their dreams. But an appreciation shows more support in their decision than anything else.
On this day, you can find the trait that is more pleasant or good about everyone around you and let them know about it. It could be the humor sense in your peers or the selfless care from a friend. Show your appreciation on this day with nice words.
If you don't have anything to appreciate, then you can use this day to appreciate them for their presence in your life and how it has made living a joyous moment every day.
It is important to give words to your feelings, especially when you are feeling thankful and this is the day to start doing so. Remember to spread the word about this day online with #NationalSaySomethingNiceDay.
Interesting facts about National Say Something Nice Day:
The works of Mitch Carnell from South Carolina, with regards to communication disorders, have culminated in the observation of this day. As we observe this day, let us find some interesting facts to know about Charleston, the hometown of Mitch Carnell.
The Ashley and the Cooper rivers are named after a single person, Anthony Ashley Cooper.
The pirate Blackbeard was among those who plagued the town of Charleston during 1718 when he took hostages in exchange for a chest of medicine.
The oldest theatre of America, the Dock Street theater, was established in Charleston and was burned down. It was again rebuilt nearly two centuries later.
The civil war's first shots were fired by the confederates in 1861 on Fort Sumter in Charleston. It is said that the locals toasted the event from their porch, as the shots were fired on the fort.
History of National Say Something Nice Day:
It was in the year 2006 when North Charleston's mayor, Keith Summey, in recognition of work by Mitch Carnell in communications, declared that we observe a day to say something nice to others. This day has been observed on the 1st of June every year from that year.